Instagram has announced two new features with the rollout of Stories Highlights and Stories Archive. The updates are available as part of Instagram version 25 on iOS and Android platforms.
Starting with Stories Highlights, users will be able to group stories into highlights and feature them on their profile. The option will appear in a new section on your profile below the bio. In order to create a highlight, one needs to tap into the 'New' circle and from there, one can choose any stories from the archive.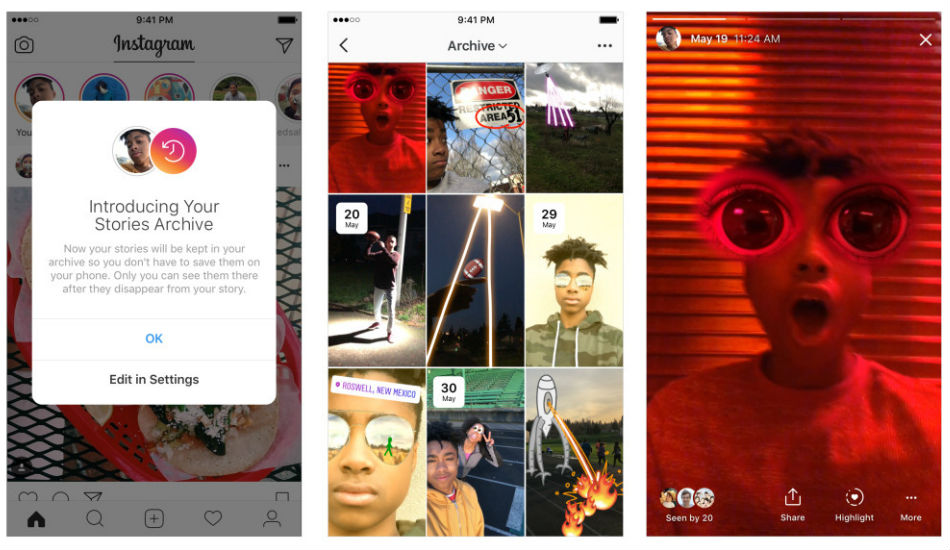 One can also select a cover for the highlight and give it a name. Once done, the highlight will appear as a circle on the profile that plays as a stand-alone story when someone taps it. Further, it will stay on the profile until the user removes it and one can also add different highlights are well.
Moving on to Stories Archive, the stories will be automatically saved in the archive when they expire. To access archive stories, tap on the Archive icon on the profile and from there, one can easily switch between post archive and new stories archive.
In Stories archive, the stories will appear in a grid with most recent stories at the bottom. The first story from each day will show a date indicator to help navigate archive as users scroll. Further, one can see archived stories and can choose to turn off auto-archiving at any time in profile settings.
You might also like this:
Earlier, Instagram allowed users to create Stories and save posts while using mobile web. The features will be available to everyone in the coming weeks. When users will open Instagram using the browser, they will find the camera icon at the top left corner of their feeds. Users need to tap it to take a photo or add a photo from the library. One can also add text and change text colour. Once done, users can post it to the story by tapping "Share to Your Story".
Further, on the mobile web, one can now save posts to revisit later. Users can access the saved posts by tapping the bookmark icon present in the top right corner of the page. Earlier, Instagram announced that users will be able photos and videos that older than 24 hours to Stories.