We all look for high definition sound while buying a TV; it's time we started looking for high definition Voice enabled phones. HD Voice enables conversation that is more natural and is similar to speaking to the other party face to face.
According to a new report by GSA (Global Mobile Suppliers Association), there are 27 mobile phones and 15 mobile networks that support high definition voice.
Among the 15 networks, only Tata Docomo has deployed a network in India that supports HD Voice. However, more is expected to come with a new 3G network being laid out in the country.
The 27 HD voice-capable phones are from Alcatel, HTC, LG, Nokia, Samsung and Sony Ericsson. All these handsets are available in India.
Chipsets supporting HD Voice are also made by some leading semiconductor companies, and the number of phones with HD Voice is set to grow many fold.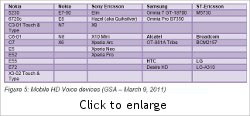 Nokia N8, C6, C7 and E7 handsets have HD Voice activated by default. Nokia C3 and X3 have recently been shipping with HD Voice, as have Sony Ericsson Xperia Arc, Xperia Neo and Xperia Pro. All upcoming Sony Ericsson Android phones are expected to have HD Voice activated by default.
The first commercial mobile HD Voice service started in September 2009. The technology's momentum has been growing since then.
HD Voice services operate on 15 mobile networks in 14 countries across the world: Armenia, Belgium, Canada, Croatia, Egypt, France, Hong Kong, India, Italy, Luxembourg, Moldova, Russia, Spain, and the UK.
Maximum benefits from using the technology on a mobile HD-capable network are felt when both calling and called parties use HD Voice-capable phones.
However, improvements in call quality are observed even when calling a non-HD Voice phone, due to improvements in the acoustic performance and advanced noise reduction capabilities of most HD Voice phones.