Huawei has launched two Android powered handsets, along with a 3G handset in India. It aims to supply devices to 30,000 retailers by the year end.
Huawei has finally entered the handset market in India, on its own. Earlier it sold its phones by bundling them with mobile operator services only.
The company has announced the launch of two Android smartphones along with one 3G GSM phone and one CDMA handset.
Its Android handsets U8500 and U8300 will be priced between Rs 10,000 and Rs 15,000. And its GSM CDMA handsets will be priced between Rs 4,000 to Rs 6,000.
It will sell its handsets through two authorised dealers namely Ingram Micro and Bright Telecom. The company aims to supply phones to between 20,000 and 30,000 retailers by the end of the year.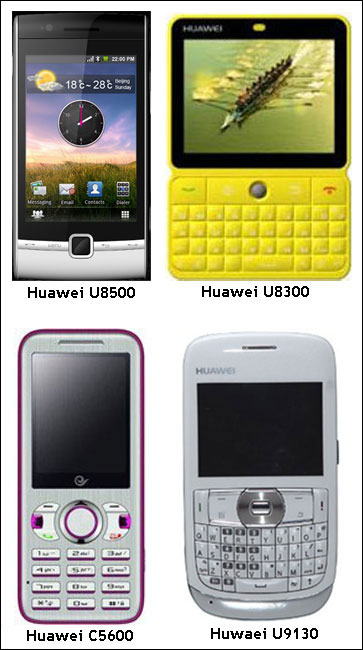 Huawei U8500Huawei U8500 is an Android 2.1 based smartphone with a 3.2 inch full touch screen. It supports 3G+ capabilities, as well WiFi and Bluetooth. Its features include push mail, Facebook and Twitter integration; A-GPS; 3.2 mega pixel camera, video calling etc. Users will also be able to buy applications through the Android Market. The phone's memory can be expanded up to 16GB through Micro SD. The phone is based on a Qualcomm chipset, and the price is expected to be below Rs 15,000.
Huawei U8300Huawei has introduced another Android 2.1 phone named U8300. This is a full QWERTY phone with a 2.6″ QVGA 320×240 resistive touch TFT display. It is a 3G+ handset with built in WiFi and Bluetooth. It supports connectivity capabilities such as Bluetooth and also supports Android Market downloads. The U8300 has a 3.2 mega pixel camera with flash at the back and a smaller camera on the front for video calling. It also includes Google Maps and A-GPS support for navigation. For music, it has a 3.5 mm Headphone jack and plays video as well as most music formats. Memory can be expanded up to 16GB through Micro SD. A unique feature of the phone is inclusion of ambient light Sensors which adjust the backlight of the screen according to the ambient light.
Huwaei U9130For the lower end of the segment, Huawei has introduced a 3G phone U9130. The phone has a 2.4 inch display with 320×240 pixel resolution. The phone supports video calling and has a 3.1 mega pixel camera at the back and a smaller camera for video calls on the front. It doesn't have WiFi, but does support Bluetooth. One of the important omissions from the U9130 is radio. However, GPS is included along with Google Maps and YouTube. The phone's battery backup is another important aspect which, as per the company, gives a 350 hour standby time. The U9130 is expected to cost less than Rs 6,000.
Huawei CDMA C5600C5600 is the CDMA handset in the new line up. It has a 2″ screen with 240X320 pixel resolution. It supports Bluetooth, has a 3.5mm jack, FM radio, and expandable memory. It supports most music formats. Battery backup is this phone's strong point with 400 hours Standby time and 6.5 hours talk time. The phone also includes social media apps.