Nokia Lumia 800 and HTC Radar are based on Windows Phone 7.5 operating system and have an almost identical price tag and display. Both these devices are flagship Windows Phone models from these two manufacturers which make it a tough call to choose between the two. We compare the two to help you make a clear choice.
Operating system
Though both handsets are based on Windows Phone 7.5 operating system, HTC and Nokia have included some of their own custom apps and functions in these devices. Nokia, in our opinion, has done a better job in that regard, especially since it enjoys a special relation with Microsoft (maker of Windows Phone OS).
In Lumia 800, there is Nokia apps, including Nokia Maps support (Nokia Drive app). HTC, on the other hand, has included HTC Hub, which offers weather, news and stock updates, and HTC Watch, which though is not fully operational yet.
In both phones the OS is very well integrated so that navigation is smooth. The limitations of Windows Phone,are that there are few apps, many of which are expensive and few are free. Some notification related shortcomings exist in both phones.
Nokia, however, offers more apps thanks to Nokia app support where most apps are free.
Design
Both handsets look good with their unibody design. Nokia Lumia 800 is made of polycarbonate, which is a form of plastic and rather than painting it in different colours, Nokia has coloured the casing itself so that even after months of rough usage it won't fade.
There are no removable covers in Lumia 800 except for a small opening for the SIM slot. The body of Nokia is very sturdy and can withstand a few falls with ease.
HTC Radar, on the other hand, has a metal body with a removable lower portion made of plastic. Even the upper back portion of the phone gets the same plastic material where the camera, LED flash and speaker grill are located. These plastic parts are the weak parts of the phone, which is otherwise strong.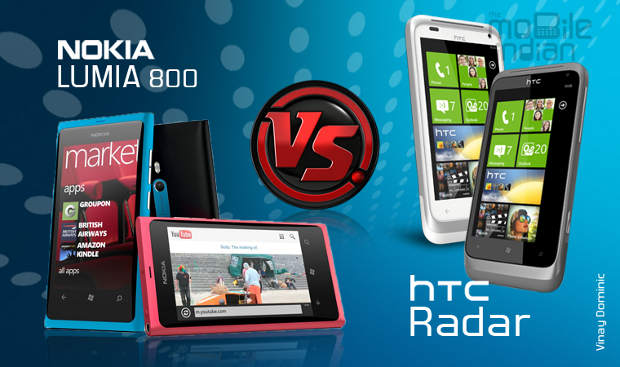 HTC Radar uses a normal SIM card, while Nokia Lumia 800 uses a micro SIM which is not easily available in India (though you can cut any SIM to make it a micro SIM).
Both the handsets are ergonomically designed with logical placement of buttons and ports.
Nokia Lumia 800 scores higher on the design front; and it looks more sophisticated and sturdy than HTC Radar does.
Hardware
Nokia Lumia 800 comes with a 3.7 inch Amoled display with 480 x 800 pixel resolution, and HTC Radar has a 3.8 inch screen with the same resolution. Hence, when it comes to the display, both phones are evenly matched.
HTC Radar, however, loses out to Nokia Lumia 800 in the camera section. Lumia 800 sports an 8 megapixel camera in comparison to HTC Radar's 5 megapixel unit. However, that doesn't mean HTC Radar's camera is bad.
Lumia 800 comes with an 8 megapixel camera, which is made of Carl Zeiss optics. Image quality is great and auto focus works flawlessly. For low light photography, the device features a dedicated LED flash, which is good for close ups but not for wide-angled pictures. The camera is also able to capture high definition video at 720p and that too at 30 frames per second.
HTC Radar's camera, on the other hand, scores well on speed. It is ready for taking shots and focuses on any desired object if you just touch a part of the screen. Video recording is same as that on Lumia 800 and so is the LED flash. While the picture resolution will certainly be less than that of Lumia, the images taken are very comparable to Nokia's.
Nokia is a clear winner here as well, but not with the kind of margin the specs suggest.
Processor and speed
Nokia Lumia has a faster 1.4 GHz processor compared to 1 GHz of Radar, though this doesn't translate into any visible lag on the Radar as both devices have 512 MB RAM. Both perform with equal ease and there are no lags or freezes whatsoever. But in terms of pure specs, Nokia wins.
Another area where HTC is lacking is the internal memory. While the Nokia Lumia 800 gets 16 GB storage the Radar has only 8 GB. Since neither phone supports external memory, this is one important area where HTC comes out as a clear loser.
Performance
There is no visible difference in performance in these two phones. Both work smoothly even while playing graphic-intensive games. Both are equally good with network support and have the same specifications as well.
In terms of battery backup, HTC with its 1520 mAh unit wins over the Nokia Lumia 800 that has a 1450 mAh battery pack. However, both of them offer more back up than comparable Android phones.
Verdict
Had this comparison been made a few weeks ago, HTC Radar would have been the winner as it was cheaper by Rs 4,000 and performed very well in comparison to Lumia 800. However that is not the case now as Nokia has slashed the price of Lumia 800 by around Rs 5,000. Now, both phones cost Rs 24,000.
Nokia Lumia 800 has thus emerged as a clear winner with better specifications, more features and better design. However, we foresee a price correction for Radar very soon and if the difference again is more than a few thousand, the verdict would swing in Radar's favour.