HTC One Mini was reported to be in works and now the first image of the handset has surfaced online. Engadget has photographed the HTC One Mini next to HTC One. Sporting a 4.3-inch display, the HTC One Mini is expected to be launched in August this year.
HTC One Mini has been constructed keeping the HTC One's design into consideration. The One Mini will sport the metallic body just like the HTC One but will be smaller in terms of size. For starters, the One Mini sports a 4.3-inch display with 720p native resolution and it is not edge-to-edge display like the One. There is a white bezel surrounding the phone.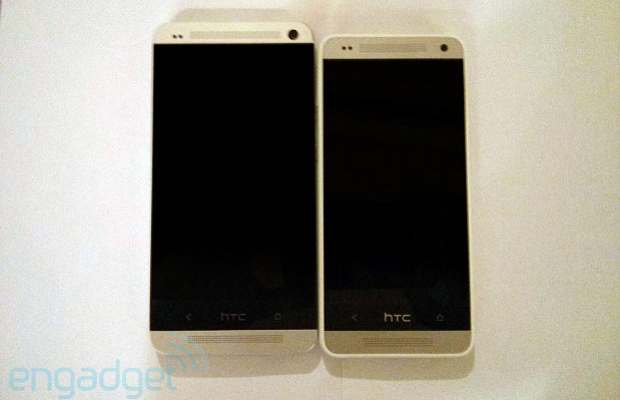 HTC will house a dual-core 1.4 GHz Qualcomm Snapdragon (400?) mobile processor to power this handset. The One Mini will feature the Android 4.2.2 Jelly Bean layered under HTC Sense with BlinkFeed experience running on it. BlinkFeed is basically a home screen replacement that collates and presents the content real-time to the home screen. Other than that, there is the Zoe experience of enjoying photography in a way where the user gets to choose a best shot.
Of course, there is Beats Audio integration but we don't expect to see all features of HTC One in the Mini. There is no word on the camera as yet. Now we wait for HTC to formally make announcement of the HTC One Mini.
Image credit: Engadget