Many application developers are hacking popular applications found on Android and are making illegal copies of them and are easily selling them on the Google Play application store, according to 'Root Uninstaller', a developer that makes app for Android.



It has also cited how its popular paid applications – the 'Smart RAM Booster Pro' – has been hacked and is now being sold at the Google Play store at approximately Rs 100 more than what the original application costs. The hacked application has been submitted as 'RAM Booster Pro' and its maker – Team Droid – has not even bothered to change the original art work of the application as well, which is still similar to the original application, added Root Uninstaller.
That's just one case, as team Droid has been stealing free applications as well like 'Cardiogram live wallpaper' which is a copy of the original app Boom Soft. The original app is ad supported on the other hand the pirated app gives a load of advertisements and is also causing a lot of damage to the reputation of the original application.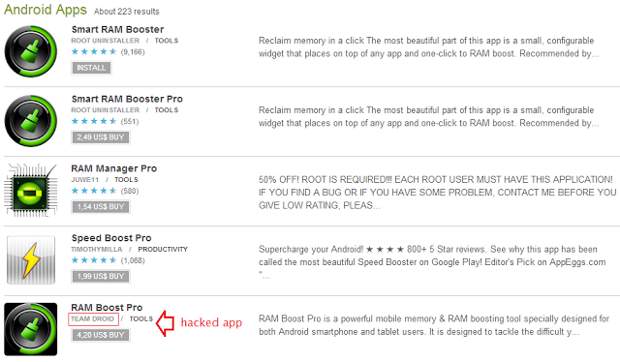 Google has been informed about the hacked apps and while we wait for the response, we surely hope Google will take some concrete steps and outsmart developers like Team Droid.