Google will soon discontinue its App Inventor service for Android devices. App Inventor is an online service from Google that enables people to develop applications for Android phones using a web browser and either a connected phone or an Android emulator installed on the computer.
After closing down the current App Inventor, Google will soon make the platform available as an open source application.
"With the winding down of Google Labs Google will discontinue App Inventor as a Google product and will open source the code. Additionally, because of App Inventor's success in the education space, we are exploring opportunities to support the educational use of App Inventor on an open source platform," said Google on a Google labs blogpost.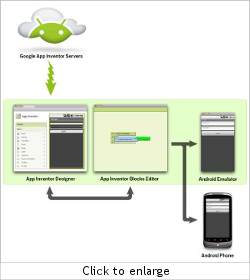 The reason for shutting down App Inventor is actually the phasing-out of Google labs. So all Google labs products that are Android applications will continue to be available on Android marketplace, but till the transition is completed no updates will be rolled out for Android devices. The reason for phasing out Google labs is that the company wants to have a more focused approach towards its products and so there will be no more experimentation. The experimental updates for both Gmail and Google Maps will continue to roll out even after the phasing-out of labs is complete.
So Google won't be taking away all the fun from aspiring developers as the open source version of App Inventor will continue from where the web version application leaves off.