Google has today announced that it expanding the transit feature on Google Maps to seven more Indian cities including Chandigarh, Lucknow, Vadodara, Indore, Mysore, Surat and Coimbatore. The new feature will help users better plan their commute around the city, and make it easier to get an overview of public transportation around them.
For those who are not aware, the transit feature of Google Maps helps users to plan their commute by allowing them to access information relating to public transit, timings and even tariffs. One can view bus routes and stops, departure and arrival timing of the buses, bus stands and whether one need to change a bus or not.
Using the feature is pretty simple. Just open Google Maps on your Android or iOS device. Enter your destination and click the "get directions" icon. If it's not already selected, tap the "transit" icon (the little tram) to view times, bus numbers, routes and more.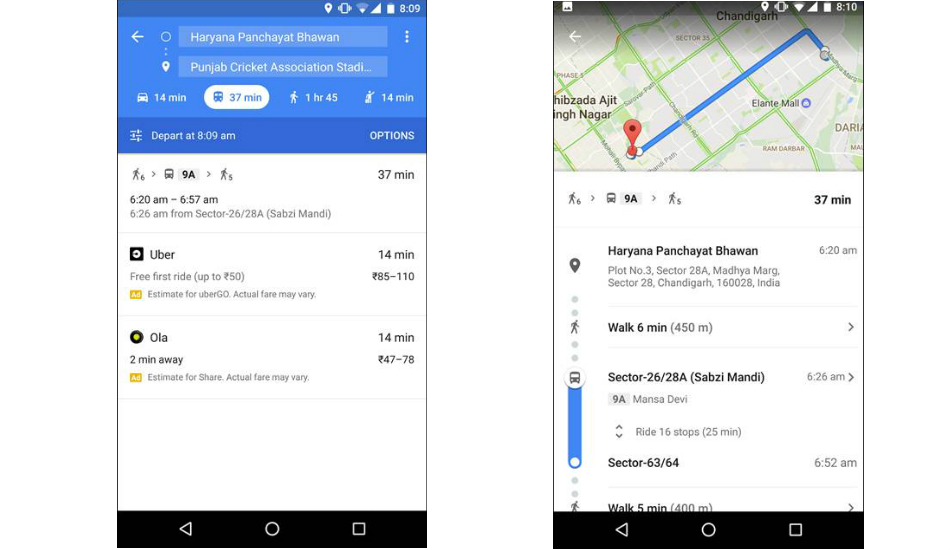 With this, the transit feature is now available in sixteen Indian cities which include the seven newly added cities as well as Delhi, Mumbai, Bangalore, Chennai, Kolkata, Jaipur, Hyderabad, Pune, Ahmedabad.
Recently, Google has added the ability to list your favourite places and share it with friends later. The new feature will interest someone who wants to create a bucket list for his/her next trip or a list of places one want to visit in near future. Previously, you could only save your favourite places but not list down them to different categories.
Not only this, the company has also collaboratedwith Uber to let users find, book and pay for their ride from Google Maps itself. One just needs to enter the destination in Google Maps and tap on the Navigation button (Car Icon) after which go to cab menu (fourth tab from the left) and book from different options available at that moment.