Google Lens is reportedly rolling out on the original Pixel and Pixel XL devices. The Lens feature will be available in the camera app and it was announced during the launch of Pixel 2 and Pixel 2 XL.
According to Reddit thread, many users of the original Pixel devices are seeing the latest feature when they open Google Photos. Many suggest that this is a server-side update, meaning that users don't really need to update the app for it. Further, users are prompted to join the Google Lens' Pixel Preview program.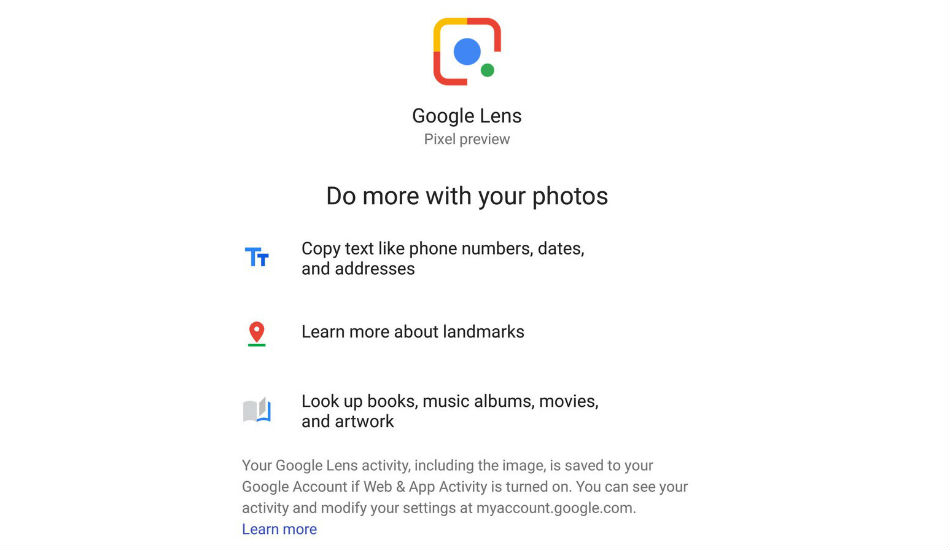 The pop-up has two options near the bottom which shows that users can either get started with Lens or set it up later. For the unintended, Google Lens is an aspirational project from Google. The Lens basically scans the images for different things like phone numbers, dates, addresses, landmarks, books, music albums, movies, artwork and more. Google Lens was first introduced during annual developer I/O conference in May last year.
Google Lens basically relies on machine learning and Google graph to recognise different objects in the photo. The feature remains exclusive to Pixel smartphones and there is no word when it will be available for other Android devices. Google will soon add Lens to the Assistant in the coming weeks and it would be first available for Pixel users.