Russian iOS application developer, i-Free, which came into the limelight after the application Girls Around Me, raising privacy and security concerns among many users across the world, has been finally forced to take down the application that was till sometime back available freely to iOS users. The application used to provide information about the presence of girls or female users in the vicinity of any user, thereby allowing the user to connect to them using services such as Facebook and Foursquare. After the issue of privacy was raised by many people, Foursquare, which is a popular social networking service, decided to stop sharing the data of its users with the developer.
Defending the application, the developer sent its statement to Wall Street Journal, saying, "Girls Around Me does not allow anonymous usage of the app. It is impossible to search for a particular person in this app, or track his/her location. The app just allows the user to browse the venues nearby, as if you passed by and looked in the window. The Girls Around Me user has to be registered in Foursquare and must be logged into this service to be able to see anything in Girls Around Me. The app Girls Around Me does not have access to user login and password; authentication is carried out on the social network side."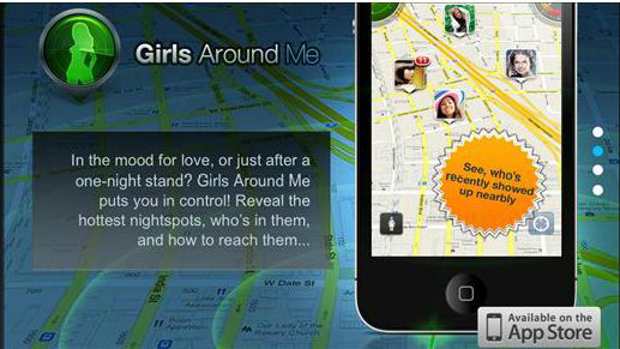 Since the application was largely reliant on user data from Foursquare, which has been stopped now, the developer has been forced to pull down the application from the Apple iTunes Store.
"We have removed the application from the iTunes Store because the users get repetitive error message, and we feel that until we find a solution and are able to provide full service, we should restrain from acquiring new users. We shall put our best effort to support the app's existing users and address their concerns."