Not long ago, quad core handsets were synonymous with costly smartphones. But the scenario has now changed as many low cost mobile phone manufacturers have announced their quad core smartphones, and that too just under Rs 20,000.
Topping the list is Micromax Canvas HD A116, which impressed many people, including us. It is not the only device to have an eye-popping feature list. Gionee, a noted player in the Chinese handset market, recently announced its entry in the Indian market with a slew of devices including the Dream D1, which is available for just Rs 15,999 (MRP 17,999).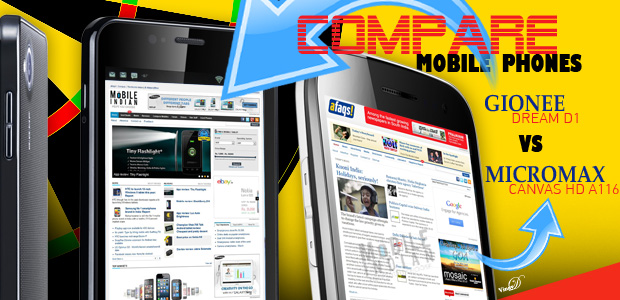 We have already reviewed the Micromax Canvas HD and are in the process of reviewing the Gionee Dream D1. So we are in a good position to tell you the difference between the two. Read on to know more.
Body
Micromax Canvas HD A116 is a really slim phone-elegant, to be precise. It has a shiny yet non-slippery body. Unlike other budget smartphones, Canvas HD has a good build and does not feel cheap. Of course, it isn't the slimmest 5 inch smartphone, nor the lightest as it measures 10.7 mm in thickness and weighs 156 grams.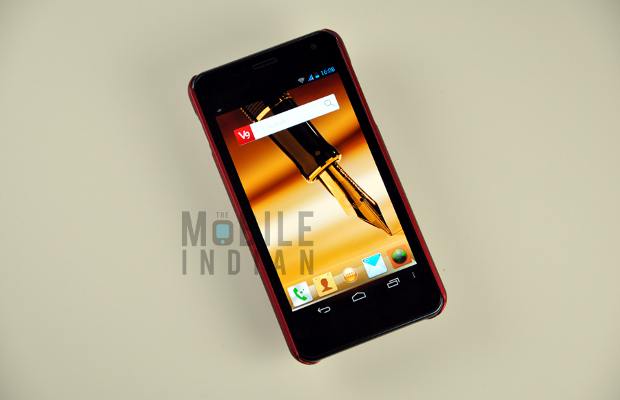 Dream D1 is sleeker as well as lighter than the Canvas HD, which is 8.6 mm thick and weighs 140 grams. Also, the Dream D1 has a texturized back panel that not only provides good grip but also prevents smudges. However, it comes only in graphite black and is not eye candy as compared to the Canvas HD.
Display
Both phones come with high resolution displays. The Micromax Canvas HD A116 has a 5 inch display at 1280 x 720 pixel (high definition), which translates to 294 ppi pixel density. As compared to that, the Gionee Dream D1 comes with a 4.65 inch HD Super Amoled display. However, the exact resolution of Dream D1's display is not known right now.


We had no qualms about the display of Canvas HD, which was truly awesome for a handset priced at Rs 14,499 but the Gionee Dream D1's display is far better.
Camera
Micromax Canvas HD A116 comes with an 8 megapixel auto focus rear camera with dual LED flash. There is also a 2 megapixel camera in the front. The cameras are theoretically able to capture high definition images and videos, but as we have pointed out in our review as well, Canvas HD is like most other budget smartphones when it comes to the camera. In fact, we found a bug in the smartphone that prevents the camera app from opening.


Gionee Dream D1 too has an 8 megapixel rear camera with LED flash, which is said to be capable of recording HD 1080p videos at 30 frames per second. The device has a smaller 1 megapixel camera in the front. Gionee Dream D1 has a nifty feature called burst mode, which allows the device to capture 99 different pictures in one go.
We have not tested the Dream D1's camera so we won't comment on its capability as of now.
Battery
The Micromax Canvas HD comes with a 2000 mAh battery. As I said in my review as well, the Micromax handset provides around five hours of talktime on one full recharge.


The Dream D1 has a 2100 mAh battery and our initial tests showed that it can give around one day's backup, but we will give exact figures in our final review, for which you have to keep checking The Mobile Indian. Also, since it has a slightly smaller screen, the battery life of Dream D1 may be a bit more than that of Canvas HD.
OS
In this arena both smartphones are on equal footing as they come with Android 4.1 Jelly Bean operating system and we did not see any updates for either of them.
Processor
Both handsets have MediaTek's quad core processor with 1.2 GHz clockspeed. They also have 1 GB RAM and we expect them to have the same GPU. However, since the Dream D1 has a smaller 4.65 inch display there would be less pressure on its GPU and it is expected to be a bit faster than the Canvas HD.
Storage
Both Micromax Canvas HD and the Gionee Dream D1 come with 4 GB ROM and 32 GB expandable memory slot, so there isn't much of a choice here. However, Gionee is giving a 16 GB micro SD card for free with the Dream D1, which certainly makes it more attractive.
Services and availability
Micromax has a far better service network in India than Gionee, which has only recently entered the country. On the other hand, Micromax has found it difficult to make its Canvas HD available in the market ever since it was launched.
Conclusion
The Gionee Dream D1 costs around Rs 1,500 more than Canvas HD. Also, like many, we have our reservations on Gionee's service network. But apart from these two areas, the Dream D1 comfortably beats or matches the Micromax Canvas HD A116 in all other areas.
You can also read the Micromax Canvas HD A116 review and Gionee Dream D1 hands on for more information.