Today, Samsung launched the Galaxy A8 Star in India as an Amazon exclusive featuring a respectable set of features, chipset and dual camera. All good until you stare at the price tag which reads Rs 34,999 and you wonder if Samsung is even doing justice to the mid-range phone segment when users can go ahead and buy better-configured phones which we've come to call as 'flagship killers'.
The Galaxy A8 Star comes with a Snapdragon 660 chip which in itself is a moderately powered and battery efficient chip but will that be able to hold off the Snapdragon 845 that's inscribed on its competitors? Let's talk about that. And before we do, we note that the A8 Star comes in a single 6GB+64GB variant which is available as base versions on the Xiaomi Poco F1, Asus' Zenfone 5Z and the OnePlus 6 and that will be the foundation of this comparison.
Build and Design:
Samsung, like Oneplus and Asus, has gone for the same shiny glass sandwich design, where two curved glass panels have adhered to an aluminium frame. While the A8 Star arrives in a single Black colour, the Zenfone 5Z offers more options through Meteor Silver and Midnight Blue versions. In this case, it's the OnePlus 6 which offers a wide variety of selections including Mirror Black, Midnight Black, Red and Silk White finishes. While all glass backs are elegant and unique in one's own eyes, need we remind you that they won't look the same after the phone gets dropped, just once, because glass is brittle and that's where metal or some other material comes into play.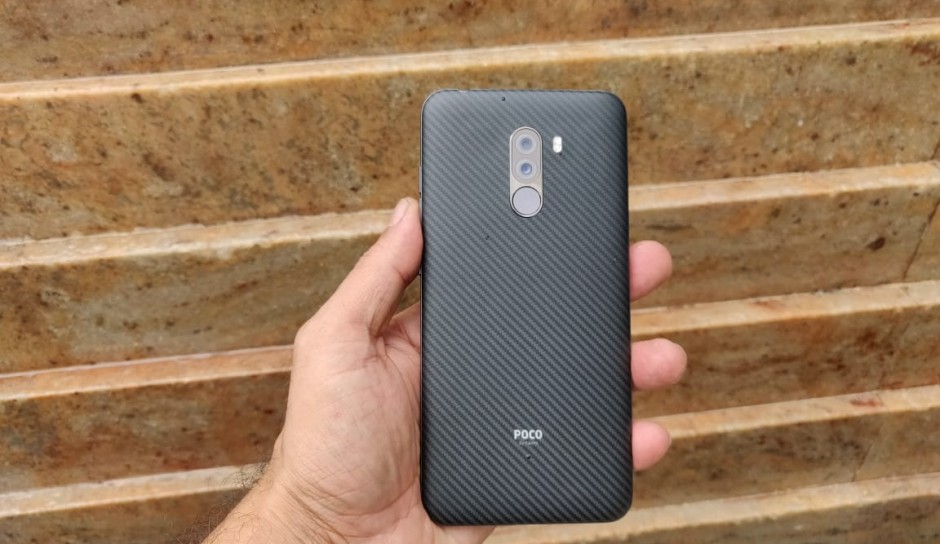 Xiaomi's recent most Poco F1 has taken a different route altogether with a polycarbonate-made back panel. While polycarbonate doesn't necessarily strike you as the most durable option, the same doesn't instil the fear of dropping a glass-back device that brings with it dust and fingerprint smudges. For those who are a little more concerned, Poco is providing a special edition Kevlar finish which it says is more durable than metal which it manages to do so by being lighter than metal.
Winner: Poco F1 for durability.
Display: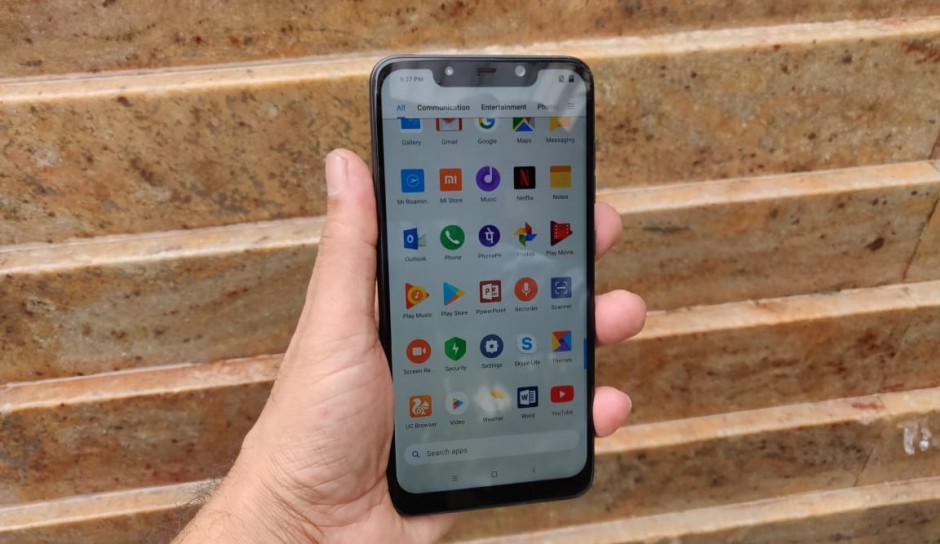 All four smartphones feature similarly sized close to 6.2-inch Full HD display with elongated aspect ratios and notches at the top, barring the one on the A8 Star. While the Zenfone 5Z and Poco F1 make use of IPS LCD panels with similar resolutions, it's the Samsung and OnePlus device who make use of an AMOLED panel on the front. However, Samsung is left to bite the dust since it features the lowest screen-to-body ratio of the four with 80.4 percent screen space. So much for an 'Infinity Display', Samsung? While the winner's crown is left for OnePlus 6 to be had, it's the Poco F1 which gets the title since it packs the same pixel density of 403 ppi as the rest for almost half its price.
Winner: Poco F1.
Hardware:
The Samsung A8 Star is powered by an octa-core Snapdragon 660 14nm processor (Quad 2.2GHz Kryo 260 + Quad 1.8GHz Kryo 260 CPUs) with Adreno 512 GPU, 6GB RAM, 64GB internal storage and an expandable memory up to 256GB with microSD. While the chip is convincingly snappy for a mid-range smartphone and power efficient too, Samsung appears to have lost its perspective of the market segment it's selling the A8 Star in. For a phone that's priced around Rs 35k, the Galaxy A8 Star doesn't necessarily qualify as the best pick and we'll just get to why we believe so.
For around or under the same Rs 35k landmark, the other three phones are powered by the top-of-the-line Qualcomm octa-core Snapdragon 845 chipset with Adreno 630 graphics. The base variant of all three feature 6GB of RAM and 64GB storage which goes all the way up to 8GB RAM and 256GB storage on the Poco F1 and Zenfone 5Z, while the OnePlus 6 maxes out at 128GB. If you think, the OnePlus 6 is doing bad, need we remind you that the Samsung device only offers a mere 64GB storage for the same price.
While it might appear as there are a lot of similarities in the other three, the Poco F1 comes with an additional LiquidCool Technology for keeping the device cool. There's also 3D face unlocking which is possible through the infrared sensor and infrared lighting, that makes it possible for the device to read a face in the dark.
Winner: Poco F1, the most powerful device for a price lower than the other three.
Camera:
OnePlus 6
The OnePlus 6 has a dual camera setup with a 16MP lens that features optical image stabilisation and f/1.7 aperture alongside a secondary 20MP camera with the same fixed aperture. Both sensors are placed vertically adjacent to each other with a dual-LED flash below the camera module. In terms of videography, the device will be able to record 4K videos at 60 fps, 1080p videos at 240 fps and slow-motion videos of 720p resolution at 480 fps.
Zenfone 5Z
The main highlight for photography on the Zenfone 5z comes in the form of the 1.4-micron pixel sized primary 12-megapixel (f/1.8, 24mm, 1/2.55″) sensor with phase detection autofocus and electronic image stabilisation. The secondary sensor that it's coupled with is an 8MP wide-angle (f/2.0, 12mm, 1/4″, 1.12µm) lens. The device possesses the ability to shoot 4K videos at 30fps while recording 1080p videos at 60/120 fps and slow-motion footage at 240fps.
Poco F1
The camera on the Poco F1 sports a combination of 12-megapixel primary Sony IMX363 sensor with dual pixel autofocus, 1.4μm pixel size and a 5-megapixel secondary Samsung sensor on the rear side. For the front, the device has a 20-megapixel selfie camera along with support for IR face unlock feature. Pictures on good lighting conditions turn out to be sharp and to the unsuspicious eye, it might even be mistaken for being clicked on a OnePlus 6.
Galaxy A8 Star
For camera department, the Samsung Galaxy A8 Star comes equipped with Samsung's Dual Rear IntelliCam camera of 16-megapixel primary sensor with LED Flash, f/1.7 aperture and a 24-megapixel secondary sensor. It has a 24-megapixel front-facing camera with f/2.0 aperture. The front camera has Smart Beauty and Pro Lighting features and supports AR Stickers.
Winner: OnePlus 6 for videography and Poco F1 for stills.
Software:
The Zenfone 5Z 'almost' offers a stock version of Android based on Android 8.1 Oreo with the ZenUI 5.0. There are gestures for navigation and AI features like AI Boost for reassuring more power when using the smartphone for extreme gaming scenarios, AI Photography and AI Display.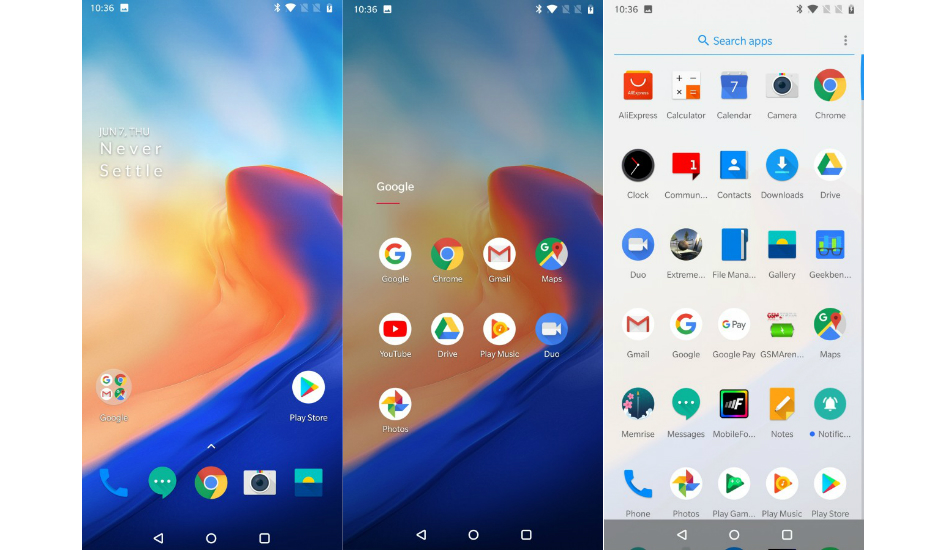 The same can be said about the OxygenOS on the OnePlus 6 with also provides users with a near-to-stock Android Oreo experience with gesture navigation like on the iPhone X. OnePlus also has a reputation in offering users with timely software updates which is also a blessing in disguise.
The A8 Star runs on Android 8.0 Oreo and on top of running the not-so-latest build of Google's mobile OS, the device comes with a heavily skinned Experience 9.0 UI. While daily tasks might be carried out swiftly on the device, we assume the Experience UI would hinder the performance of the rather lowly-specced smartphone.
Xiaomi is seeding its MIUI overlay on top of Android 8.1 Oreo on the Poco F1. For the first time on an MIUI-running device, there's an app launcher (Poco Launcher) which behaves a lot like the Nova launcher but has its own finishing touches like different categories of apps and grouping apps on the basis of their icon colours. The interface is intuitive and familiar and doesn't have a steep learning curve associated to it.
Winner: Zenfone 5Z and OnePlus 6 for providing an almost stock Android experience.
Battery:
There are two aspects of battery we need to consider – battery capacity and fast charging. Starting with the lowest, the OnePlus 6 and Zenfone 5z are fuelled by a 3,300mAh battery which will be able to provide a whole day of usage. This is followed by a slightly larger 3,700mAh battery on the A8 Star but the Samsung device employs a mid-range chip which will consume more power than the SND 845 on the other three. The 4,000mAh power unit on the Poco F1 is what will last longer than the rest.
Fast charging capabilities tell a different story. While the A8 Star, Zenfone 5Z and Poco F1, all come with an 18-watt charger, it's the OnePlus 6 which steals the show with a faster 5V/4A 20W Dash Charging.
Winner: Poco F1.
Verdict:
Up until 2018, OnePlus was the undisputed winner of flagship killers but things changed when Asus introduced the Zenfone 5Z to the ring. And then just recently Xiaomi announced the Poco F1 under a new Poco brand and the mere definition of a 'flagship killer' changed as the Poco device looks to be the change the Rs 20k+ market was anticipating and rightly so. While buying a Snapdragon 845 featuring phone for around Rs 35,000 seemed sensible, we're now looking at a redesigning of the market with the launch of Poco F1, which features almost the same elements as the OnePlus 6 but is priced much cheaper at Rs 20,999.
| | | | | |
| --- | --- | --- | --- | --- |
| Specs | Samsung Galaxy A8 Star | Poco F1 | OnePlus 6 | Zenfone 5Z |
| Display | 6.28-inch FHD+ Super AMOLED Infinity | 6.18-inch Full HD+ | 6.28-inch Full HD+ AMOLED display | 6.2-inch Full HD+ display |
| Processor | Octa Core Snapdragon 660 | Qualcomm Snapdragon 845 | Qualcomm Snapdragon 845 | Qualcomm Snapdragon 845 |
| Camera | 16MP+24MP Rear, 24MP Front | 12MP+5MP Rear, 20MP Front | 20MP+ 16MP, 16MP | 12MP+ 8MP, 8MP |
| Memory | 6GB + 64GB | 6GB+64GB, 6GB+128GB, 8GB+256GB | 6GB + 64GB, 8GB + 128GB | 6GB + 64GB, 6GB + 128GB, 8GB + 256GB |
| Battery | 3700mAh | 4000mAh | 3300mAh | 3300mAh |
| Operating System | Android 8.0 Oreo | Android 8.1 Oreo | Android 8.1 Oreo | Android 8.0 Oreo |
| Price | Rs 34,999 | Rs 20,999, Rs 23,999, Rs 28,999 | Rs 34,999, Rs 39,999 | Rs 29,999, Rs 32,999, 36,999 |
There's that and there's Samsung. While we might have thought that the South Korean company will be learning from its mistakes after losing its smartphone market share to Xiaomi in India, it now appears that old habits die hard and you die with them. At a time when Xiaomi is establishing the same extended portfolio that Samsung once did but only at cheaper prices, Samsung has failed to offer anything that substantially matters to the Indian smartphone crowd.
The A8 Star is a star indeed if we had a 'Hall of Shame' for all the devices that don't live up to their prices. The Galaxy phone features a mediocre chip with low-end specifications, no design enhancements and a lie of an 'Infinity Display' and none of that even makes sense buying it unless you're loyal to Samsung and are willing to lag behind the advancements of technology.