Sony Ericsson has been in the mobile phone and smartphone arena for quite sometime now and the years of experience it has gained over the years is evident in its products. The latest example of this is the new Sony Ericsson Xperia Neo V smartphone that has been launched in India at Rs 17,500.
The most commendable thing about Xperia Neo V is its subtle yet stunning appearance that will definitely be liked by most users. Plus, the build quality of the device is superb. Xperia Neo V feels sturdy and right from the moment you take this device in the palm of your hand you feel confident about it. The rounded corner adds a touch of class and comfort for the user and most importantly, the design is somewhat similar to that of the older Neo which was much appreciated by users. For people using the older Xperia Neo, though, this device won't be very different.
Although Neo V is the upgraded version of Neo it costs about Rs 6,000 less.
The display of Neo V remains the same as in the old version. It is a 3.7 inch LCD display with 480 x 854 pixel resolution and 265 ppi pixel density. It is bright and reproduces vibrant visuals, a known benefit of Sony Ericsson devices. The resolution and screen size are perfect and can playback 720p HD videos.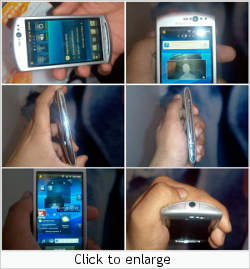 Coming back to the design the Neo V has its main button in the same place as its predecessor does and on the right hand side you will find the camera key, volume rockers and power/screen toggle switch.
Neo V has the same processor, display and functionality as the older Neo but along with the price the camera has been reduced to 5 megapixel as compared to the 8 megapixel camera on the Neo.
But on the other hand the lower resolution camera also gets HD video recording capability in 720p at 30 frames per second and 3D sweep panorama image capture mode, which was added to Sony Ericsson Arc S as well.
All in all, the device looks good, but how it fares in the real world will only be known once we review it more thoroughly. So keep watching this space.