Till now there was a lot of confusion in the Indian smartphone market as to who will be the first manufacturer to announce a Windows Phone Mango 7.5 based smartphone. Well, now with the announcement of the Omnia W, Samsung has taken this position.
Omnia W was launched globally just a couple of days back and India will be among the first few countries to get these devices.
We played around with a Samsung Omnia W at a press event where Samsung revealed its plans about these devices. The device is priced at nearly Rs 19,990 and will be available for purchase next month onward.
Samsung Omnia W looks great with its 3.7 inch Super Amoled capacitive touchscreen with native resolution of 480 x 800 pixels. The most amazing characteristic of this device is its 252 ppi pixel density which makes visuals look crisp and smooth. The display reproduces bright and vibrant visuals that are unparalleled in any other display available in the market today except the Galaxy S2 which uses a larger version of the same display.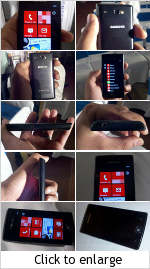 With 10.9 mm thickness, this device is comfortable to hold and has a lot of oomph. It is black and looks really classy.
Samsung Omnia W features a 1.4 GHz application processor and runs Windows Phone Mango 7.5 on 512 MB of RAM to keep things speedy and fluid as well. The device makes use of the native Windows user interface with live tiles and works real smooth.
It has a 5 megapixel snapper with LED flash capable of recording HD 720p video.
Overall, Samsung Omnia W looks great and has the hardware to power a large sized tablet as well.
Stay tuned for we'll carry a detailed review soon.