Popular social network Facebook has revealed an official Facebook Messenger App for the Apple iOS and Google Android platforms.
The new Facebook Messenger app allows one-to-one chats, group chats, Address Book integration, photo additions, and even keeps track of the user's location. Facebook Messenger is available for download only in the USA as of now.
The app works on iOS 4.0 or higher versions on iPhone, iPod Touch and iPad. On Android, the Messenger works on Android 2.2 Froyo or higher.
Because Facebook Messenger is a stand-alone application, the user will have to log into it separately. This app also provides integration with the Address Book on the device and thus lets the user chat on Facebook. In a way, Facebook Messenger app being cross-platform from day one is going to give competition to BlackBerry Messenger app iMessage on iOS devices, and several WhatsApp-like messengers.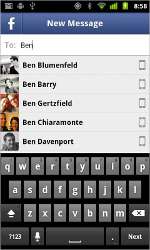 Facebook Messenger utilises a data connection and thereby users won't incur premium SMS charges while chatting with their friends across the globe. Currently, the app allows one-to-one and group chats so that users can share photos as well as their location.
Besides chat, the hidden code in the app reveals that Facebook Messenger is capable of video chat as well. Now, that would really make the best of devices that have front facing cameras.
Apple already has FaceTime on iOS devices while Google brings Gtalk with video in the Android 2.3.4 update. So with cross-platform Messaging and video chat capability, Facebook does stand a higher chance of being used more than the competition provided the experience is pleasant.
At this moment, Facebook Messenger is not available worldwide, but it is expected to be available globally in sometime.