Evernote has announced new features and capabilities for its Android version. The new Evernote 3.2 version for Android brings tighter integration with Skitch, offline note search, new options for image viewing, and much more.
Skitch was recently acquired by Evernote. It allows users to easily draw, ink, grab screenshots, annotate and share ones' favourite images with a little personal touch.
Below are the new features of the new Evernote version and how to use them
Annotating an existing image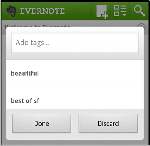 If you'd like to annotate (highlight or write your own comment) a snapshot or image contained in an existing note, edit the note and tap on the image attachment. In the popup, tap on Annotate with Skitch; this will work for just about any note that contains images, with the exception of web clips. Once you've marked up your image in Skitch, tap on the Evernote icon and the image will be sent back into the original note.
Search when you're offline
You can now search within your Evernote account even when you don't have a network connection. In the past, you were able to access certain notes offline, but searching for notes wasn't possible. Now, premium users can take entire notebooks offline and search within them. Free users can search within notes that they viewed or created on their Android device.
Additionally, premium users can search within their PDFs while offline. Please be aware that this will require downloading and storing more content to your device or SD card.
Slideshow View for images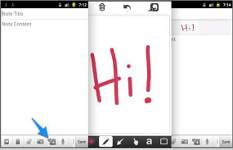 Open a note, then tap on an image, photo or something you marked up in Skitch. This will open slideshow view. The image will take up the whole screen on a black background. You can swipe left and right to view all the other images in that note. If your note contains an image and nothing else, then it will automatically open in Slideshow View.
When in Slideshow View, you can edit the note title by simply tapping on it. You can go between Slideshow View and the standard note view by tapping on the Slideshow icon in the top left corner.
Shared Notebook improvements
Whenever someone invites you to access a shared notebook, you'll receive an email with a link. If you view the email on your Android device and tap the link, the shared notebook will open up right inside of Evernote on Android.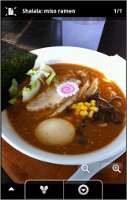 Additional features
Move notes between notebooks: Tap and hold a note in the note list, then choose Move to notebook from the popup.
Redesigned tagging: When adding a tag, you'll see a redesigned, more useable tagging interface.
Save files to SD card: Tap on any note containing files or images, then tap the Menu and choose Save attachments.
An iOS version of Evernote is also under development and will be launched shortly.