There has been lot of euphoria in the market about the most advanced Android operating system, which is dubbed as Ice Cream Sandwich. On the same hand, there is a lot of confusion over the availability of Android 4.0 in India as well.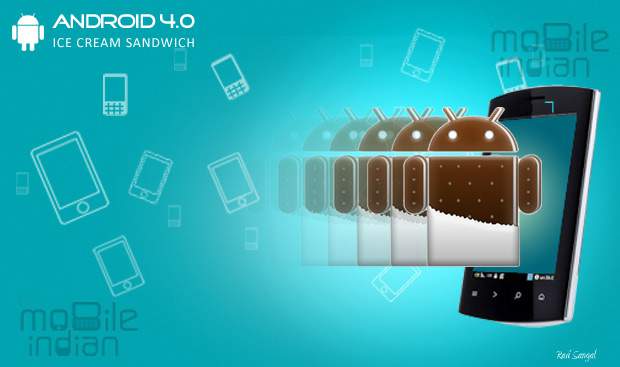 To clear the air, The Mobile Indian has come up with a comprehensive list of device (smartphones/tablets) which are available in India and will soon get the Android ICS. It is to be noted here that currently no phone or tablet, which are available in India, has Android 4.0 ICS.
HTC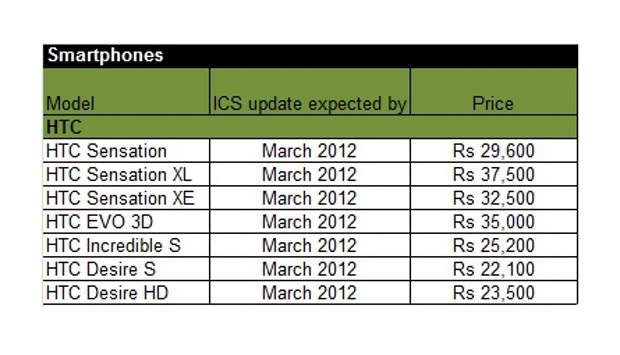 HTC has announced that it will try to roll-out ICS update for as many devices as possible. They have already announced a comprehensive list of handset and have included almost all the handsets which they have in India except for the HTC ChaCha and Salsa.
Among the handsets which are expected to get the Android 4.0 update include the HTC Sensation, Sensation XL, Sensation XE, Evo 3D, Incredible S, Desire S, and Desire HD. All these smartphones are expected to get the Android 4.0 ICS update in March this year.
LG



LG has also announced that it will update most of its smartphones. However, some of the popular budget phone from their portfolio like the Optimus One and Net will be left out from getting this update. The roll-outs will begin only by May and will be in staggered manner.
Among the LG handsets that are set to get the Android 4.0 update
include LG Optimus 2X, Optimus Sol, Optimus 3D, and Optimus Black.
Motorola



Motorola has a very limited portfolio in India with just six smartphones and out of that just one – Razr, will get the update. Older phones like the Milestone are left out as expected owing to their weaker hardware specifications. However, Defy+ which is a capable handset (meets the hardware requirement for the update) has been left out as of now.
Samsung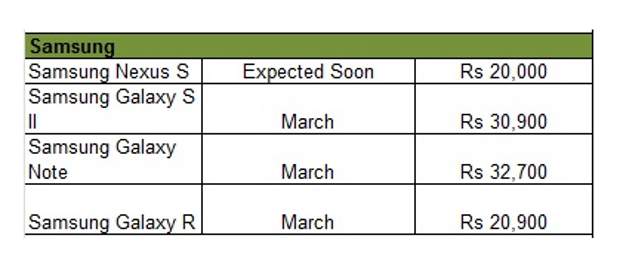 Samsung has the widest range of Android phones and most of their handsets, starting from mid segment to high-end, will get the update. However the popular entry level phones like Samsung Galaxy Pop, Galaxy Y, and Galaxy Ace as well as some of the older phones like Galaxy S have been left out as of now.
Samsung is expected roll out the Android ICS update for its Nexus, Galaxy SII, Galaxy Note and Galaxy R in the month of March.
Sony Ericsson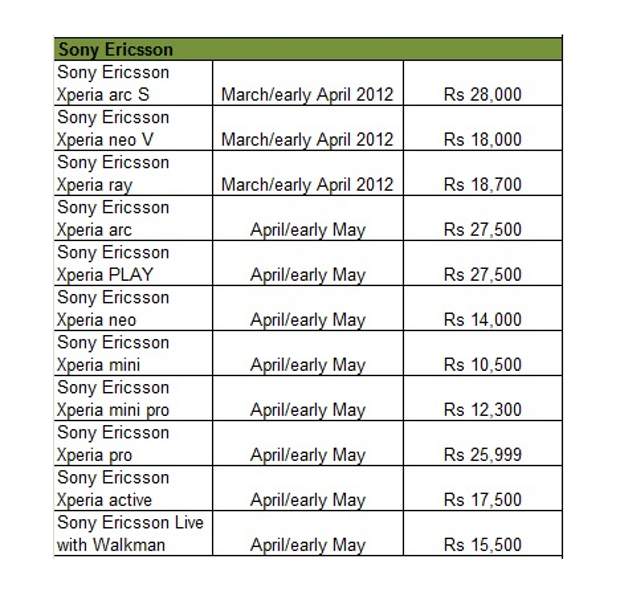 With 11 phones to be upgraded, Sony Ericsson has the biggest list here. The updates will begin in March and will continue till May this year. Almost all the devices in their portfolio will be upgraded.
Among the handsets include, Sony Ericsson Xperia arc S, Xperia Neo V, Xperia Ray, Xperia Arc, Xperia Play, Xperia Neo, Xperia Mini, Xperia Mini Pro, Xperia Active and Sony Ericsson Live with Walkman.
Tablets
Sony



Sony has just launched its first tablet, Sony P, in India. The tablet is already slated to get the update. However, while the update is confirmed but the date for that update is not. We expect it to happen before May, and will not be a surprise if it happens much before that but it won't be later.
Sony Tablet S which is expected in next few days is also going to get the update at the same time.
Lenovo



Lenovo has three tablets – IdeaPad K1, IdeaPad A1 and ThinkPad – in India and all of them will get the update. We were the first ones to break the release date of the update.
Samsung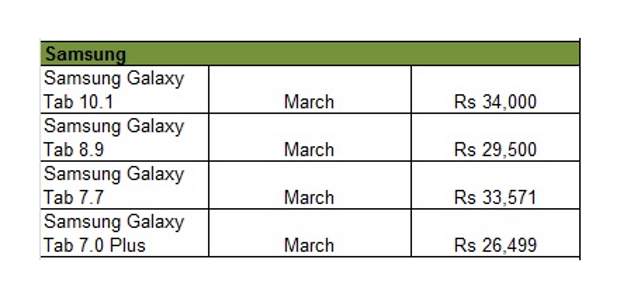 In the tablet space, Samsung has the biggest range. Apart from the Samsung Galaxy tab 7, all other tablets of Samsung will get the update. Unfortunately Tab 7 has been their biggest seller in India, so most of the Samsung Tablet owners will be left out as far as India is concerned. Hopefully, Samsung would announce the Android 4.0 update for its Tab 7 later.
Motorola



Motorola is currently selling only the older Xoom tablet in India which is set to get the latest Android 4.0 operating system. In fact, the Xoom WiFi has already been updated in few other countries. Xoom 2 has not been announced for India, however whenever it comes, it will come with ICS.
Huawei



Huawei recently launched MediaPad, a 7 inch tablet in India. While, the tablet is selling with ICS in USA, its availability in India has not been announced. However existing users of the tablet will get the update in March/ April timeframe.