Bounty, a walk-in to get rewards app, has been announced for Delhi. It was earlier available for Bangalore, Hyderabad and Chennai.
When you visit any of your favourite places, be it a restaurant, pub, saloon, spa, retail store, grocery store etc (1000+ places in Delhi), the app will automatically recognize the place and alert you to collect bounty points. You have to just tap once to collect the reward points. These rewards can then be redeemed against a host of offline and online gift cards with no conditions and no coupons.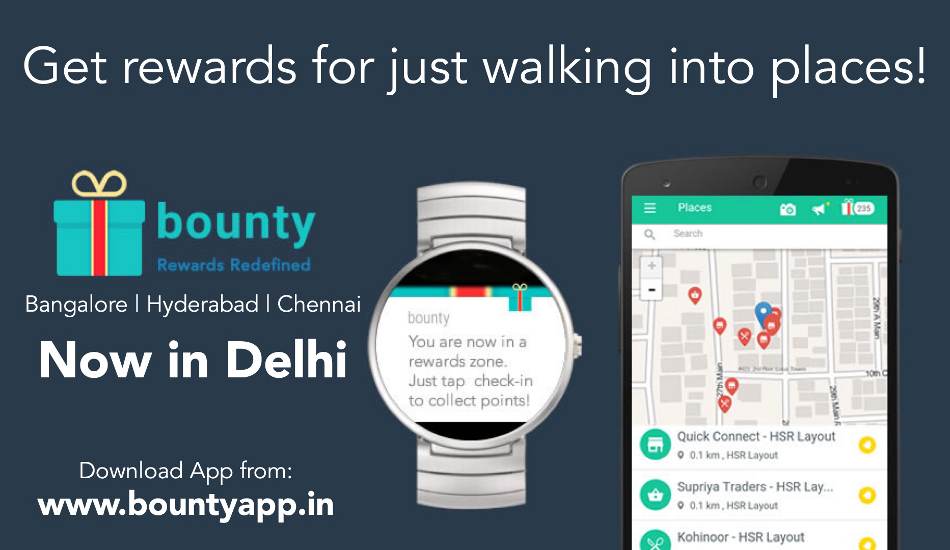 The app works even without active GPS and data connectivity. Bounty is the first rewards app in India to provide Android Wear support, claimed its makers.
Announcing the launch of the app for Delhi, its makers said, "Rewarding thy customers has always been the best way of retaining them. However, most reward programs do not work due to the pain in collecting and redeeming of rewards, lack of flexibility and relevance of rewards. In order to ease this consumer difficulty, apps like bounty come into picture. bounty app automatically rewards your everyday lifestyle activities. You just live your life in terms of eating out, shopping, visiting places etc and bounty automatically alerts you to collect reward points. These reward points can be redeemed at merchant partner's online sites or offline outlets with no conditions (these are equivalent to cash)."
In India, bounty competes with Crownit, Payback and a few others who reward users to take a picture of bill or by giving your phone number or by tagging your cards etc but Bounty has automatic check-ins facility.