Research in Motion (RIM) in collaboration with Austria based designer firm Porsche design has sent out media invites for a special launch event to unwrap a new product on which these two companies have worked together.
Even though the details of the product launch have not been announced but it's like the most basic of guesses that what a smartphone manufacturer will be doing in collaboration with a designer. Sometime back some leaked pictures were revealed about a BlackBerry handset carrying a full brushed metal design, courtesy Berry.cn revealing the new Bold 9980 in a totally new design. So it is expected that RIM will be launching a similar device during the event which is scheduled to take place on October 28 in Dubai.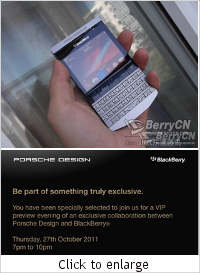 Although much not has been said about the specifications of the device but under the metal clad design the device will be same as the Bold 9980 with a 1.2 GHz processor, HD video recording, 24-bit high resolution graphics, and advanced sensors enabling new augmented reality applications such as Wikitude that can be seamlessly integrated with BBM 6.
Limited edition Bold 9980 is expected to feature a 5 megapixel camera and 8 GB of internal storage memory, while the display will remain the same as the one on the Bold 9980 enabled with a touch based input.
Porsche design studios have in the past also been associated with other mobile brands like Sagem for the production of limited edition phones.