A new device of Canadian handset maker Research in Motion has surfaced online accidentally. US based Verizon Wireless website accidentally made the BlackBerry Bold 9930 promotional video live through one of the existing handset BlackBerry 9650. New BlackBerry Bold 9930 features 2.8-inch display and is claimed to be the slimmest BlackBerry device (10.5mm) so far. Behold couple of hours for RIM and Verizon to officially launch and release the BlackBerry Bold 9930 handset.
New BlackBerry Bold 9930 was announced back in May this year at the BlackBerry World 2011. Now this handset will be launched and released later today by RIM on Verizon as we reported earlier today.
Apparently, RIM will debut the BlackBerry OS 7 based devices today starting off with BlackBerry Bold 9900 and Bold 9930 handsets. Both handsets will come with a fast 1.2 GHz Qualcomm 8655 Snapdragon processor coupled with 768 MB RAM truly promise to provide enough muscle for the new BlackBerry OS 7. The Bold 9900/9930 will come with 8 GB onboard memory and capable of holding up to 32 GB memory card.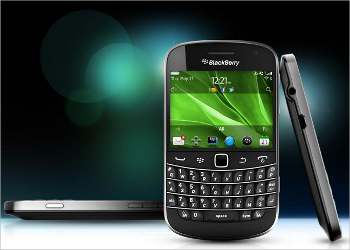 BlackBerry Bold 9900/9930 features a 2.8-inch capacitive touch screen display with 287 PPI resolution and 640×480 Pixel resolution for crisper text as well as images. Imaging experience will be enhanced with 5-megapixel camera that is also capable of 720p HD video recording. Apart from that, the phone will come with Bluetooth 2.1, GPS chip, Accelerometer, Digital Compass, and Proximity Sensor.
Apparently the new Bold 9900/9930 will feature Near Field Communication Chip and would be first BlackBerry handset to support the Dual-Band Wi-Fi.
The new BlackBerry OS 7 brings in the Liquid Graphics for fluid interface, browsing and even while playing games. With a crisper and better display, the BlackBerry device also supports pinch-to-zoom feature and promises faster user experience with the new BlackBerry OS 7.
So far, there's no word on the pricing of the BlackBerry Bold but we expect to hit India at a price higher than Rs 30,000 considering the hardware packed. No update on the time of the Bold 9900/9930 availability in India.