Research In Motion has announced the launch of three BlackBerry handsets in India &#151 namely BlackBerry Bold 9790, Curve 9380, and Curve 9350. All the three smartphones are expected to be available in the Indian market by December 1.
All the three handsets are based on RIM's latest BlackBerry 7 operating system. Moreover, Curve 9350 is a CDMA phone so CDMA operators in India are expected to offer the handset with attractive data offers. Both the Curve 9380 and Curve 9350 are priced at Rs 20,990 while BlackBerry Bold will cost Rs 27,490.
"We are pleased with the response that the new BlackBerry 7 operating system is receiving from customers in India and we are very excited to introduce these three new BlackBerry 7 based models here," said Krishnadeep Baruah, Director Marketing at RIM.
Bold 9790
The Bold 9790 has a 2.44 inch display that will support 480×360 pixel resolution in 4:3 aspect ratio. In terms of physical design, it appears to be the cross-bred product of Bold 9700 and the BlackBerry Torch 9850.
Despite having a 2.44 inch, the Bold 9790 features a touchscreen interface which is similar to the Nokia E6 that has 2.46 inch touchscreen.
Under the hood, this smartphone sports a powerful 1 GHz processor, 8 GB of memory and a 5 MP auto-focus camera. It will also come with the Near Field Communication (NFC) which will allow users to read smart tags on signs and posters, and connect with other NFC enabled devices, with a simple tap.
Curve 9380
It is the first BlackBerry Curve smartphone to sport a touch screen. Besides, it will also come with new technologies such as NFC and Augmented Reality.
Its 3.2 inch screen will support 480×360 pixel resolution with 4:3 aspect ratio and has 189 pixels per inch. The smartphone also features BlackBerry's Social Feeds application, which ties all of your social networks together into one place. With Social Feeds you can update each of your social networks at once, and new messages from your friends pop up at the top of the screen so you can check them quickly and easily.
Besides, it has a 5 megapixel camera.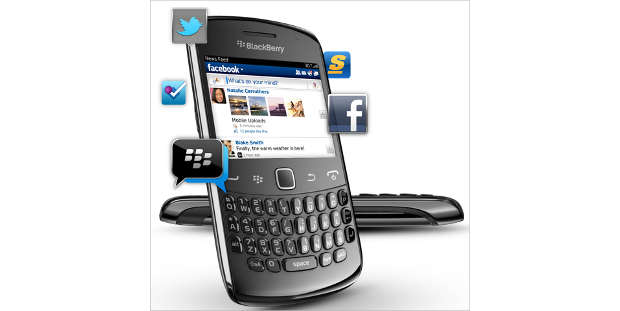 BlackBerry Curve 9350
BlackBerry Curve 9350 comes with 2.44 inch touchscreens but do not feature a touchscreen based display like the older Curve smartphones. Along with BlackBerry 7 OS, Curve 9350 features 512 MB on-board memory, which is expandable up to 32 GB via a microSD card.
Curve 9350 has 5 megapixel camera with flash as well but it can only record videos in VGA mode. It also have Near Field Communication chip which allow transactions, data exchange, and wireless connections between two devices in close proximity to each other.
With BlackBerry 7 OS the Curve series of smartphones have augmented reality, which is enabled with the digital compass and accelerometer. The device comes with the Wikitude World Browser, which helps users with their social networking activities.
The new OS also enables the smartphone to have voice-activated universal search, and with speech-to-text translation one can search for files, email, contacts, music and even search the web, without typing a thing.