Consim, an Indian Internet company, today announced the launch of mobile applications of its portals &#151 BharatMatrimony and IndiaProperty &#151 on the Blackberry for professionals on the go.
The IndiaProperty Blackberry app combines innovative technology with deep consumer insights to deliver a host of features with multiple benefits to buyers and sellers of properties alike. Through augmented reality, they can use the phone camera to locate nearby properties and places of interest including educational institutions, places of worship, travel destinations and transportation facilities.
The advance search function helps users to search by multiple parameters like locality, built-up area and price range while 'locality search' enables them to search for nearby properties based on the GPS coordinates. Users can also view photo galleries, property details like amenities, specs and floor maps as well as post an enquiry through Email/SMS or place a call to the builder.
The BharatMatrimony Blackberry app will enable users to search using advanced parameters for their life partners from anywhere any time when they are on the move. Most of the features of the web version of BharatMatrimony are available in the mobile version as well.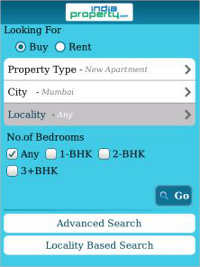 Members can view the full details of the prospects along with their photo albums and horoscopes. They can also shoot photos using their device and upload them to their profile albums.
Commenting on the launch, Murugavel Janakiraman, founder, chief executive officer, Consim, noted: "The mobile apps developed with the support of Blackberry will create useful and enriching experiences for our members while on the go. We believe that the apps would go truly viral due to its deep integration with the BlackBerry messenger."
Janakiraman added: "Mobile apps will help us reach consumers on a brand new level. We are intensely focused on creating the best search experience to be a meaningful part of our members' lives and to provide our services when and where they need them. Together, the IndiaProperty and BharatMatrimony apps will empower members in new ways for carrying out their partner and property searches in their pocket."