Using your face as your password: Sounds like a little too high tech for present day security but if you have an Android smartphone with a front camera you can use face recognition technology for securing your smartphone from prying eyes and keeping your stuff secure, such that only your face can unlock it. AppLock is a free application available from the Android marketplace. It enables the use of facial recognition for protecting private data on smartphones.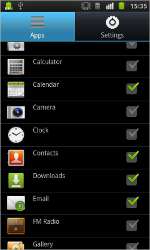 However, this application requires two main things to perform this: one is the presence of a front facing camera and the other is Android version 2.3 or better. Users can save up to three different images captured by the application for accurate facial recognition at different times, as opposed to a single photograph. The application allows users to choose the applications they want to put behind security. And in the unlikely case of the face not matching, users need not worry as the application has a second level of security that is password-based.
The application is currently in version 1.3 and the developer Visidon continues to make the application more useful and accurate as it is related to the security of the smartphone.
Android users who do not have a front facing camera are not left out completely and can use the password-only security of this application on their smartphone, but they will be missing out on the facial recognition feature as this feature gets disabled in the absence of a front camera.