Apple's latest offerings, the iPhone 15 Pro and 15 Pro Max, have officially been revealed. These high-end models boast a titanium construction and introduce a new feature called Action Buttons. Priced starting at $999 with 128GB of storage for the Pro and $1,199 with 256GB of storage for the Pro Max, both phones are set for pre-orders this Friday, with availability beginning on September 22nd.
Apple iPhone 15 Pro and iPhone 15 Pro Max will be available in black, white, blue, and natural titanium finishes. iPhone 15 Pro starts at INR 134900 and is available in 128GB, 256GB, 512GB, and 1TB storage capacities. iPhone 15 Pro Max starts at INR 159900 and is available in 256GB, 512GB, and 1TB storage capacities.
Customers in more than 40 countries and regions, including Australia, Canada, China, France, Germany, India, Japan, Mexico, the UAE, the U.K., and the U.S., will be able to pre-order iPhone 15 Pro and iPhone 15 Pro Max beginning at 5 a.m. PDT this Friday, September 15, with availability beginning Friday, September 22.
Performance and A17 Pro Chip
The iPhone 15 Pro sports a 6.1-inch screen, while the Pro Max features a 6.7-inch display, mirroring the new iPhone 15 and 15 Plus dimensions. Both devices are powered by the A17 Pro chip, acclaimed by Apple as the fastest performer in any smartphone, even rivalling some high-end PCs. This enhanced processing power is anticipated to elevate mobile gaming experiences.
USB-C Connectivity for Faster Transfers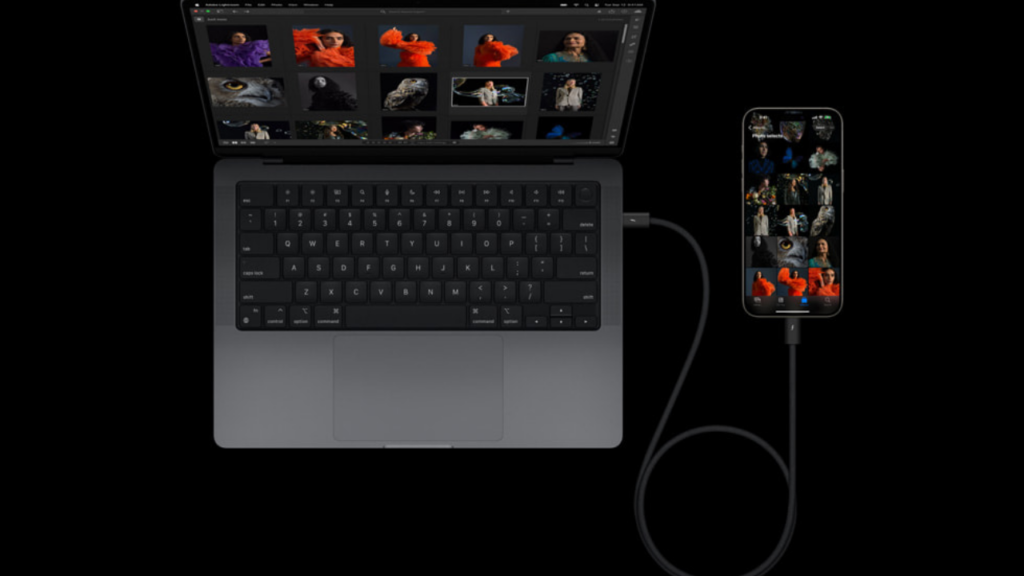 Notably, both phones are equipped with a USB-C port, a significant departure from the previous Lightning port. This change aligns with Apple's commitment to meet European Union regulations. The iPhone 15 Pro is the first phone with 10Gbps transfer speeds, promising considerably faster data transfers, including photos, videos, and large files.
Robust Build Quality and Vibrant Colors
The iPhone 15 Pro and Pro Max feature a more durable enclosure, touted by Apple as among the sturdiest in the smartphone industry. While the visual design remains somewhat similar, the phones are available in a range of colours, including white, black, blue, and "natural."
The Birth of the Action Button
Replacing the traditional ringer switch on the left side of the iPhone Pro, the Action Button is a new customizable button. It offers various shortcuts, accessibility features, camera access, flashlight control, and more. Though it defaults as a ringer switch, its potential for additional functionality is notable.
Pro Cameras and Enhanced Video Capabilities
Apple boasts that the iPhone 15 Pro and Pro Max feature their most advanced camera systems to date, equating to seven distinct lenses. This includes a 48-megapixel camera that excels in low-light conditions, reduces lens flare, and leverages Apple's AI for full-res HEIF photos. Apple iPhone 15 Pro features an 3x Telephoto camera, and iPhone 15 Pro Max provides 5x at 120 mm. The phones also support shooting 4K60 ProRes video and direct external drive recording via USB-C.
iOS 17: Transforming User Experience
Apple's latest iOS 17, launching alongside the new iPhones, brings substantial changes. StandBy mode, interactive widgets, Live Voicemail, Contact Posters, and more promise to revolutionize how users interact with their devices.
In line with past iPhone releases, the base models inherit features from previous Pro models, including Dynamic Island and certain camera technologies. The iPhone 15 Pro and Pro Max serve as platforms for Apple's innovations and represent the cutting EDGE of iPhone technology.