Apple was previously reported of working on implementing the fingerprint scanner on the iPhone's display but nothing was concrete until now. As per the latest report by Apple Insider, the Cupertino-based firm has filed a patent which hints that Apple is already working on embedding the fingerprint scanner on the display.
In simple terms, it means the display of the next( maybe) iPhone will have a fingerprint scanner embedded on it, in contrary to the current scenario where it is placed inside a button which is placed on the front panel or the back panel.
A statement from the report reads – "As published by the U.S. Patent and Trademark Office on Tuesday, Apple's U.S. Patent No. 9,570,002 for an "Interactive display panel with IR diodes" details a touch display that incorporate micro-LED sensing technology instead of the ubiquitous active matrix hardware seen on most mobile devices."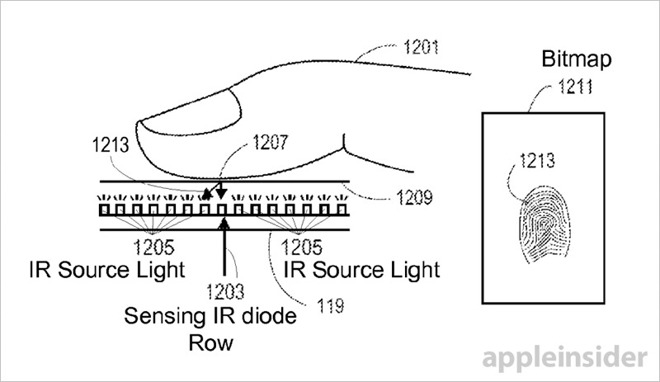 To understand how it will work, interactive pixels is what Apple is banking on for embedding a fingerprint scanner on the display. Interactive Pixels is essentially a subpixel arrangement that can take in red, green, blue, IR emitting and IR sensing LEDs, as well as other colour arrays when placed on an extremely high-res display panel. Further, this mechanism can then be calibrated to deliver several functions which involve sensing an input. In other words, the mechanism can basically sense anything, from ambient light to fingerprint. To enable the fingerprint scanner on the display, Apple is likely to lay down these interactive pixels on certain parts of the display which when sense and input will automatically scan for a stored fingerprint. Further, these areas are also likely to sport a supporting chip which can scan fingerprints and other selected input with greater accuracy and authenticity.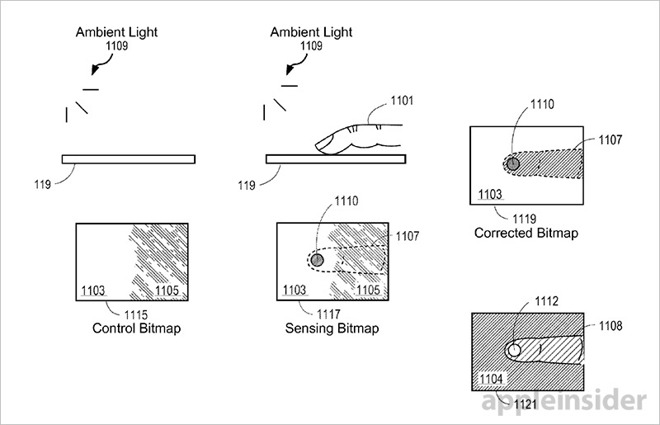 But what about when the screen is off and the smartphone is in standby mode? For that, the new patent states that IR light will enable these sensing components (interactive pixels) to remain active and work even when the screen is off but with an adequate focus to power saving. This technology was first invented by LuxVue which Apple bought in 2014 acquiring all the rights and patents. In Fact, the first time this patent was filed was back in 2014 itself.
However, we are not sure if Apple is working on this technology for the next iPhone. But with rumours claiming it to comes with an edge-to-edge display, there might be a possibility that we witness this technology in the upcoming iPhone 8 itself. While iPhone 7s and 7s Plus is expected to be just an incremental update, iPhone 8 is likely to come with a revamped design and possibly an edge-to-edge display with a fingerprint scanner embedded in it.