Google Docs introduced on Android back in June this year and since then the application has gone through a couple of upgrades making it better and easier to use. Google has now introduced yet another update of Google Docs application for Android.
The upgrade brings a web clipboard feature to the application while an overall facelift of the user interface. Android phone users can now upload data on the web clipboard that saves the data in the Google Docs account. Hence, when the user logs in to Google Docs from the computer they will be made available with all the data uploaded on the web clipboard.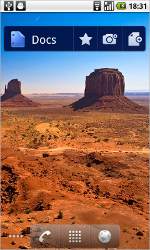 To use this new feature, users can access the Google Docs application and from within the application they can choose the camera icon to click a picture and the same can be saved on the web clip board for later use.
You can now also open your documents with any compatible viewer application or send a document as an attachment through email or another App on your phone. Last but not the least, the new updated application also adds support for 45 different languages including Hindi.
Users can access the update for the application from the Android Market or can also follow this link to download the same.