When a smartphone becomes non-functional, the utmost concern is for the data and applications. Taking a backup of your smartphone will save you from the stress of losing your contacts as well as your memorable photos and videos. It will also save you from the pain of downloading every app all over again. There are, however, several apps available today that helps in backing up data of one's smartphone.
MyBackup Pro is one such mobile backup application that allows smartphone users to take back up of their data and application. A 30-day trial version of MyBackup Pro is available for free while one can buy it for Rs 229.07 for Android platform. The same application is currently in beta stage for BlackBerry.
MyBackup by Rerware is a handy tool that will allow you to take a backup of your applications, media and other data without having to root your device. For those who have rooted Android smartphones can download the MyBackup Root version for their device.
Step 1
Enter password and email to create an account that will help you access the backup of your phone stored in cloud servers. After you've filled necessary information, the app will ask you to send a mail with MyBackup PIN and password through your Gmail account or you can share it via Bluetooth.
Step 2
After creating a Rerware account, tap on the Backup and then from the pop-up menu, select what you wish to backup &#151 Applications, Media or Data.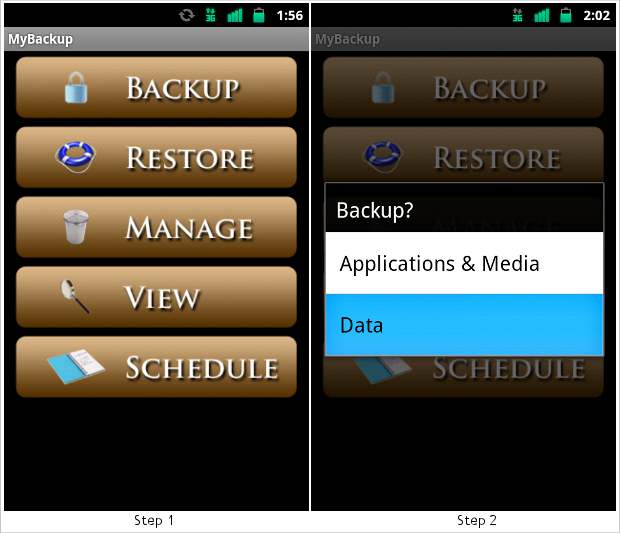 Step 3
Select the location of the backup files which can be your memory card or online. Basic Rerware account gives you mere 2 MB online storage space. But we advise you to choose Local (/mnt/SDcard).
Step 4
Based on your backup selection &#151 Applications & Media or Data, you get further options to select respective applications and files for each of them.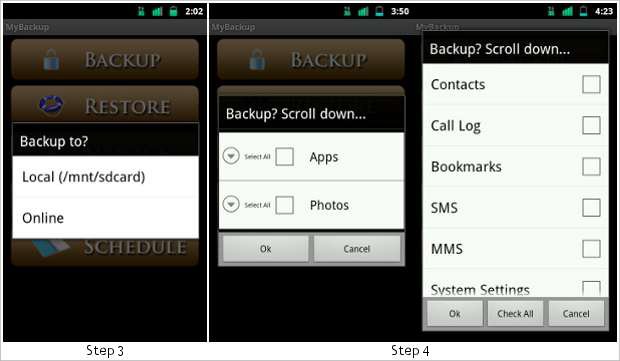 Step 5
The app begins the backup process and you are required to leave the smartphone as it is and do not shut it. Once the process is finished, it will show summary of the files/data backed up.
Later you can copy the respective backup files stored on your memory card to your PC or Mac for future usage. This is a very effective and easy way to keep a backup of your important data, applications and media from getting wiped out or erased due to any error.
To restore the content, all you have to do is install the MyBackup app, copy the previously performed backup data on the memory card and simply restore using the app. MyBackup also comes with a scheduled backup feature where in you can determine the time for taking regular backups.