Android smartphones are totally fun to explore. The real beauty of Android is that one can tweak a component or function of the phone to get the best out of it. While many people enjoy music on Android, several also complain about the unusable music player and mediocre output in some devices.
Here is a quick guide on how to get the best possible audio output on any Android smartphone. Do note that the output may vary from device to device but it certainly gets better than the stock version that Android comes with.
Different handset manufacturers use a diverse set of hardware for Android, but thanks to some amazing developers we have apps that can get the best audio output with no hacking required.
Step 1
Download and install the Equalizer from Android Market.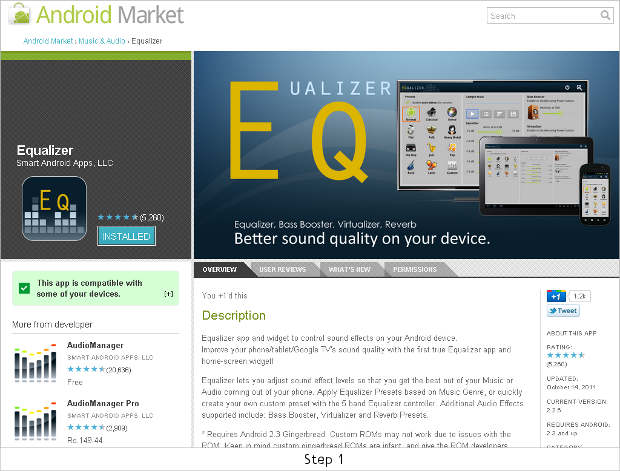 Step 2
Load the application and press continue to move to the next screen. Then select any of the eight pre-configured presets or configure one according to your choice. Those who don't want to mess around with presets can choose the pre-configured ones.
Choose a preset to suit the type of music you listen to &#151 Classical, Dance, Folk, Heavy Metal, Hip-Hop, Jazz, Pop, Latin or Rock.
Step 3
Plug-in the earphones you're going to use. Make a swipe gesture from right to left across the screen and jump one screen to your right to reach the Sample Track settings page. On this page you can configure your custom settings based on either the sample track or you can select the song of your choice to set up a base line. Note that this free version does not allow you to store or save custom presets.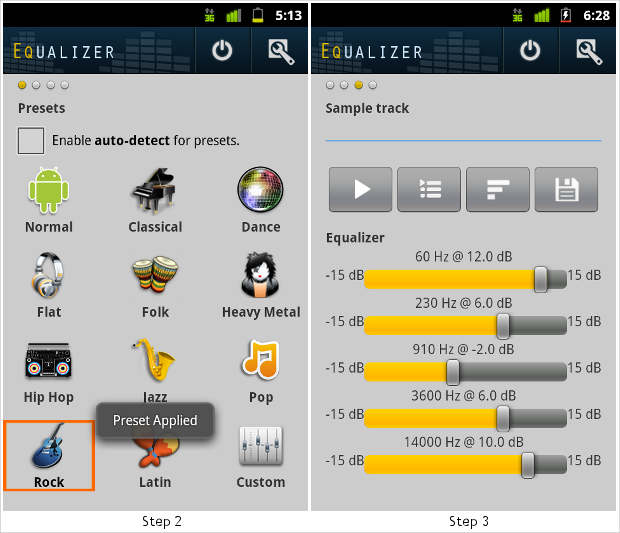 Step 4Step 5
Set the intensity of the Bass Booster and Equalizer options to anything between 50-75 per cent.
Now the Android device is ready for music. Just use any music player to enjoy the improved performance with the Equalizer app. You can also add the Equalizer Widget to the home screen with the slider settings.
We would certainly recommend trying out the PowerAMP audio player with the equalizer to listen to lossless audio files. PowerAMP also offers built-in equalizer presets and allows the user to make changes using sliders. Also, the PowerAMP player promises better performance for devices that run versions below Android 2.3 Gingerbread. If you are satisfied with output, you could consider purchasing the full version.
Use good quality earphones to get the maximum and best output. Remember that huge headphones that are meant for music systems and PCs may not give the best output after such settings.