Android notifications system is probably one of the best things about the Android ecosystem, where you get all the latest and important information at a glance. But sometimes it becomes an irritating thing when your notification panel is flooded with annoying ads or a message from an app which is of least importance.
Don't worry, Android gives an option to block all those frustrating notifications that are meant to disturb you. But mind you, disabling notifications can vary depending on the device and Android OS you are using right. In this post, we are going to tell you how to disable notifications on Android Lollipop, Marshmallow and Nougat. So without further ado, let's start with Lollipop
Android Lollipop
Disabling it on Android Lollipop just take some simple steps.
Step 1: Drop down the notification panel and you will find a Setting Menu. In the Setting menu, scroll down to Apps section and tap on it.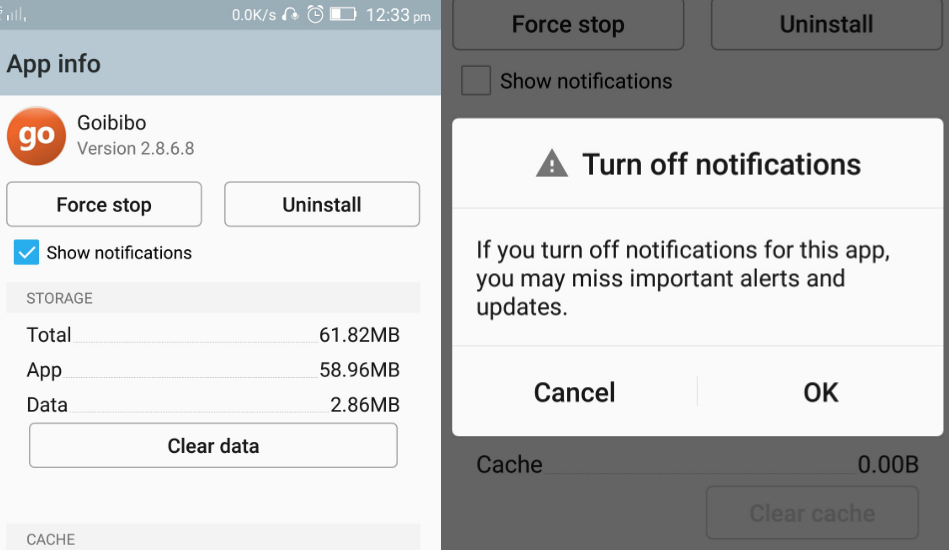 Step 2: Find the application you want to disable notifications and tap it. The app info page will open and there you will see a checkbox titled Show notifications". From there you can easily turn off all notification from that app.
If you don't want to do all this effort, then you can just simply long press the app notification on the notification panel and you will see an "i" icon. Tap on it and it will directly take you to the App Info page and repeat the Step 2 mentioned above.
Android Marshmallow
Android Marshmallow update brings a host of new options through which you can easily manage the notification from a particular application.
Step 1: The first step is exactly similar as we told you before: drop down the notification panel and go to Settings menu.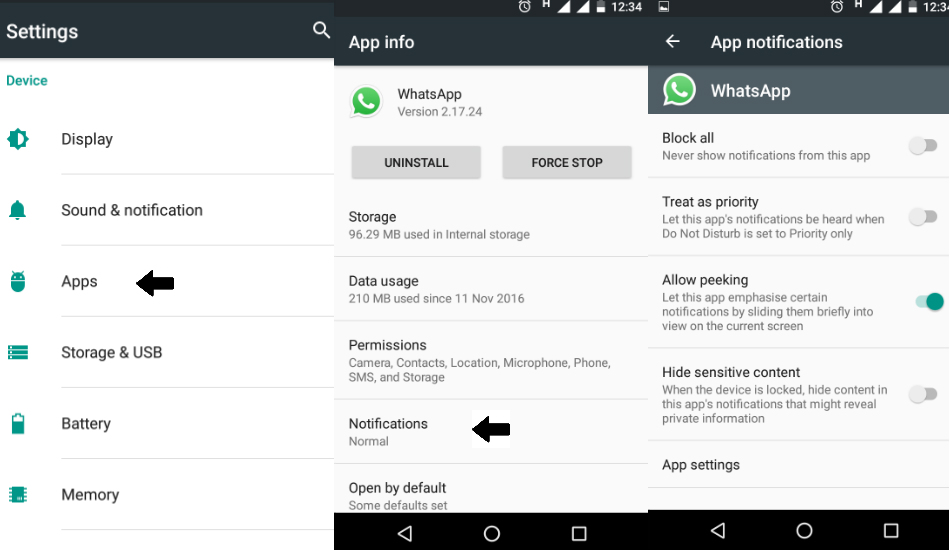 Step 2: Find the troublesome application you want to disable notifications and tap it. Unlike Android Lollipop which showed a checkbox titled Show notifications", in Android Marshmallow you will section named as "Notifications". Tap on it.
Step 3: After tapping on it, you will be directed to App notifications, where you will have the option to "Block all" apps, "Treat as priority" which allows it display notifications when the phone in Do Not Disturb mode. Then there is Allow peeking and Hide sensitive content which allows the app to hide content when in locked state. If you want to Block all notifications, then just enable the Block All option.
Similarly, one can also long press the notification and repeat the above-mentioned step.
Android Nougat
Android Nougat gives you a variety of options to closely customise your notifications settings. Google has added some interesting quick notifications controls that allow managing the notifications quite easily and effectively.
Step 1: Long press the app of which you want to disable the notifications.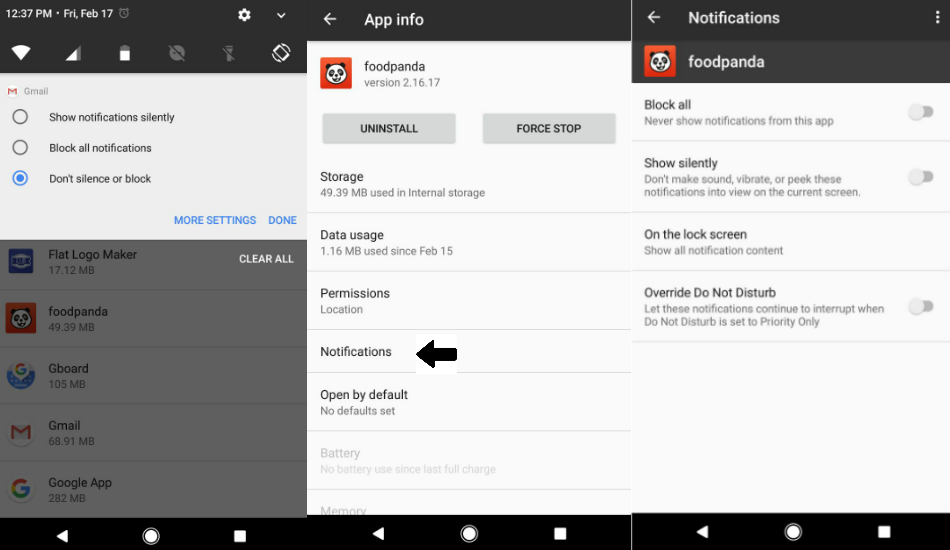 Step 2: You will see three options which include Show notifications silently, Block all notifications and Don't silence or block. If you want to still want to see the notifications but don't want to be alerted then you can choose Show notifications silently or else if you want to completely block notifications, then simply select Block all notifications option.
Else, you can also follow the same step we told you for Android Marshmallow and you will land on the App Info page. From there you will see almost similar options in the Nougat as well.