Huawei's online only brand, Honor has been in the limelight ever since its debut in 2014 for its smartphones that offer flagship specs at affordable prices. The latest offering from the Honor brand is the Honor 5X that offers high-end features at just Rs 12,999.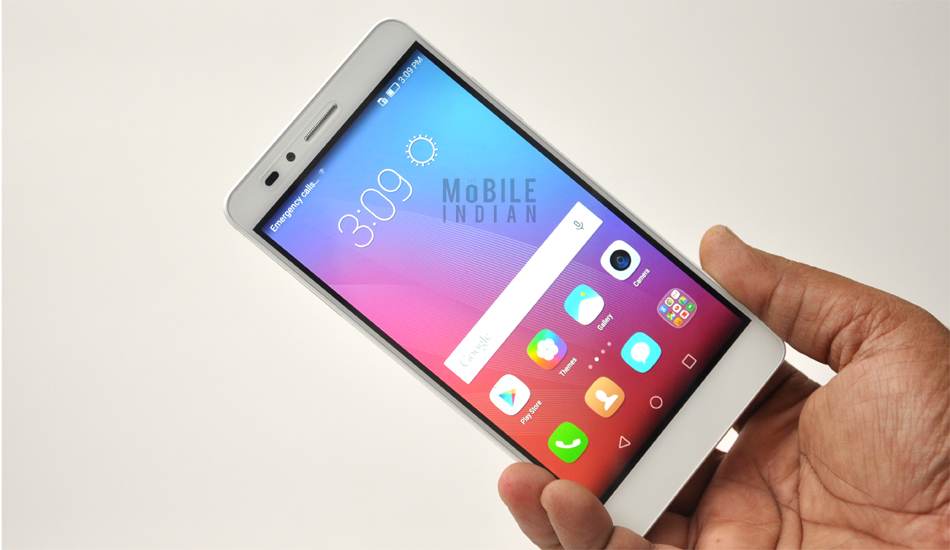 The Honor 5X is thus getting rave reviews from all quarters – from the users as well as the reviewers. It is not a smartphone that was made in a hurry. Honor has put in a lot of effort to make the Honor 5X.
Here is a specification comparison of LeEco Le 1s and Honor 5X.
Design
Honor 5X has a metallic unibody and has an aesthetic design. Its body is made of diamond-polished aluminum alloy normally reserved for aircraft. A special brushing technique has been used that gives the Honor 5X a consistent and polished finish that offers good grip and repels smudges.
Its sandblasted matte sides complement the phone's shiny CNC milled chamfer while completing its exquisite and elegant exterior. The upper and lower housings of the back panel features dotted lines that complement each other and is an emoticon-inspired base design that gives the handset a youthful feel.
The Honor 5X also went through multiple hardware tests for each and every part of its body that ensures long operational life. For instance, the power and volume buttons have been tested (press test) 10 lakh times; the USB port tested (plug-unplug) 10 lakh times as well. Similarly, the 3.5 mm jack, micro SD card slot, micro SIM slots, touchscreen, have also been put through the durability test. The phone has also gone through drop and tumble test, temperature shock test and several other tests.
The LeEco Le 1s too has a metal unibody but it looks a poor copy of Apple's iPhones. Many reviewers are also of the opinion that the Le 1s might not be comfortable to use during summers as its metal body could be a lot slippery.
The Le 1s comes in gold and white colours while the Honor 5X is available in gold, white as well as in gray colours.
Display
The Le 1s has a 5.5 inch IPS display which has Corning Gorilla Glass 3 but few reviewers said that it does not totally prevents scratches. Also, while it offers full HD resolution, its display brightness termed as just average by many which would make it quite a difficult device to use in bright outdoors.
The Honor 5X also has a 5.5-inch display with the same full high definition resolution, thus offering huge 400 PPI pixel density. It's Corning Gorilla Glass 3 coating protects its display from scratches. Most importantly, it has superb brightness levels that allow users to work on it even outdoors under the blazing sun.
Fingerprint Sensor
On paper both the phones have the fingerprint sensor, so they should score a point each in this segment but that is not the true case.
In Le 1s, the fingerprint has limited use. Apart from locking-unlocking the phone, the sensor can also be used to capture photos via its cameras.
On the other hand, the innovative fingerprint sensor of Honor 5X has multiple usages. Apart from locking-unlocking, you can use it to go to the home page, call someone from the lock screen itself, capture images, stop the alarm, see notification panel, check recently closed apps etc.
The second-generation FPC rim-free touch fingerprint sensor of Honor 5X offers better performance, greater accuracy, and a 0.5-second unlocking time. Its advanced technology learns more about your fingerprint as you use it and prevents failed recognition caused by wet hands or partial fingerprints.
Memory
It is one of the biggest differentiators between the Honor 5X and LeEco Le 1S.
The Le 1S has 32 GB of internal storage but it has no expandable storage facility which means you have to constantly delete files to keep using the phone.
On the other hand, the Honor 5X 16 GB internal storage along with an expandable storage slot of 128 GB capacity for peace of mind.
Camera
The Honor 5X has a 13-megapixel rear camera that comes with wide F2.0 aperture, 28 mm wide-angle lens with five elements and macro mode for close-up shots from just a few centimeters away. It has SmartImage 3.0 image processor that ensures clarity in every shot.
There is a 5-megapixel camera in the front of Honor 5X. This camera has an F2.4 aperture, 22 mm wide-angle lens with four elements, large 1.4-micron pixel size, and an 88-degree viewing angle for panoramic selfies. Skin-beautifying algorithm for accurate colour reproduction.
The Honor 5X also offers several useful camera features such as a time-lapse mode to capture photos intervals that can be compiled into short videos, slow motion mode to capture videos at 120 fps to enable playback at four times slower than real life, food mode, perfect selfie mode, watermarking, object tracking etc.
The Le 1s has a 13-megapixel rear auto-focus camera with LED flash and a 5-megapixel front camera for selfies and video calling. However, some Le 1s users complained of photo 'redness'.
Chipset
The Honor 5X is armed with the Qualcomm Snapdragon 616 octa-core processor and 2 GB of RAM. The combination lends enough muscle to the Honor 5X to handle high-end games as well as to multitask. The Honor 5X is thus as good as Le 1S, which has Helio X10 Turbo octa-core processor and 3 GB RAM when it comes to processing power.
User Interface
The Honor 5X comes pre-installed with the Android 5.1 Lollipop operating system and has the EMUI 3.1 interface which is a simple UI with a clean look. It is easy to use and has almost no bloatware. The UI offers a new privacy feature that lets you hide home screen apps, store personal files in a safe place, and protect sensitive information. It has pop-up call reminders that prevent interruption during gaming. Another noted feature of the EMUI 3.1 is its H.265 video compression that reduces data transfer. It also comes with off-screen gesture facility that allows opening pre-configured apps from the lock screen itself.
There is a Simple home screen feature as well which offers larger fonts and icons. Most importantly Honor 5X will get the latest Android Marshmallow as well.
The Le 1s runs on Android 5.1.1 Lollipop operating system with the EUI 5.5 custom user interface on top of it. The interface is a bit different from the default Android version and many found it a bit confusing.
Battery
The Honor 5X has a 3000 mAh battery with integrated SmartPower 3.0 technology with eight-point power saving plan that helps reducing power consumption by 30 percent. As per Huawei laboratory test, the phone offers 1.46 days of battery back with moderate usage and over a day of backup with heavy usage. On top of that, the phone comes with support for 2A chargers for shorter charging times.
The Le 1S also has a 3000 mAh battery but without the power saving technology as the Honor 5X.
Connectivity
Both the phones offer two SIM card slots, 4G connectivity, WiFi, Bluetooth, GPS as well as an infrared sensor.
Conclusion
The Honor 5X without any doubt is a much-balanced phone than the Le 1S which is proven in the above compare. It outshines the Le 1S in most areas with its high-end features and consistent performance.