A quick look at the flagships available devices in the market and the LG G4 stand out from the pack. The device not only packs a big screen, high-end specs but also the option of a leather back along with some neat features set it apart from rest.
LG G4 has been one of the bellwether devices by LG to have created an enormous of buzz among smartphone enthusiasts. The phone comes with a premium design encircling the theme for this year's launches of high-end 'smart' phones.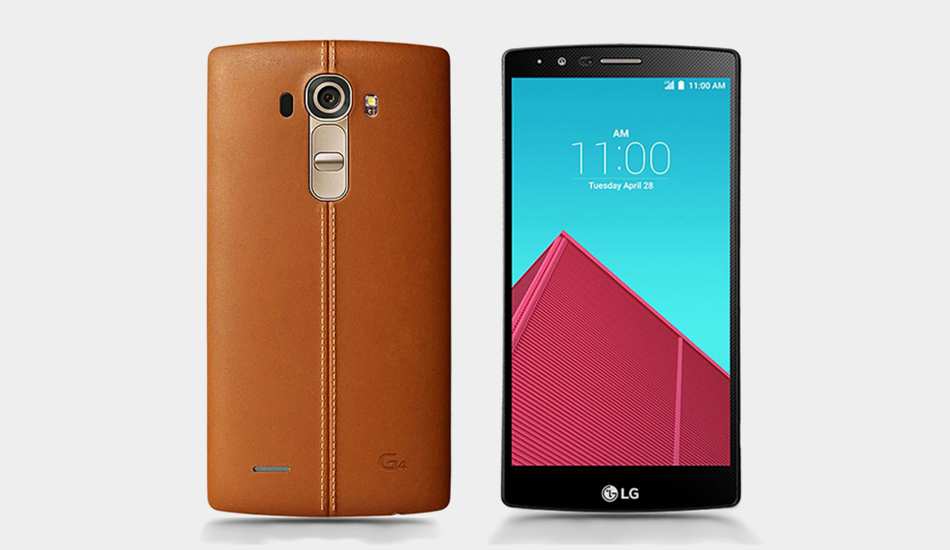 The G4 has a plastic frame and offers the option of a back made of leather and a mixture of ceramics and plastic. Apart from the volume rocker and Power/ Lock key combination at the back the phone, the leather back option gave it an edge above other phones in the market right now. It not only gives the phone a pleasant texture but it feels better to hold than any other device till now.
The Snapdragon 808 is LG's processor of choice for the G4. It is the first to pick that chip, and the reasoning was that it offers the best balance between high-end performance and power efficiency.
It packs a 5.5-inch (2560 x 1440 pixels) Quad HD Quantum display, is powered by a 1.8 GHz hexa-core Qualcomm Snapdragon 808 processor and runs on Android 5.1 (Lollipop) with LG UX 4.0. It has a 16-megapixel rear camera with LED flash, Laser AF for fast focus, Manual mode with RAW image capture, OIS 2.0 and an 8-megapixel front-facing camera.
It is difficult to deliver successful flagships one after the other without depending on marginal improvements; Somehow , LG managed to do it just fine.
Read on to know what are the top things that make it a great buy!
Camera
Smartphone vendors have long relied on camera improvements to help convince users to upgrade, and the G4 states it all. The main camera holds a 16 megapixel resolution. And features such as optical image stabilization help improve performance in low-light conditions. On the other hand, the front camera of G4 is an 8 megapixel unit.
The phone's camera is pretty responsive and quick to use. You can open the camera app from anywhere in the OS by just double-pressing the volume down button. The camera is mostly quick to focus on a subject in day-light but not so much in low-light conditions.
Further, it gives you a manual mode from where you can play around with exposure, ISO, and White Balance, Aperture etc. The LG G4 delivers on the front with its wide color sensor.
Auto Mode is where most users would be using the camera, and it's simple and convenient to use. Auto mode also gives you standard options like Panorama, HDR, as well as Dual Mode for clicking photos stitched together from the back as well as the 8 megapixel front-facing camera at once.
Photos look sharp, come out detailed and not much noisy even when used under low-light conditions. Its two-tone LED flash is generally consistent as a camera flash. You usually get good balance maintained between noise reduction and detail retained when used in dark conditions (without flash).
And for the 'selfie' lovers, the front-facing camera of G4 gives you an 8 MP wide-angle front-facing shot, which is enough to keep you satisfied. It can take detailed shots with natural skin tones maintained.
Even the videos from the rear camera can take 4K videos and handle it quite well. Color exposure and sound recording are pretty good in full HD (1080p) videos. There's also a slow-motion video mode for shooting videos up to 1/8th the original speed in 720p.
In the end, the LG G4's camera is one of the best phones cameras out there today. It doesn't let you down in day-light, low-light conditions, handles the lens-mania well, and has something or the other for every camera enthusiasts.
Great Battery Life
Along with a great display and internals, the LG G4 offers a huge battery that offers enough juice to keep the device go on for several hours. With the G4's 3,000 mAh battery, you don't have to keep a charger with you at all times. Did we mention it's replaceable as well?
Brilliant Front camera
Maybe the best front facing camera on an Android device. Selfies are everywhere, and don't look like they are going away for a good while. So here is an 8 megapixel wide-angle camera for you. And the screen also doubles up as a flash, ensuring your low light front facing pictures are well lit and clear
Micro SD card for expandable storage
A feature slowly inching closer to extinction with higher on board storage. Apple never had them, the Galaxy S6 also got rid of it this year. But LG, smartly enough, decided to keep it. It supports up to 200 GB Micro SD card in addition to the 32 GB on board.
Faster Charging
With Quick Charge 2.0, G4's battery get charged much faster than older devices: 0 – 50% is achieved in less than 30 minutes, and then slow down to ensure battery longevity.
And there you have it, the top reasons that make the LG G4 a great device to consider!