Offline navigation, great customization and a lifetime commitment for support and upgrades is what you get for Rs 2,050.
Advertisement
Pros
Easy to use
Fast and detailed
Complete offline functionality
Includes all major points of interest
Great level of customization
Cons
Lacks information about village roads
Smartphones today are not limited to simple talking, they are used for more complex tasks such as gaming, internet browsing, doing business related tasks and even navigation. Dedicated navigation applications offer much more features than costly Personal Navigation Devices (PND's) at a fraction of the cost

Global navigation product and services provider TomTom announced the launch of its Android based navigation app sometime back in India. Based on TomTom's maps and backed with its technology it can be downloaded by paying an upfront price of Rs 2,050 for detailed maps, along with full offline navigation and application support for life. While the application has a slightly expensive price tag than its nearest competitor Sygic/Map My India, let's find out the real deal.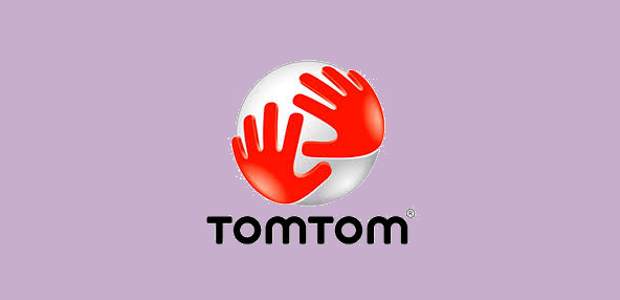 The application itself has a small-ish install size-that is what we thought in the beginning but once you get through the 36 MB installation the real deal starts. The TomTom India map has a size of around 880 MB, which coupled with a non resumeable server download equals pain. Yes you read it right, you will have to download all the 880 MB of data in one go and if your connection breaks, you will have to start all over again. So make sure either you have a high speed internet connection or have a higher tolerance level. But one good, rather great thing is that the data downloaded is like the pieces of a puzzle: they are ready to use as soon as you download them and no workaround or installation time is required after the download.

The application itself is pretty quick and takes just moments to start on the device. The post processes including tracking your location, which is a device or hardware dependent feature differs from device to device. On the Spice Stellar Pinnacle it takes about 30-45 seconds to locate the position and zero it down on the maps.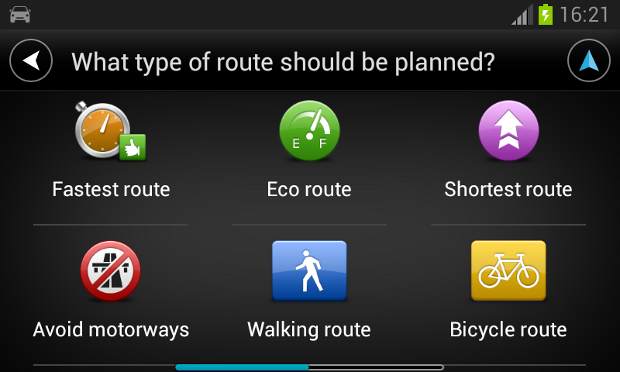 The interface is very nicely laid out and is very simple to understand by the most basic users. The screen displays information including your destination, present speed, next direction, time and distance remaining, along with the turn by turn detailed mapping or the route. Setting the direction can be done by simply pressing the display anywhere or by touching the destination area on the display. Once you enter the desired destination, which can be the name of a place, point on the map or even lat/long coordinates as well.

The application offers street level navigation and the simplest and most uncomplicated interface ever. The buttons on the screen are big so that users can very easily navigate through the app and use it even while driving, without getting distracted. TomTom's android application comes embedded with IQ Routes that bring the fastest route options to users. The app includes landmark navigation, allowing users to search a place by popular landmarks as well.


But at the same time one thing we dearly missed is that the application is not completely aware about village routes and highways. We tried the application while driving off to Lansdowne and the map lead us to a smallish village road and we have to take an alternate route from that. From a speed point of view the route showed was the shortest possible but it was not suitable for motorbikes, let alone a car. The best features include Eco route, which include the straightest possible roads for the best possible mileage and the speed limit route which offers mostly well lit and most commonly used roads, best for night driving. Users can also choose to avoid toll roads if they wish to save some money and of course the shortest possible route is there but needs a bit of tweaking.

The Application offers driving in both day and night modes to offer added comfort for the users and it is time aware so most changes happen automatically. The users can also change the color scheme of the maps and there are plenty of options available to choose from.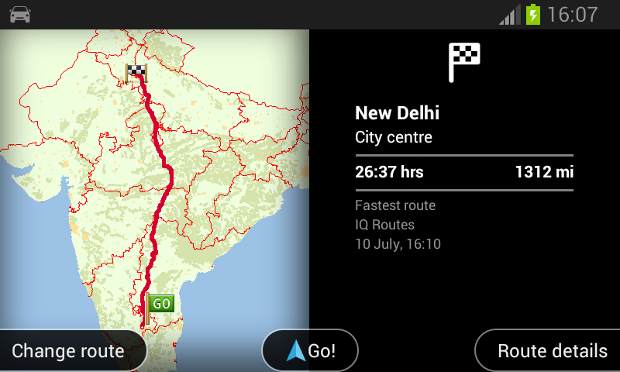 When it comes to voice based alerts TomTom maps offer a great selection of voice tones as well, you can choose between a male or a female voice and that too with several dialects or accents. Out of the many languages and accents, Katrina and Naoimh (Could be a spelling error in the app) are the peppiest English speaking voices and a personal favorite as well.

The maps are detailed with information available for almost all the routes and even the smaller arterial roads are at your disposal without having the need to connect to the internet or worry about cellular connectivity.

All in all the TomTom navigation application for android, although it is relatively new in India, manages to offer a plethora of features within the application that is much appreciated and would be liked by many users as well. The application has a heavy download size and the features that it offers including multiple language support and even different accents for voice guidance justify the additional download size. The app is aware of speed limits and has an appropriate audio and visual warning system. Overall, the application tries to justify the Rs 2,050 price tag and does it with a few flaws such as lacking information about smaller village roads, so that users could be warned beforehand if they plan to take the shortest possible route.

In one line TomTom navigation for android is quick, fast, accurate as well as a cheaper alternative to a PND in your vehicle.
Advertisement