Ultra low cost tablets are the new focus area for most brands. This trend was started by UBI Slate, popularly called Aakash tablet, and most new brands have started following it to gain substantial momentum and mark their presence by offering products at budget prices for the masses.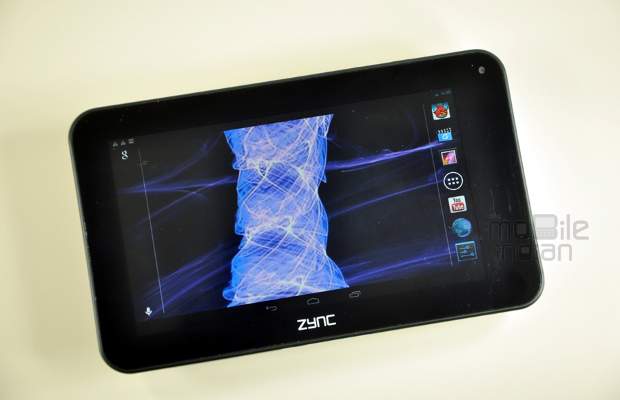 Zync, which has always been associated with affordability as far as Android devices go, recently launched the Zync Z930, a sub Rs 5,000 tablet. The device has a 7 inch design with WiFi connectivity. While for Aakash tablet users have to wait for months at a time the Z930 is available off the retail market right away; but is it actually worth its price? Let's find out.
First looks
The Zync Z930 is positioned as an ultra low cost tablet so we didn't expect it to be very attractive, but the Zync Z930 does not look like one of those cheap Android imports that are available as both branded and unbranded devices in the market, even though it looks simple. The body of the tablet is completely plastic-polycarbonate, to be precise. This helps reduce the overall weight of the tablet and gives it a slim look. The glossy black finish of the tablet is appealing, but it is also a fingerprint magnet. It's a good thing that the company decided to give a sleeve that helps protect the device and also doubles as a great carry case.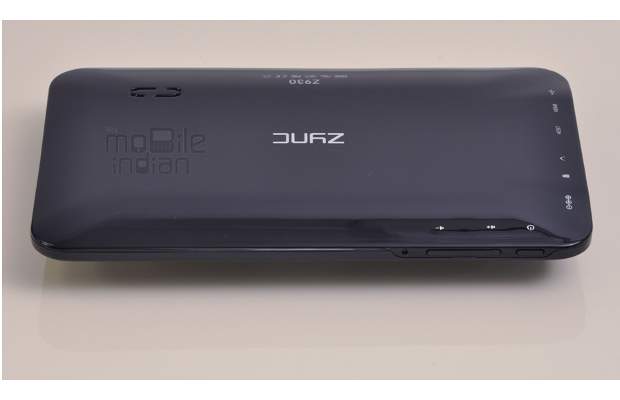 The volume rocker and the power key have been placed on the upper right side of the device for easy access and all the connectivity ports are conveniently placed along the right side while in portrait mode too. The tablet is also light-weight at just 359 grams, making it easier to hold for longer.
Design
The Zync Z930, as we mentioned earlier, has a very simple design with a thick bezel around the display. There are no physical or capacitive touch buttons on the front of the tablet thanks to Android Ice Cream Sandwich.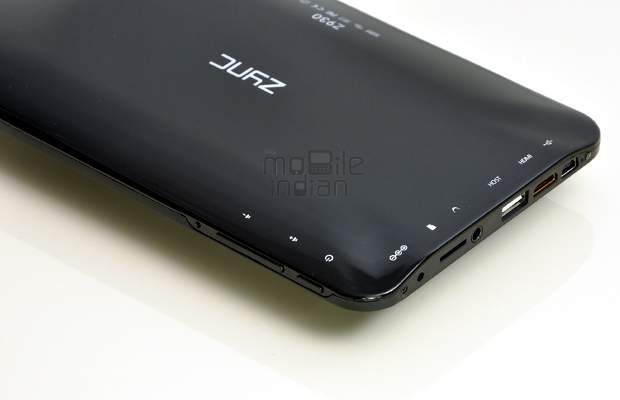 The tablet comes only in black color, which is a good choice on the company's part as it surely protects the device from discoloration, but the glossy or piano finish of the tablet is a big concern as you will end up wiping it clean all the time.
The tablet has a sleek design that incorporates slim edges and a thick centre. Its weight is uniformly distributed, which further aids in making it comfortable to hold for longer hours.
Display and touch
The Zync Z930 has a 7 inch display that features 800 x 480 pixel resolution. The resolution is certainly on the lower side, but since this is a low cost tablet we have no regrets, especially since the display performs well in most scenarios. In terms of color reproduction and brightness levels the display is impressive and it compliments every application or game that is run on it. The only downside is its narrow viewing angle, which make the display lose its variance when tilted beyond 45 degrees.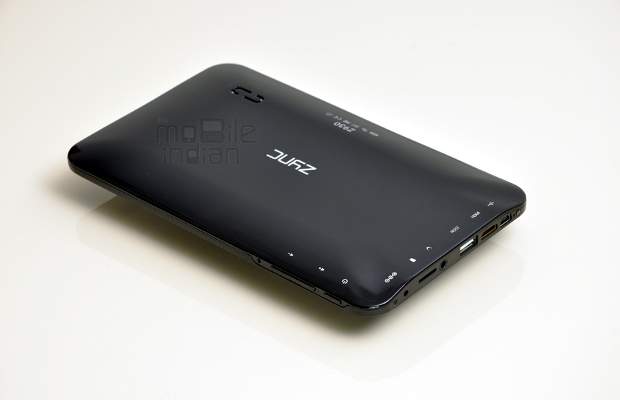 The Zync Z930 has a lower resolution but comes with a capacitive multi point touch input system. This device can read up to 5 points of touch simultaneously. A five point touch system is especially important for applications and games, and it is good for speed typing as well.
Another plus for this device is the 400 MHz Mali 3D graphics processor, which is the minimum requirement for full HD 1080p video playback on a big screen via the mini HDMI port.
Build quality
Since it is made entirely of polycarbonate plastic the Zync Z930 is light-weight and easy to handle, and at the same time the polycarbonate plastic adds strength to the tablet to take on a few accidental falls without getting damaged. The display is protected by a plastic sub surface that further protects the LCD display from damage in case of falls. The corners of the device have been rounded so that there is no disfiguring along the edges.
Performance and operating system
Featuring an ARM Cortex A8 architecture based processor running at 1.2 GHz the device is fast enough to handle most tasks and multitasking for light to medium users. The processor is coupled with 512 MB of DDR3 RAM, which is a big plus.
The operating system on the device is the stock version of Google Android Ice Cream Sandwich with Holo theme for best utility and performance.


The tablet we received came with the test build of Android Jelly Bean operating system, which worked very well, but the Z930 will soon get an OS upgrade, according to the company.
The device performed well and we experienced very few problems even though we tested a wide variety of applications over a period of time. While gaming, the device does well and though multitasking is not its plus point it can still be done.
Multimedia and connectivity
The Zync Z930 is great in terms of multimedia performance due to the full sized USB port that helps users hook up this tablet to any USB peripheral, be it a keyboard or a flash drive, to play content directly to the device without the need for an adaptor.
The device supports most audio and video codecs supported by the operating system natively, plus users can make use of the added applications available on the device to play non-native file formats like MKV or FLV. Most applications are easily downloadable from the Android marketplace as Z930 is a registered Android marketplace user device.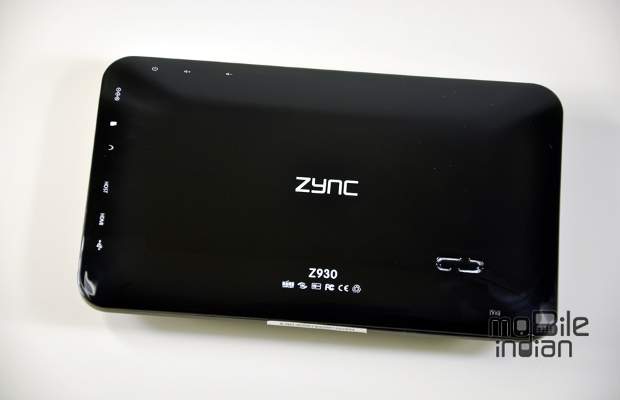 The device features 4 GB of internal storage memory, which can be expanded up to 32 GB via micro SDHC cards as well as with the use of micro flash drives such as Sand Disk fit, which consume less power as compared to bigger flash drives utilizing the full USB port.
Zync Z930 also features a 0.3 megapixel front facing camera that is good enough for video conferencing and nothing else. The quality of the camera is good in bright to medium light conditions, while in low light the camera is useless for taking pictures and videos alike.
For internet connectivity the device features connectivity through WiFi and USB dongles. WiFi is good and speedy while USB dongles provide speed based upon the data plan you have, and fast data plans are usually expensive.
Battery life
The 3600 mAh battery pack is big and powers this device for up to 4-5 hours of continuous usage or video playback or 1-1.5 days' worth of light usage. Z930 comes with a supplied charger, which takes around 2-2.5 hours to fully charge the device while it takes about one hour to charge it up to 70 per cent.
Although not very impressive, but this is an ultra low budget tablet we are talking about here, so no regrets.
Finally
Ultimately it all boils down to the final word on how well the Zync Z930 justifies its price. Lets see: the processor does a fast enough job on low to mid end tasks; graphics are good; multimedia usage is great; and the USB port adds utility. The camera is just good enough for video calling, but is there; and the battery also does a moderately good job of powering the device for a day's use.
So ultimately the sub Rs 5,000 tablet, which is currently available for anywhere from Rs 4,000 to Rs 4,500 makes for a good buy-but only if you are new to the Android arena. If you need a fast tablet, you are definitely not looking at the right product. This device will give you everything except high-end performance.