Salora, an Indian device which had recently made its debut into the smartphone market by launching PowerMaxx Z1, has also entered the tablet space with the launch of an affordable tablet, called Salora ProTab HD.
The tablet is priced at Rs 4,999. Read this review to find out whether ProTab HD it is worth buying.
Design
The Salora ProTab HD has a very simple but attractive design. It has an all glass front and aluminum finished border, the only interruption in the front white bezel is the front camera, there is no capacitive buttons of logos. The rear panel is curved around the edges and therefore the tablet feels slimmer than its actual 9.9mm thickness (which is actually slim). The tablet also weighs just 290 grams.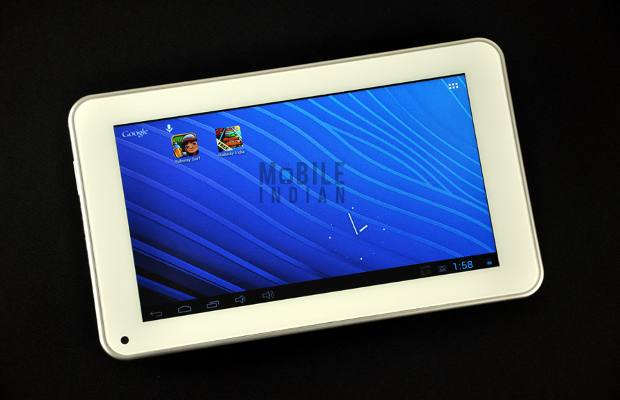 The rear panel of the tablet is however somewhat cluttered with not so attractive logos; the Protab HD logo and Salora Logo are in the center and then there are certifications and information signs all painted on the back, which doesn't give any premium feel. The back side is shiny and gets a speaker grill in the top left corner.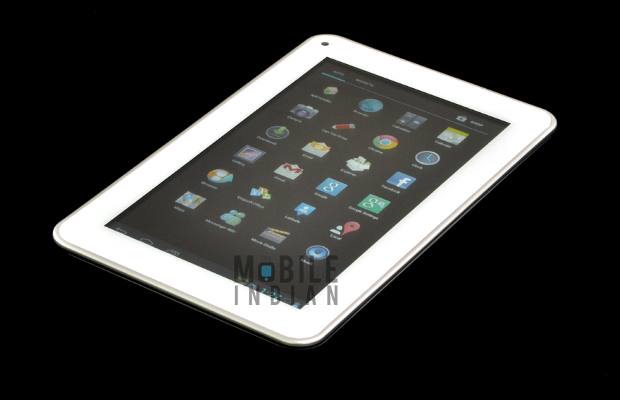 In the Salora tablet, the ports and buttons are all placed on one side which is very unusual but user friendly. There is power and lock button, followed by 3.5mm jack, micro USB port, charging port and then volume rocker which also has the micro SD card slot just above it placed on the back side but facing sideways. Its unusual but saves space and doesn't cause any hindrance in using these buttons or ports. The tablet does not have an HDMI port though.
In terms of fit and finish, the ProTab HD is amongst the better ones and is one of the best in its price range.
Display
Though the tablet is called ProTab HD, its display supports WVGA (800×480) resolution. However for a budget tablet it is a good display with nice colours reproduction and acceptable sharpness. It is responsive to touch inputs and is good for playing games also.
Performance
The tablet has a 1.5 GHz single core processor, Mali 400 GPU, 512 MB RAM and 4 GB ROM (2GB user usable memory). For a budget tablet, the performance is acceptable. We played games like Subway Surfer which played very smoothly on the tablet. Other things like Browser, video streaming also worked fine.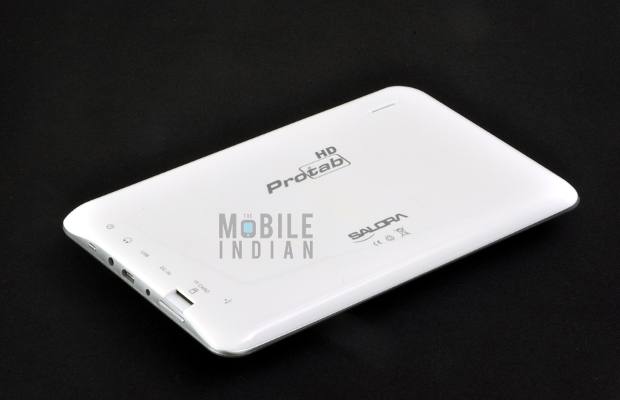 It's not a powerhouse though and there are framing issues in graphic intensive games and that in part explains its 4167 score on Antutu benchmark.
Connectivity
The tablet has WiFi support inbuilt; you can also connect 3G dongles with the tablet. However HDMI port is missing, which is not a good thing given most tablets in this range have it. It does not have SIM calling facility either.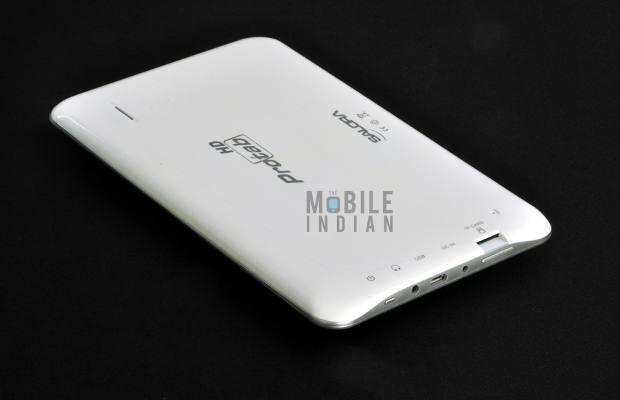 However, the tablet has GPS, which is great for a tablet in this price bracket, and it does offer very precise navigation. So in the end it is a good option for most people who never connect these low cost tablets with TVs in any case. However to use the GPS with stock Google Map, you need data connectivity so you will need dongle or WiFi hotspot enabled smartphone.
Battery and Camera
The tablet just has a VGA camera up front, with no rear facing camera, which is no big deal as there is no tablet in this price range with a rear camera. The front camera of Salora ProTab HD is good though for video chats in decent lighting conditions (in low light its bad) which is what expected from these front facing camera's in budget tablets.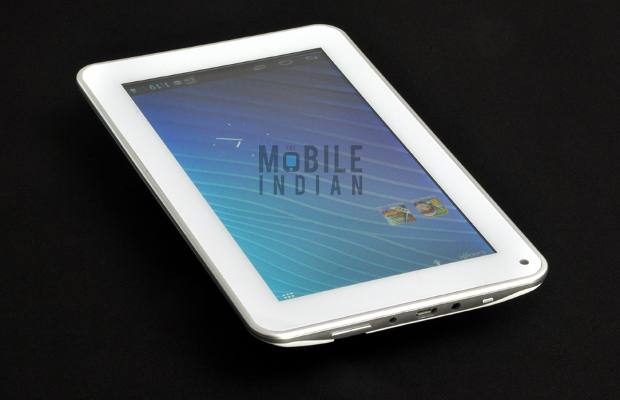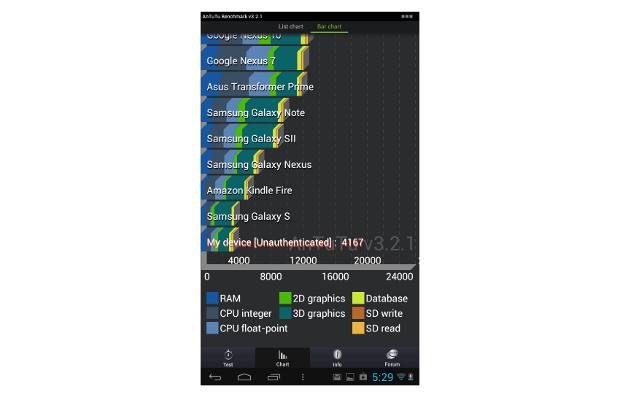 The tablet has a 3200 mAh battery with claimed 4 hours of WiFi browsing on a single charge. And while this is not a very good figure, the tablet does able to provide the said battery back up. And we have not tested the tablet with 3G dongle, but the use time on a single charge we fear would not be more than 2.5 hours. However there is no real alternative in terms of better battery back up in this price range, so in that sense this tablet doesn't disappoint.
Verdict
Though there is no special feature in this tablet, except maybe the GPS, however the tablet is well built and does offer decent performance and is well priced too. And in that sense it is one of the better options for people looking at a WiFi budget tablet.