Mitashi is an India-based company that makes every conceivable consumer electronic product for entertainment. It has introduced its new lineup of Android based tablets under the brand name Play. The company sent us the Mitashi Play BE200 tablet, which has a 9 inch touchscreen display and packs a 1 GHz low-power mobile processor.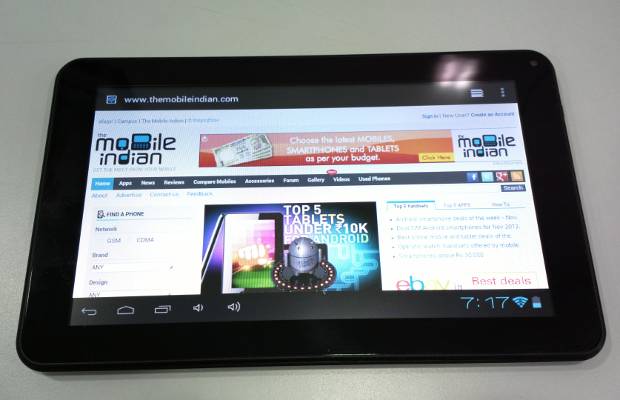 The affordable tablets have low-power components that are relatively under-clocked and may not provide a smooth experience. The essential recipe lies in choosing the right mix of components and then adding a perfectly optimized Android version to it. Any trade-off in the hardware results in a cascading effect in daily usage.
Here is our account of the Mitashi Play BE 200 tablet.
Design and display
Entry-level tablets do not usually have an attractive design and hence we did not expect anything from the Mitashi tablet either. Mitashi Play BE 200 has a 9 inch display and, surprisingly, is a bit heavy compared to the 7 inch tablets available in the market. This machine has a glossy back and can be kind of slippery for kids and youngsters.
With a 9 inch display, this tablet may not be pocket-friendly, but it can be carried in a briefcase or backpack. The Play BE200 has rounded corners, and is meant to be operated in landscape mode. When the display is turned off, every new user would take some time to figure out the orientation. Basically, that is the issue with every affordable tablet in the Indian market.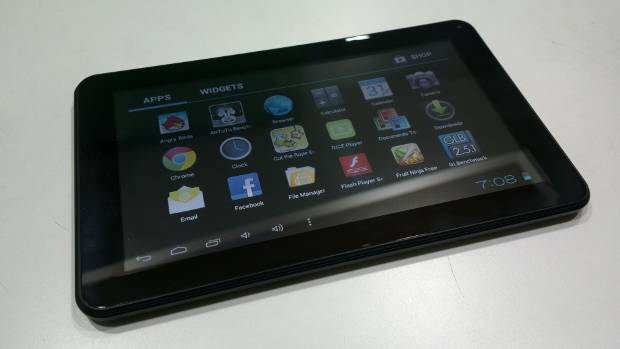 The Play BE 200 has a 9 inch capacitive touchscreen display, but it supports 800 x 480 pixel natively. Yes, so we expect icons to appear torn at the edges and it will not be a great experience using those icons. The touch response is fair the display does support multi-touch at five points. This 16:9 aspect ratio display makes the interface appear a bit stretched in landscape and in portrait mode. The Play BE200 tablet has a decent design but feels a bit heavy, and its glossy back cover and touchscreen are fingerprint magnets.
The build quality of the tablet is average and the glossy outer shell, and a bit of extra weight might become cumbersome for young users.
Hardware
Mitashi's Play BE200 has the control buttons on the top right side of the device when it is in landscape mode. Because it is promoted as an entry-level tablet, it would be unfair to expect blazing performance and stellar hardware. However, the hardware should at least be enough to get the work done
The Mitashi Play BE200 packs a low-power single core 1 GHz Boxchip Cortex-A8 architecture based mobile processor paired with a Mali-400 graphics chip. This tablet packs a 512 MB DDR3 RAM, which is obviously less considering the real-estate of the screen. By default the tablet comes with 8 GB NAND flash, some part of which has been reserved for system updates
The Play BE200 packs a single core 1 GHz Boxchip mobile processor, which is based on Cortex-A8 architecture and aims to consume lower power compared to other mobile processors. This CPU is paired with a Mali-400 graphics chip, which is good enough to run modern games, but requires enough RAM to run them smoothly. That is where the pain of affordable tablets is located. The Play BE200 has only a 512 MB DDR3 RAM, which is good enough for a phone but not for a 9 inch tablet.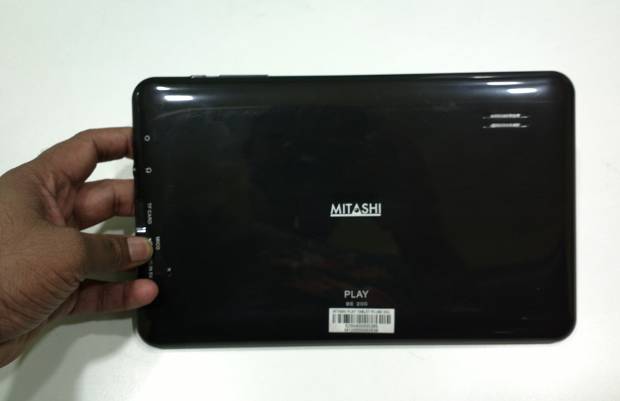 By default the tablet runs Android 4.0.3 Ice Cream Sandwich and there is a noticeable lag when opening the app drawer to access applications. The tablet has a power and sleep button on the top side while the volume control buttons are also on the top, along with a back key.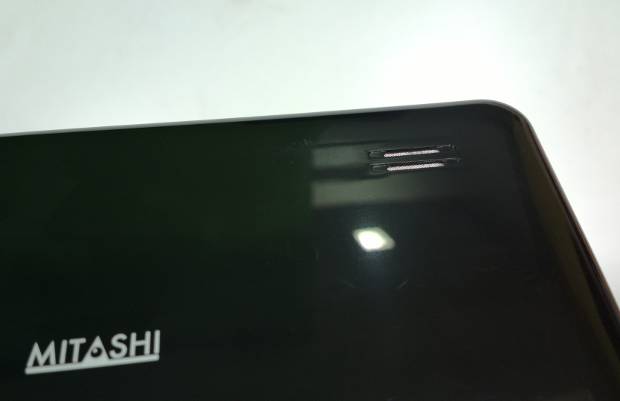 The tablet offers a 3.5 mm audio port on the side with a micro USB port and proprietary charging point. Proprietary chargers can be painful for consumers if they happen to spoil or lose one. Thankfully, the tablet supports micro USB charging but the rate of charging is painfully slow.
One surprising thing we noted with the hardware was that if the back cover was pressed a bit harder, there was distortion on the touchscreen. Clearly, the build quality is not that great.
Applications and user interface
The tablet carries a vanilla Android 4.0 Ice Cream Sandwich interface and thankfully has no skin on the top of it. By default, the device comes with some pre-loaded applications, of which two are popular games. The Play BE200 offers Angry Birds (with 8 levels unlocked) and the Fruit Ninja game for free. It also comes with Document On Go for word processing, and the Super-HD Play app for HD quality videos.
The applications and user interface take a hit due to less than required memory on the tablet. General usage experience with the interface is a bit painful and requires patience for one to wait for applications to load in their own sweet time. Thanks to the Developer Options in the System Settings, some activities can be boosted to perform better. In the Developer Options the Windows Animation Scale and Transition Animation Scale should be set at 0.5 times. Also, check the box for Force GPU rendering to use the 2D hardware acceleration on applications.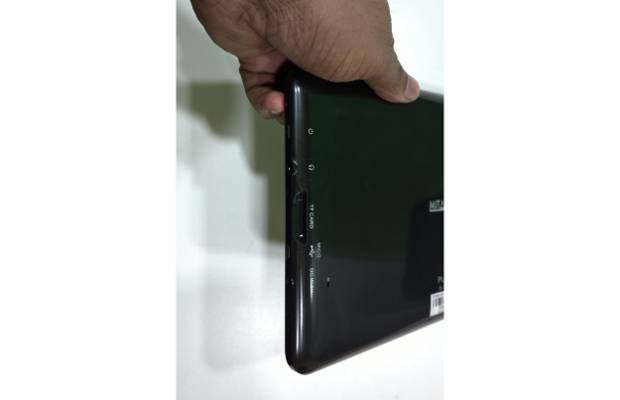 A strip of speaker mesh is located on the back and is basically the sound output zone. There is no camera at the back and in the front there is a 0.3 megapixel camera for self-portrait photography. There is a micro SD memory card slot, which can take up to 32 GB in memory card.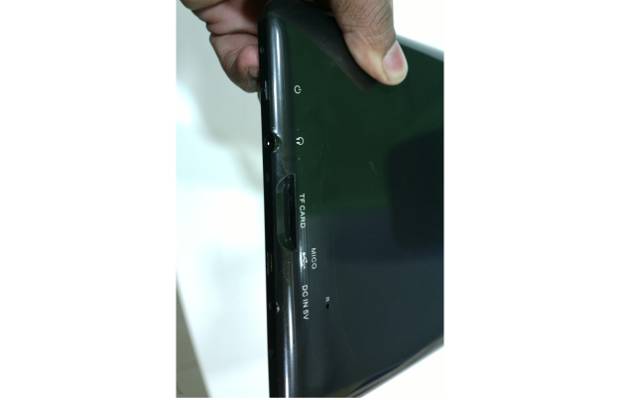 The micro USB port also supports USB On the Go and lets the user plug a 3G USB dongle to connect the tablet to the web. Currently, Mitashi claims that only select dongle models from Airtel, Reliance, MTS and Tata Photo+ are supported on the tablet. Surprisingly, there is no Bluetooth module on the device.
Multimedia
The front-facing camera clicks grainy images and that's all that can be expected from a 0.3 megapixel camera. Thankfully, though, there is Gtalk video support on this tablet and you can always use third party applications such as Skype or Tango.
The built-in software is decent enough to play 720p MP4 files reasonably well, but as soon as you try to interact with the interface, it stutters. Also, it just about manages to run full HD videos, but limited on-board storage kills the joy of keeping movies. It is recommended that you watch videos and movies while staying disconnected from data networks. Since the screen quality is not that great, images and videos do appear a bit washed out.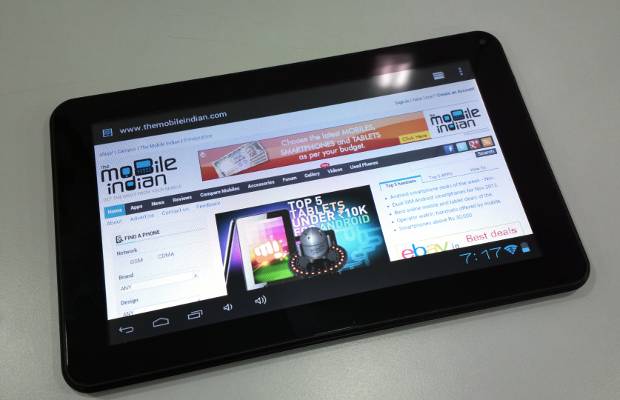 Audio quality is fair when it comes to notifications, but is not loud enough for the outdoors with ambient cacophony around. There is no built-in ebook reader app to read PDF files, but you can always download the Aldiko eBook Reader, Kobo Books or any other application to enjoy digital texts.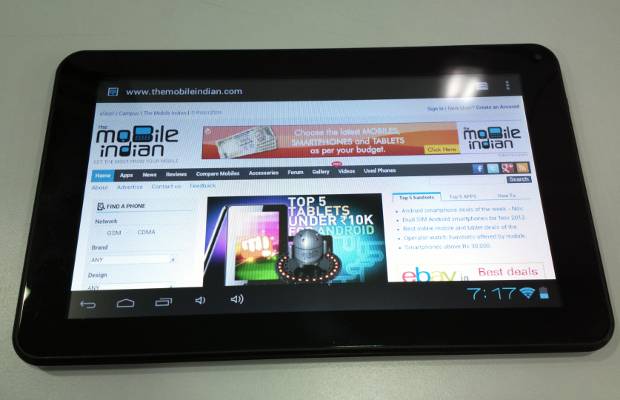 Audio output is just fair and it is interesting that the tablet claims to support a variety of audio formats including lossless ones.
In terms of multimedia, this tablet falls slightly below average performance if all the factors of sound output and video are combined. Only the Android 4.1 Jelly Bean update that promises 60 frames per second can make this tablet much smoother.
Battery
Mitashi has packed a 3500 mAh Lithium-Polymer battery to offer battery life of at least 8 hours while using the tablet normally. However, since the unit we reviewed was a WiFi-only tablet, we kept it connected to the WiFi network and the battery lasted just over 6 hours. During that time, the activities involved social networking, web browsing, mailing and watching a couple of videos on YouTube. Exhaustive WiFi use by streaming videos consumed battery really fast. When not connected to WiFi, the tablet tends to last longer. Also, the tablet can support a 3G USB dongle over USB OTG and the battery life should be roughly around four hours. No, the USB OTG cable was not bundled with the tablet and needs to be purchased separately.
Wrapping up
To be honest, select tablets such as one from Micromax, Zync and iBerry offer much better hardware at a price bump of a grand or two. The tablet packs a low-power processor, graphics and less than basic RAM to make the user interface just usable. If you continue to add more applications, the tablet will continue to lag because of limited on-board storage. Thankfully, micro SD cards are relatively cheaper now.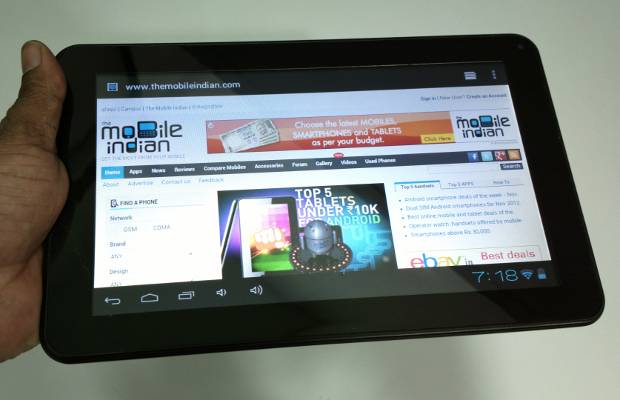 The Mitashi BE 200 tablet is being sold for Rs 7,990 on the Mitashi website. There are a number of other companies in the same budget segment that offer much more in terms of hardware and pre-loaded content. Most important is the storage, which becomes a pain when the consumer starts getting comfortable with the tablet. The Mitashi Play BE200 can put up good enough competition to tablets with similar configuration.