Spice Stellar Glide Mi-438 is a low cost Android smartphone, costing just Rs 5,199 (MRP Rs 6,249) at the time of writing. Though it is priced quite low, but it offers decent features including a 4 inch capacitive touchscreen, 1.3 Ghz dual core processor, 32 GB expandable storage slot, Android 4.2 Jelly Bean operating system, and a 1350 mAh battery.


Here is a detailed analysis of the performance of Spice Stellar Glide which we used for about three weeks.
In the box
The Spice Stellar Glide comes with a flip cover, a headset, and the charger apart from the battery and the handset unit itself.
Design
Very few cheap Android smartphones have impressed us like the Spice Stellar Glide. It has everything that normally we expect from a phone in terms of design. To start with, the Stellar Glide is quite light measuring just 155 grams without the battery; with the battery too it feels quite light.
Moreover, the handset comes in black, white, and gold colour versions – we had the last one which had a glittering gold colour back panel. Though the back panel is quite shiny, it feels extremely smooth and is not slippery at all.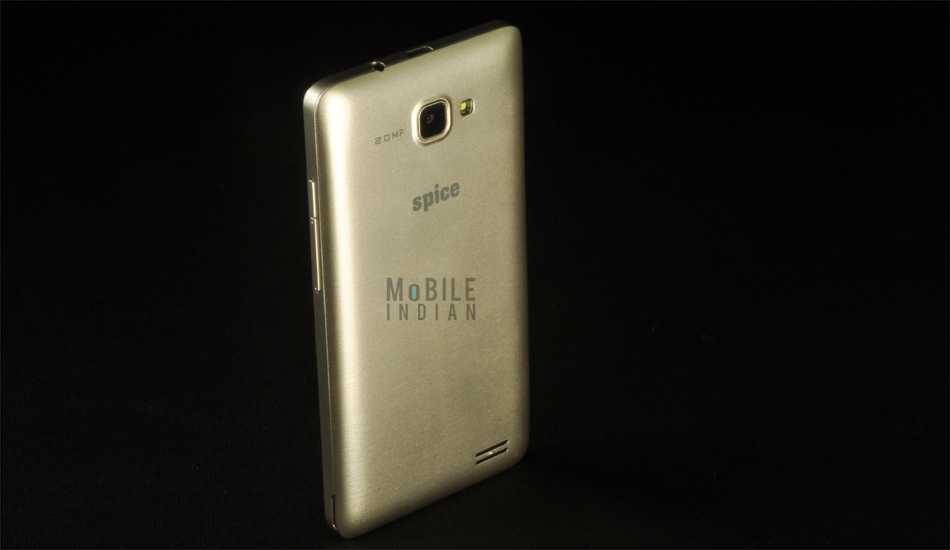 The device feels quite sturdy due to its broad metal side panel. There is a slight issue with the placement of buttons though – the volume rocker is placed very close to the power button in the right hand side of the phone. So many a times, I pressed the power button unknowingly while trying to raise the volume. The micro USB port and the 3.5 mm audio jack though are placed at the top with a fair distance between them.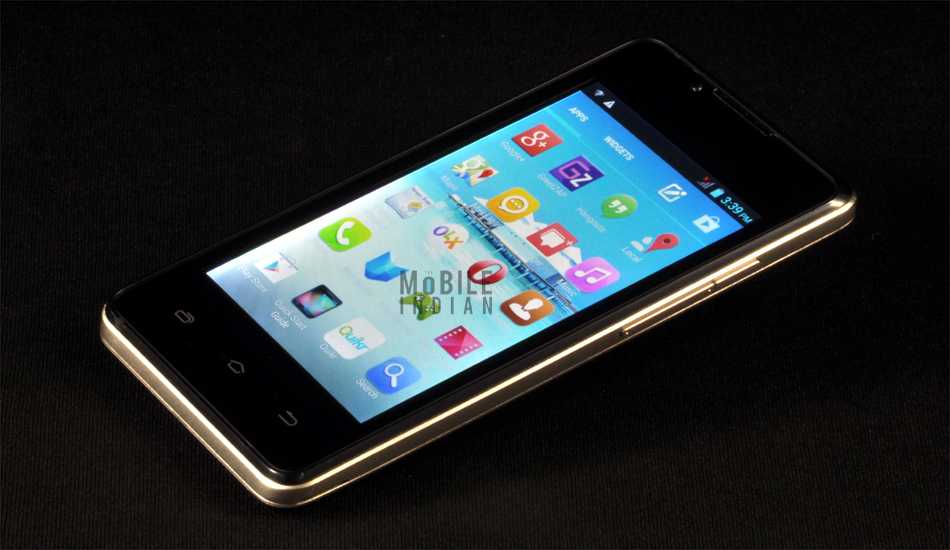 In short, the Spice Stellar Glide has a nice look and feel to it and does not look cheap though it is in terms of price.
Rating for design: 7/10
Display
The Stellar Glide Mi 438 has a 4 inch capacitive touchscreen. This LCD display has 480×800 pixels resolution. The response of this screen is below par and most of the times we had to touch twice or thrice to get the desired result. Also, it has only 480×800 pixels resolution and not qHD resolution which would have made this phone really attractive.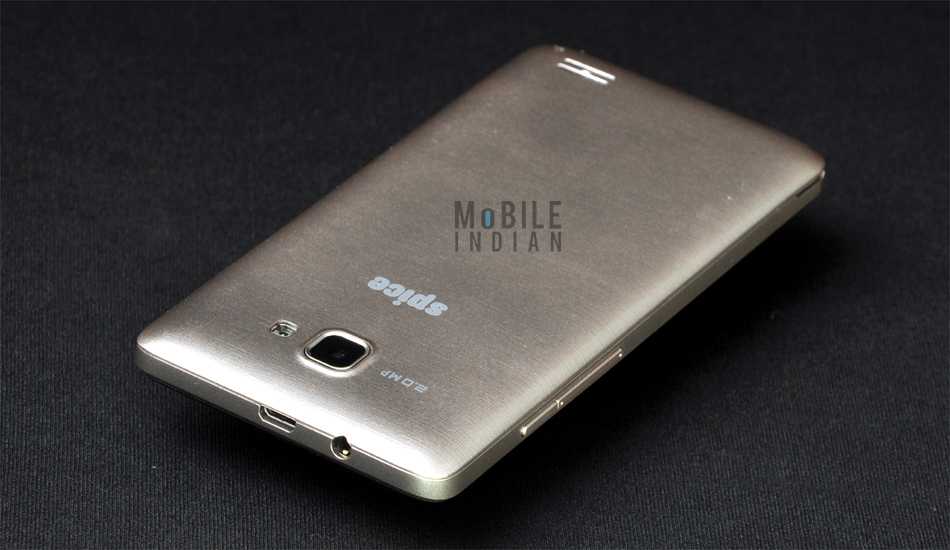 But also note that most of its competitors too have the same resolution. But anyway, the resolution is not that bad. As it is a 4 inch screen only, its pixel density turns out to be 233 ppi which is quite decent.
Rating for display: 5/10
Camera
The Spice Glide comes with a 2 megapixel fixed focus rear camera and a 1.3 megapixel front camera. There is an LED flash in the rear panel as well. It has also HDR, Panorama, smile shot camera features. Besides, you can change the exposure, apply various colour effects, and white balance to get a better picture.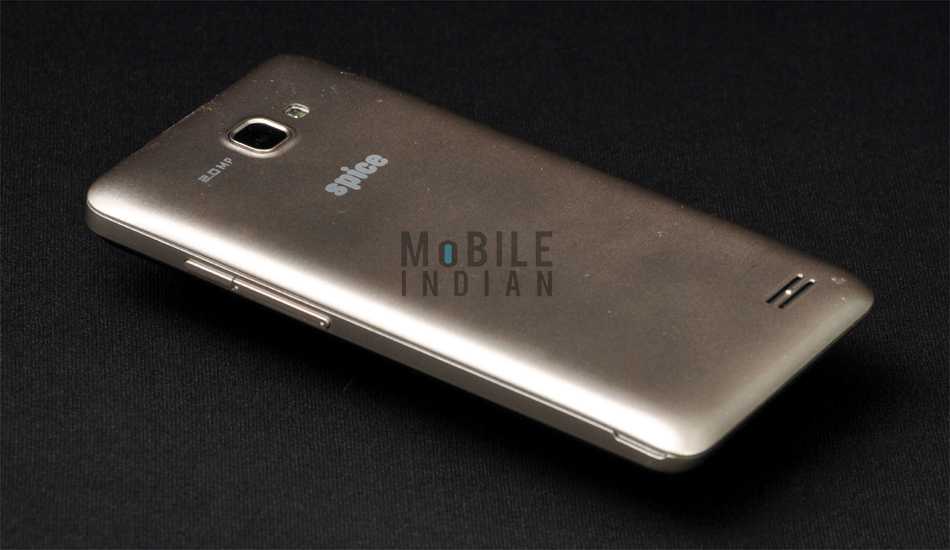 Having said that 2 megapixel resolution is much less that what you could expect from a device priced at Rs 5,000. Most of its competitors do have 5 megapixel rear camera and that too with auto focus capability.
As the specification suggests itself, there is nothing much to talk about its camera capability. The front camera is decent as most Android devices less than Rs 10,000 have 0.3 megapixel camera. The 2 megapixel rear camera does able to produce decent images in well-lit conditions but lack of resolution and fixed focus really clips its ability.
Rating for camera: 4/10
Performance and memory
The Spice Stellar Glide Mi-438 has 4 GB internal storage of which 1.12 GB is available as phone storage. It also allows moving app data to SD cards. There is an expandable storage slot too which can accommodate a micro SD card of up to 32 GB.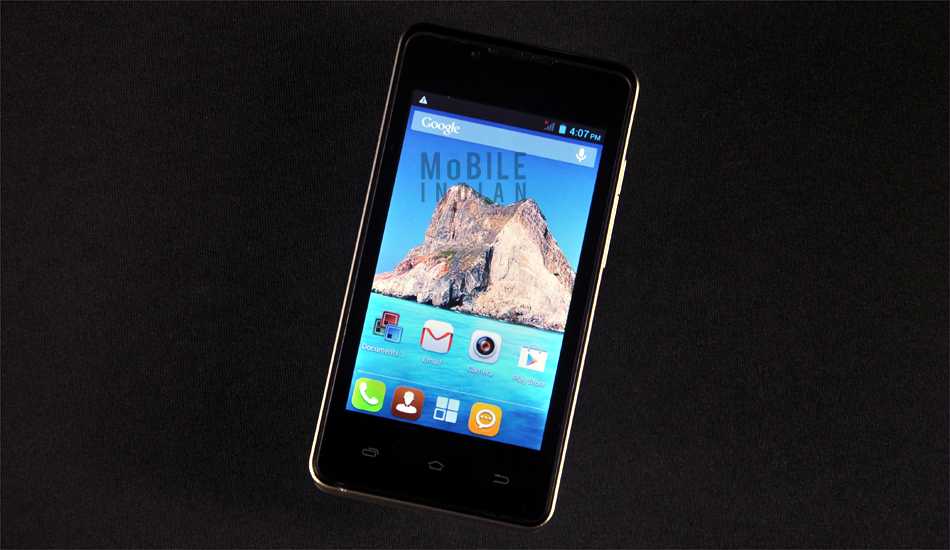 Now comes the big part – its performance. It comes with a 1.3 GHz dual core processor which is assisted by 512 MB RAM. Like all other is competitors, it has the Android 4.2 Jelly Bean operating system. This combination is quite expected in such an affordable device and it performed as we had expected. You can play most low to mid end games on this phone like Subway Surfer, Temple Run 2, etc. But ofcourse, it takes a bit of time to open them and you would also see a bit of lag during game play.
Rating for performance: 6/10
Battery
The Spice Stellar Glide has a 1350 mAh Li-Ion battery which is removable. Being a dual core phone, we had expected a lot from the phone in terms of battery life. Though it offers good standby (about 4-5 days), the talktime is on the lower side, about 4-5 hours.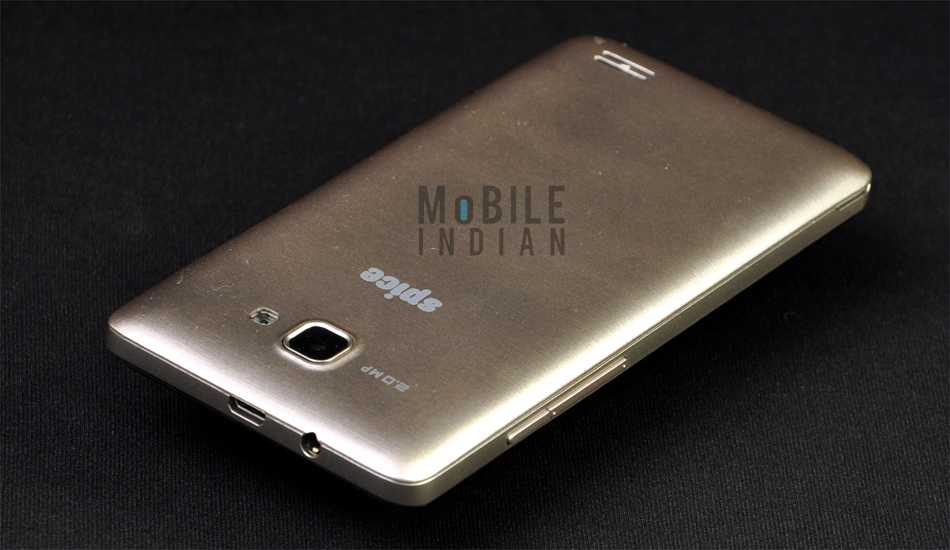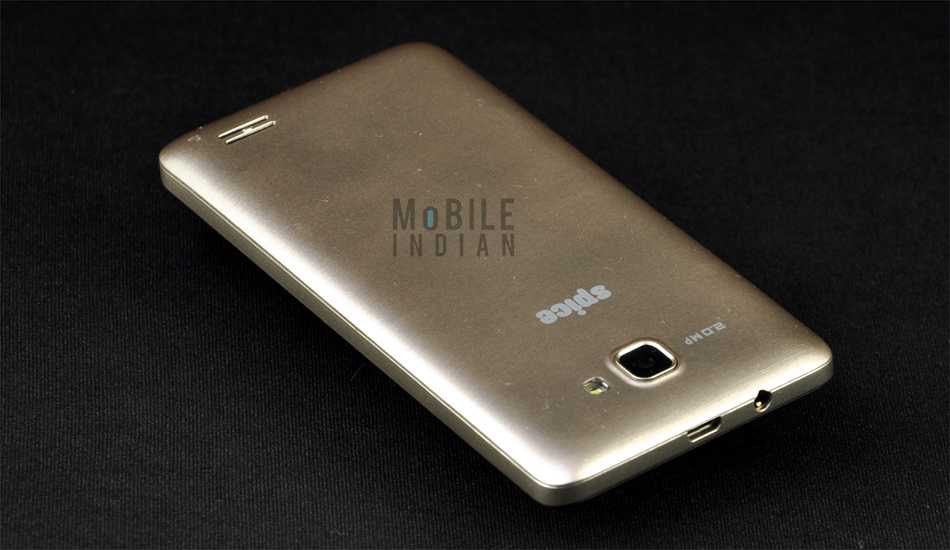 For instance, it lost about 20 per cent charge in one hour of video playback. When it comes to WiFi browsing, the battery power depletes much more quickly, about 30 percent in an hour. So basically, you have to keep the charger always with you as it won't survive a day even in medium usage involving few calls and half an hour each for internet browsing, gaming, and video playback.
Rating for battery: 5/10
Connectivity
In this case though, we have not much problem. It comes with two SIM slots, allowing 3G connectivity via one of its SIM slots. Besides, it has WiFi for internet connectivity as well. Also, there is Bluetooth and micro USB port for file transfer.
Rating for connectivity: 9/10
Images by: Sushil Kumar