Samsung has added a new member to its Tab A series with the launch of Galaxy Tab A (2017) tablet in the market. The tablet comes with a price tag of Rs 17,990 and it is meant to compete with the likes of Lenovo, which recently topped the Indian tablet market.
Talking about Samsung Galaxy Tab A (2017), it comes loaded with quite some exciting specification along with some interesting piece of design. But will it be enough to make a long-lasting impact on the Indian tablet market? Let's find out.
It comes with a simple design…
The latest tablet looks a tad similar to other Samsung tablets we have seen in the past. Samsung has tried to cover up the plastic body by giving it a metallic finish, which to certain extends offers a premium look, but once you hold it, you will get to know that quality of plastic. The tablet is 8.4mm thick and weighs 364 grams, which is comfortable to hold and use. It is wide enough to carry in the backpack.
You get a home button at the base, which lacks a fingerprint sensor, flanked by recent menu and back button. The right bears power on/off button along with volume controls, while on the left, there is SIM tray. The bottom houses a USB Type-C port along with a speaker grille, while the top houses a 3.5mm headphone jack. The back of the device sports a primary camera and just beneath it is LED flash and company's logo. That said, we were quite disappointed with the fact that the device does not have a fingerprint sensor. Samsung has kept the design pretty much simple and standard, which leaves nothing much to talk about it.
…but offers some good display
The Samsung Galaxy Tab A (2017) sports an 8-inch WXGA display with a screen resolution of 1200 x 800 pixels. Samsung has been known for makinggood displays in the past and it is reflected in this one as well. Despite bearing an HD resolution, the screen provides some sharp text along with vivid colour output. The brightness is good as well and you will not face many issues when watching videos outdoor. We watched different movies and series on the tablet and it was a delightful experience. Then there is a blue light filter, which makes it easier to read at night.
Performance is pretty much average
The specifications are pretty much average and are the performance of the tablet. The device is powered by a 1.4 GHz Snapdragon 425 quad-core processor. There is 2GB of RAM on the tablet with 16GB of internal storage. The tablet also has an expandable storage slot that can carry a micro SD card of up to 256GB. The Samsung Galaxy Tab A has an 8-megapixel rear camera with LED flash, f/1.9 aperture, auto-focus and a 5-megapixel front camera. For connectivity, it offers 4G LTE, Bluetooth 4.2, WiFi, GPS, USB Type C, GPS, GLONASS and 3.5mm headphone jack.
The tablet performance is pretty much average in our opinion. On the one hand, it handles most of the daily tasks like watching movies, streaming music, Facebook, WhatsApp and more quite easily. The tablet was able to handle most of the multi-task smoothly, though on some occasions we felt that there was certain lag. Coming to the gaming front, the tablet started showing its sign of lagging.
Though it handled most of the casual gaming quite well when it comes to graphic-intense games, it started shimmering and one could easily notice frame drops and lag in the gameplay. Also, the app load up time was particularly noticeable in some games and multi-tasking was not a pleasant experience when different games were running in the background.
Another thing we didn't like about the tablet was the speaker. The sound was not that loud as you expect from it. In some cases, the distortion level high makes the whole listening experience to go for a toss. However, the sound quality was good when you plug a headphone jack.
The camera performance is average as well. You will be able to take some above-average shots when the lighting condition is ideal. However, in some cases, we noticed that the images were coming a bit softly focused when clicked in the indoor lighting condition. The low light performance is not that great as well, and you will find grainy and full of noises images. The front camera does an average job as well. Other than this, call connectivity was good and we did not face an issue while surfing through a 4G SIM on this tablet.
User Interface is smooth and battery is impressive
The tablet runs on Android 7.1 Nougat with Samsung Experience version 8.5 running on top of it. The user interface is quite smooth and it is similar to the recently-launched Samsung smartphones.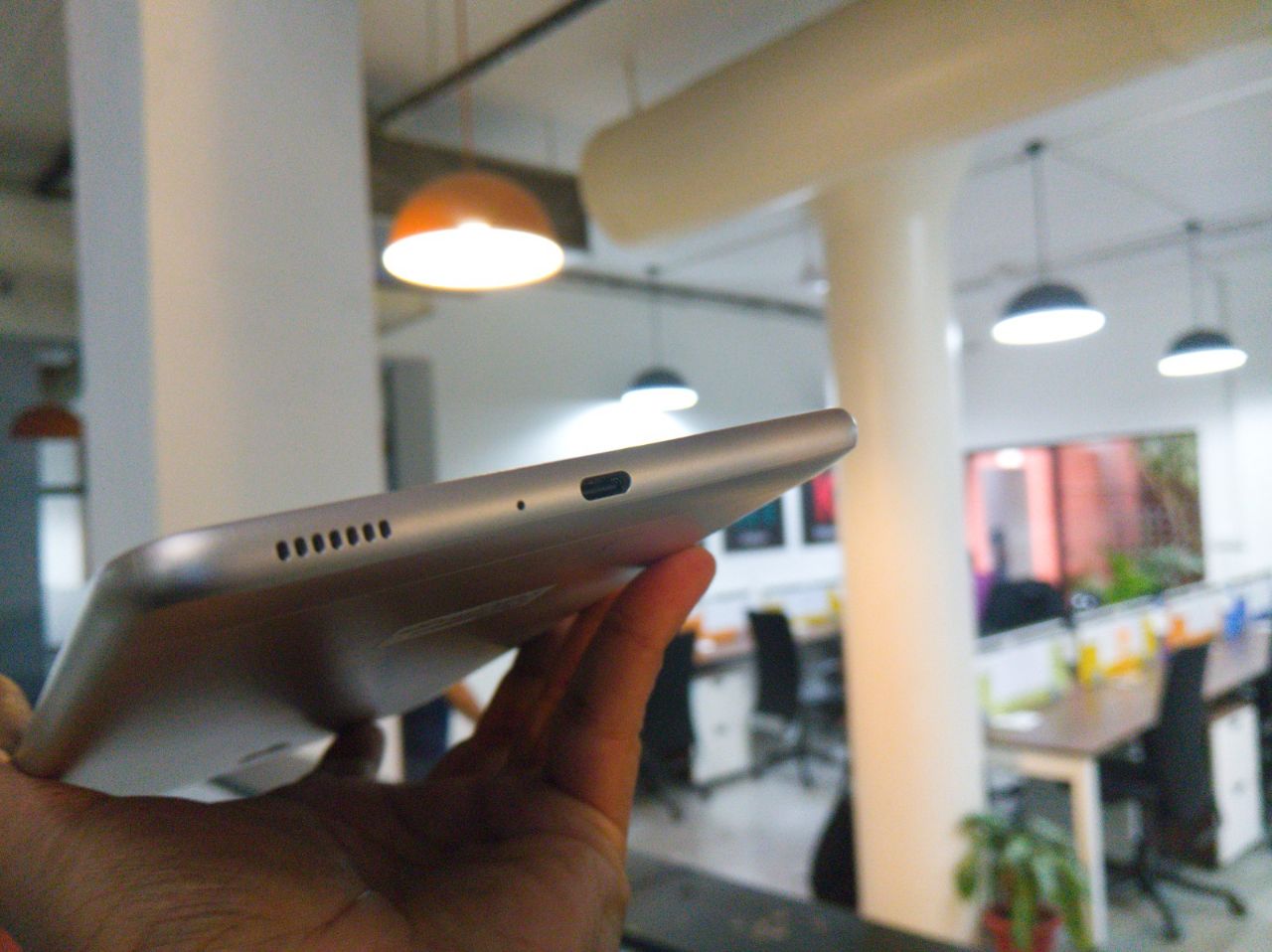 The UI does not come loaded with an app drawer but can flick from the bottom to reveal the list of installed apps on the tablet. When placed horizontally, the notification panel comes down from the left and right side, which makes it easier to interact with different notifications. If you swipe left to right, you will open Bixby.
In terms of security, you have a secure folder where you can keep personal photos, information and hide them from other users. In terms of bloatware, you get a plethora of Microsoft and Google apps.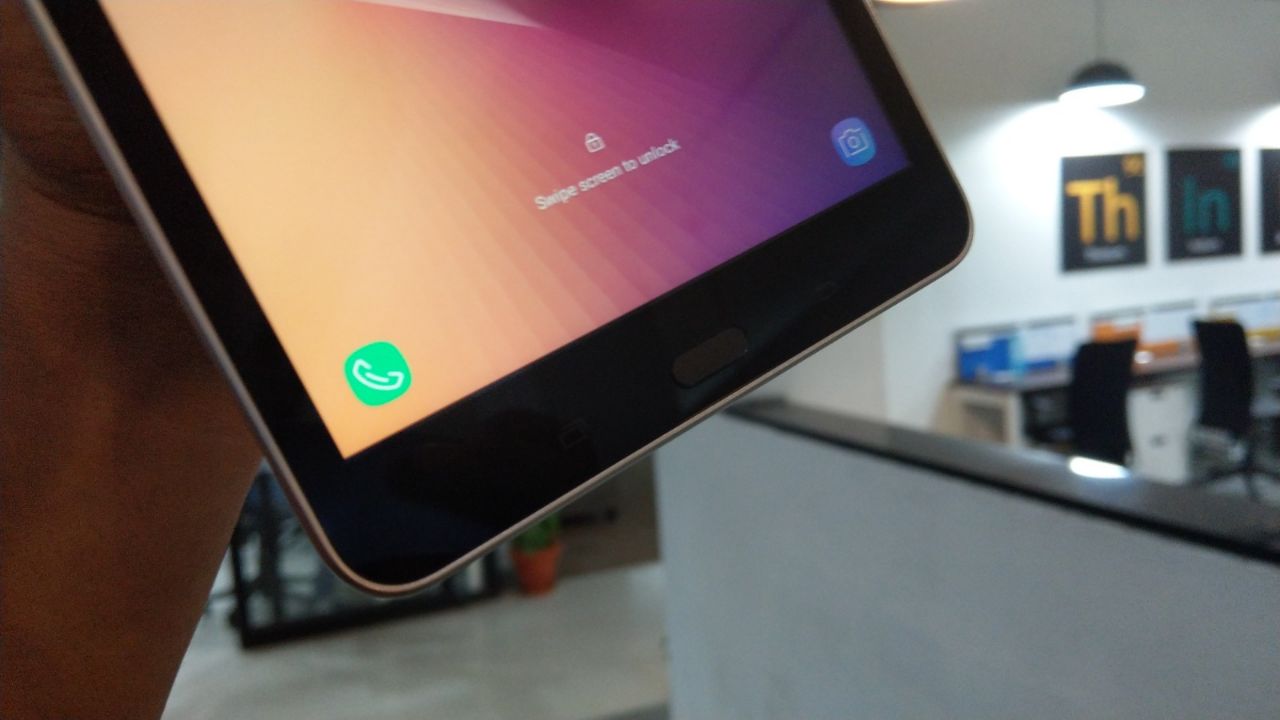 Interestingly, the brand has added Kids Mode, which comes loaded with lots of learning apps and games for kids. Setting up the Kids Mode is quite easy, all you have to do is enter a passcode and then enter the details of the kids. The app will then ask you to select the apps, which children are allowed to use. Through this mode, parents can control the number of time children can spend on the tablet. Further, kids will not be able to exist the Kids Mode until they enter the passcode.
Lastly, the battery performance of the tablet is quite impressive. The 5,000mAh battery does give you days of backup if you are not using the device regularly. We were able to watch two movies back to back when the battery was at 50 percent. The device comes loaded with a USB Type-C port, which allows it charger at a faster rate as compared to other tablets.