It is a known fact that Samsung is facing a lot of heat in the budget segment, but one thing we all agree is the fact that it still holds a dominant position in the premium category. The company has turned no stone unturned when it comes to maintaining this position with its S-series and Note series. We have already seen the Galaxy S10 series and how well it performed in the first half of 2019. But now, it is time for the Note series.
Samsung recently introduced its tenth edition in the Note series with the launch of Galaxy Note 10 and Galaxy Note 10+. Although the Galaxy Note 10 is a compact phone, it is the Galaxy Note 10+ that is the centre of attraction. The smartphone comes loaded with flagship specifications, a large screen, beautiful design and a hefty price tag. The phone is priced at Rs 79,990 for the 128GB storage variant, while the 256GB storage option is priced at Rs 89,990. So, does it make any sense to buy for this latest flagship smartphone as Apple has already introduced its latest iPhone 11 series and Google is soon to launch its Pixel 4 lineup? Let's find out.
Design had your curiosity, Display will have your attention!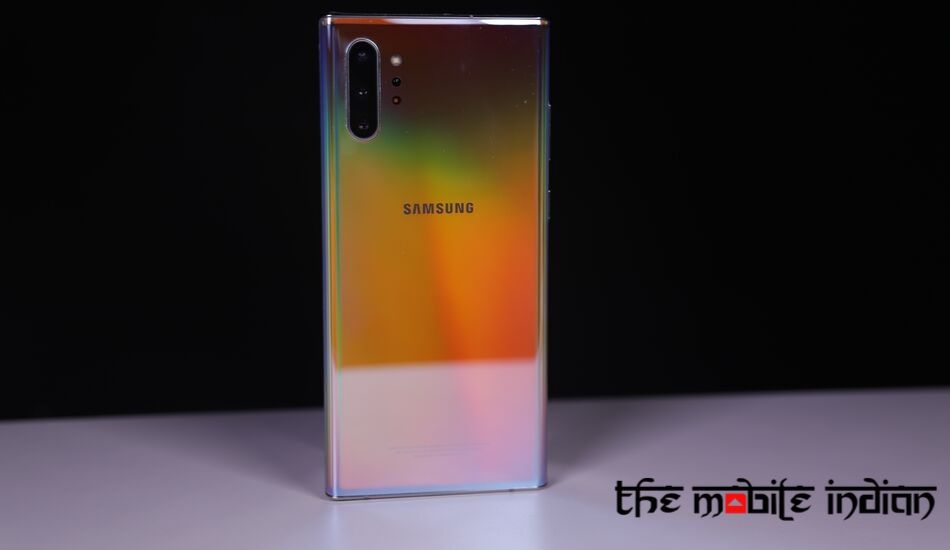 Let's be frank here. Samsung Galaxy Note 10+ is a massive device and by massive means that you cannot operate it using just one hand. However, that said, the smartphone still manages to impress with its build quality and premium design language. We had the Aura Glow colour option for review and it also comes with Aura White and Aura Black colour options.
The Aura Glow splits shades of green, orange, red and blue when light falls on it. The back panel comes with a mirror finish, which attracts a lot of smudges and it is a fingerprint magnet. However, the company is giving you a transparent case bundled with the box, which is helpful, though it is a shame that you have to put such a great finish protected under a cover. That said, it is a bit slimmer than the previous generation Galaxy Note 9 and it is lighter in spite of featuring more battery.
The front panel of the Galaxy Note 10+ comes loaded with Infinity-O display, which is Samsung's iteration of a punch-hole design. Unlike Galaxy S10 or Galaxy S10+, which have punch holes at the right side of the device, the Galaxy Note 10+ features a hole at the centre of the display. The phone comes with almost non-existent side bezels and the bottom and top bezels are one of the thinnest we have in a smartphone yet.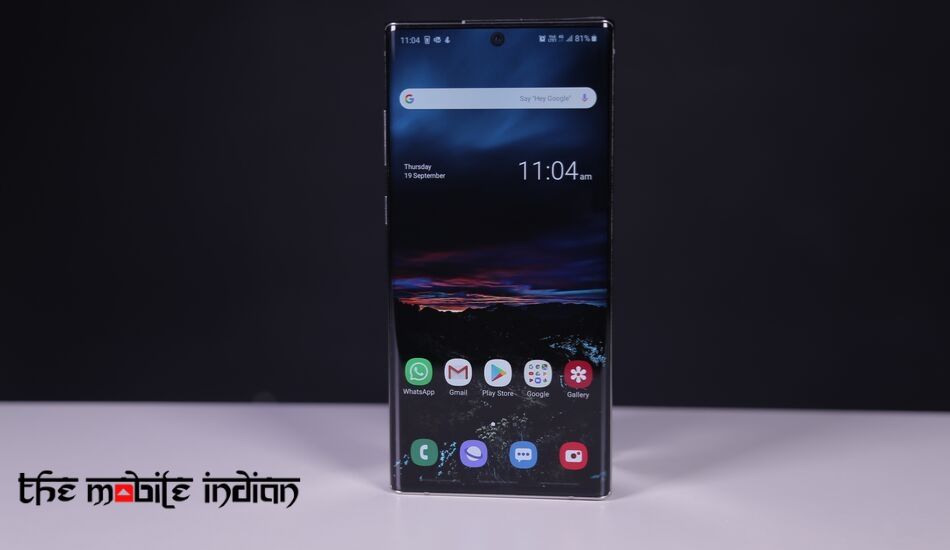 The phone is equipped with a 6.3-inch Quad HD+ Dynamic AMOLED Infinity-O display with a screen resolution of 3040 x 1440 pixels along with 498ppi pixel density. Samsung is known for making some really good AMOLED displays and the Galaxy Note 10+ is no different. The large screen is ideal for watching and streaming video content. Plus, it is HDR 10+ certified, meaning that you can enjoy all the content in high-quality.
The display offers some punchy colours and the viewing angles are great as well. The smartphone also gives you an option to choose the resolution ranging from HD+ to Quad HD+ and by default it comes with Full HD+ resolution. Texts appear super sharp and overall, the large display is ideal for those late-night reading content. You also have an option to choose between different screen mode. We used Vivid as it offers much punchier colours.
It also comes with a blue light filter, which helps remove blue light emission. The only thing missing here is the 90Hz refresh rate. It is a sad thing to see that Samsung, which has indirectly helped other players to develop a 90Hz refresh screen, is not able to implement it on its flagship smartphone.
Stellar performance, software has come a long way!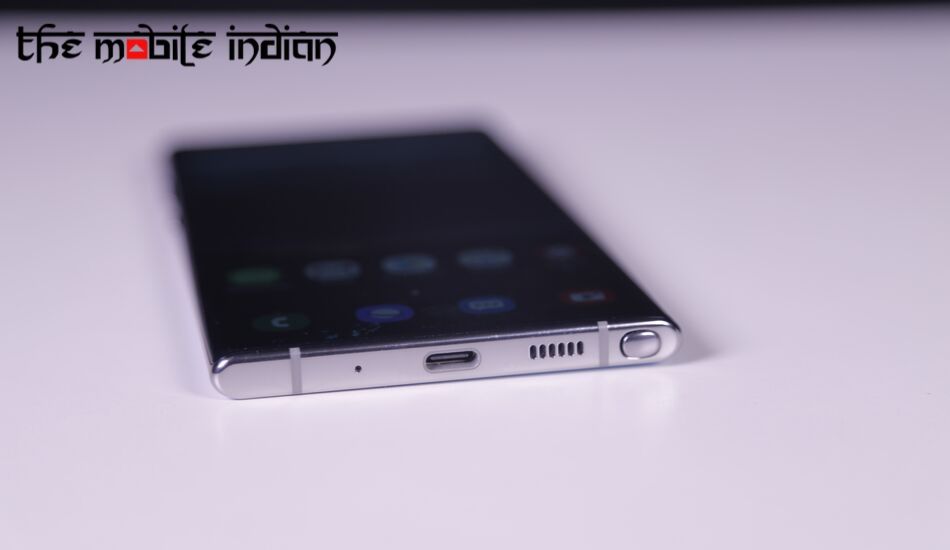 Let's start with the hardware first. The Samsung Galaxy Note 10+ is powered by the latest 2.7 GHz octa-core Exynos 9825 processor along with Mali-G76 MP12 GPU. The phone comes with 12GB of RAM and up to 512GB of internal storage. The good thing here is that you get an option to expand the storage up to 1TB via microSD card slot.
The smartphone is a powerhouse in true sense. The app load time is minimal and multitasking is a breeze with this smartphone. The 12GB RAM makes it easier to perform some heavy-duty tasks and we faced no issue using Samsung DeX as well. The DeX can now easily connected to Windows or Mac laptops and all you need to do is download the Samsung DeX application on your laptop. We liked the fact that one can easily drag and drop files between the computer and DeX. This is quite a convenient feature for users who want to transfer seamlessly. The interface is now refined as compared to the previous generation and it is smoother as well. However, we couldn't many reasons to stick with DeX, which is most likely the case with every user.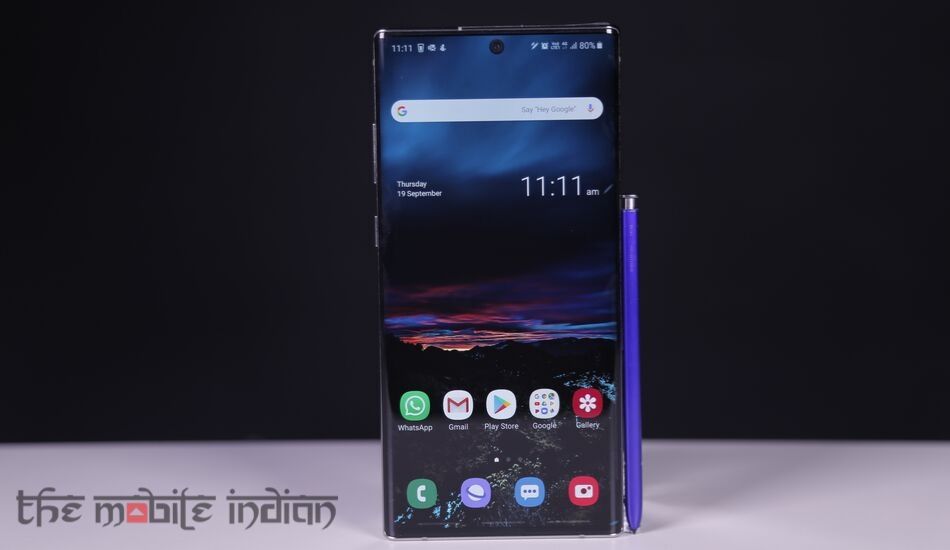 Another area where the phone does a good job is gaming. We ran some graphics-intensive games like PUBG Mobile, Asphalt 8 and more on this smartphone and faced no issue. Plus, there is a Game Center as well, which allows you to manage notifications, calls and more during gameplay. However, we did notice that the phone heats up a little bit, but it is not at an alarming rate.
Movin on, the S Pen now comes with air gestures. This can be used in the camera app and users can perform different gestures using the S Pen. So for example, you can swipe left or right to change the camera modes. To zoom in or out, you can rotate it clockwise or counterclockwise. Talking about the S Pen, it still allows you to take notes even when the screen is off, which comes handy on many occasions and you can also use it do doodle around in free time. Plus, you still get the click sound, which might be satisfying for many.
Coming to the software, the Samsung Galaxy Note 10+ runs on OneUI, which is based on Android 9.0 Pie. The user interface is smooth and it offers some interesting features like gesture-based navigation controls, app drawer, Knox and more. You can change icons, texts and more, which is a good thing. However, we still feel that the UI is not as fast as we have in Pixel devices or OnePlus smartphones. This is one area where Samsung needs to work, especially in the flagship series. Furthermore, we noticed My Galaxy application sending us too many notifications, which is an annoying experience.
Cameras impresses in daylight, low light lacks a punch!
The Samsung Galaxy Note 10+ is again a powerhouse when it comes to the camera department. The smartphone is backed by a 16MP Ultra Wide lens with F2.2 aperture and 123-degree field-of-view; a 12MP wide-angle lens with Dual Pixel technology, 77-degree field-of-view, OIS and F1.5/F2.4 aperture; and a 12MP telephoto lens with F2.1 aperture and OIS. Finally, there is a VGA DepthVision Camera. For the front, it is loaded with a 10MP Dual Pixel wide-angle sensor with an 80-degree field-of-view and f/2.2 aperture.
The camera application is quite easy to use and it comes with different modes including Photo, Video, Live Focus Video, Hyperlapse, Pro, Panorama, Night, Food and Instagram. You also get an option to switch between wide-angle, normal and telephoto mode with a simple toggle.
The phone does a brilliant job in daylight conditions as the images came out to be crisp and well-detailed. The phone is quite fast to lock focus on the image and images clicked with the smartphone delivered some high dynamic range. The only problem we noticed here was the fact that it sometimes oversaturated colours like purple, red and more. The wide-angle lens captured a much wider area and edge distortion is kept at a minimum. The telephoto lens, in our opinion, performed better than the other cameras as it delivered crisp photos.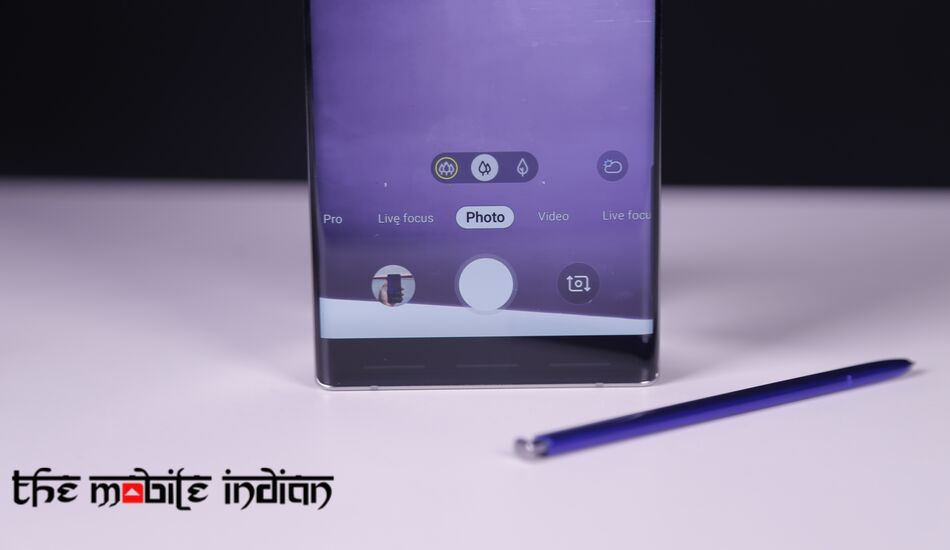 Moving on, the Live Focus mode works fine in the daylight condition and you get different filters, which are quite fun to play with. This is not it. Samsung has stressed a lot on the video capabilities of the Galaxy Note 10+ and to some extent, it delivers it as well. We particularly liked the Super Steady Mode in the video recording, which aggressively stabilizes the video. The Live Focus Video mode didn't impress us the results were not that great. We have seen a better implementation of this technology in Huawei P30 Pro. Still, once again you get different modes in Live Focus Video, which are quite fun.
Coming to the low light performance, this is where things got a little messy. In low light conditions, the smartphone captures a good image, but it is not that great as compared to the one we have seen in other flagship smartphones. The detailing is decent and not great in low light shots. We also noticed some grains and noises in the images. The Night mode is also not super effective in low light conditions and it is nowhere close to Google's Night Sight.
Battery, Audio and Security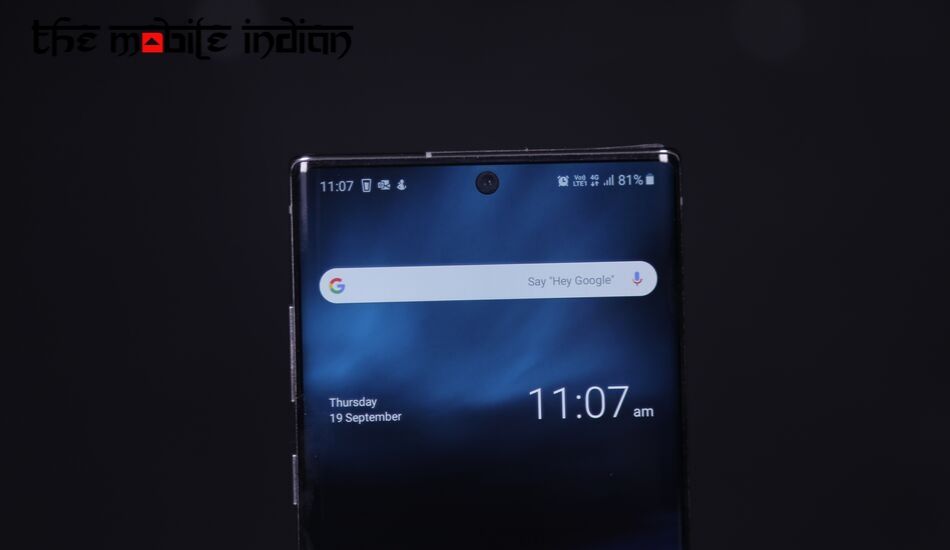 Samsung has improved the battery life on the Galaxy Note 10+ as compared to its predecessor. The smartphone now comes loaded with a 4300mAh and it supports 45W fast charging along with wireless charging. The company ships a 25W fast charger with the box. The battery life has improved significantly in the Galaxy Note 10+ as we got one full day of battery backup under normal to heavy usage. Our daily schedule included streaming music, navigating with Maps, watching some movies, playing some games and more. With this usage, we still got some battery juice at the end of the day. Coming to fast charging, the phone took almost 1 hour and 10 minutes to get fully charged, which is a good thing here. Furthermore, it comes with wireless power share mode through you can wirelessly charge other devices as well.
In terms of audio, the Galaxy Note 10+ features stereo speakers system. There is one speaker at the bottom, while the other one hidden under the display. The sound is quite loud and it also comes with Dolby Atmos to enhance the overall sound experience. The sad thing here is that Samsung has finally removed the 3.5mm audio jack from the device, meaning that it is the end of the headphone jack for its flagship series.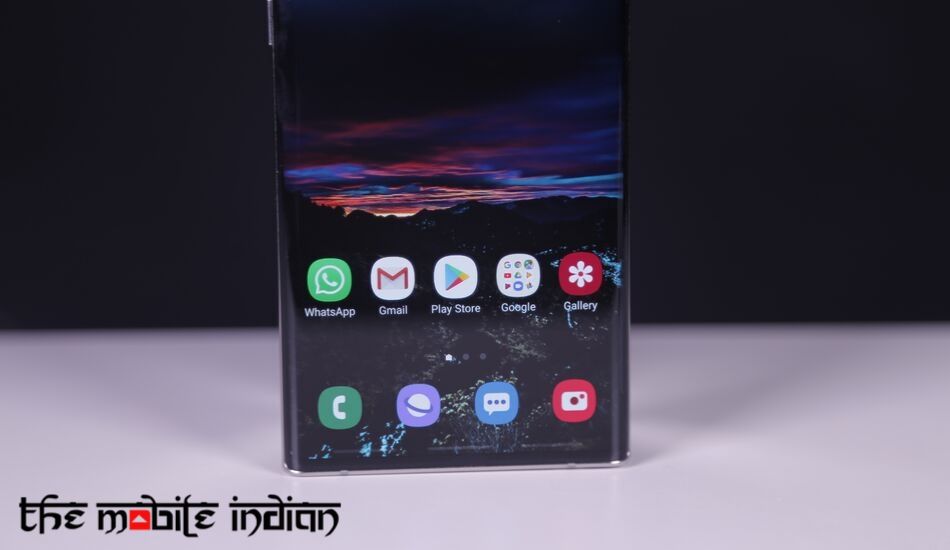 Coming to security, the phone is equipped with an ultrasonic fingerprint sensor along with face unlock. The fingerprint sensor is not the fastest as other players like OnePlus and more are offering faster fingerprint scanners in their flagship devices. The face unlock works fine, though in low light it shimmers a bit. Samsung has also added it's Knox security for some added security. That said, call connectivity is good, though we noticed some lag while picking up phone calls. For some reasons, when we picked up a call, it takes a noticeable amount to get connected and for that breif moment, the call screen freezes. Although it happened randomly, but it occured mostly when we connected to a Bluetooth headset.