Samsung is expanding its footprint in the mid-range smartphone segment in India with the launch of its latest Galaxy F54 5G. The device is trying to cement its place in the segment with its USP being a humongous 6000mAh battery. However, is a big battery enough for the smartphone to stand out of the crowd or does it have to do more? Let's have a look.
Galaxy F54 5G: Design, Audio and Haptics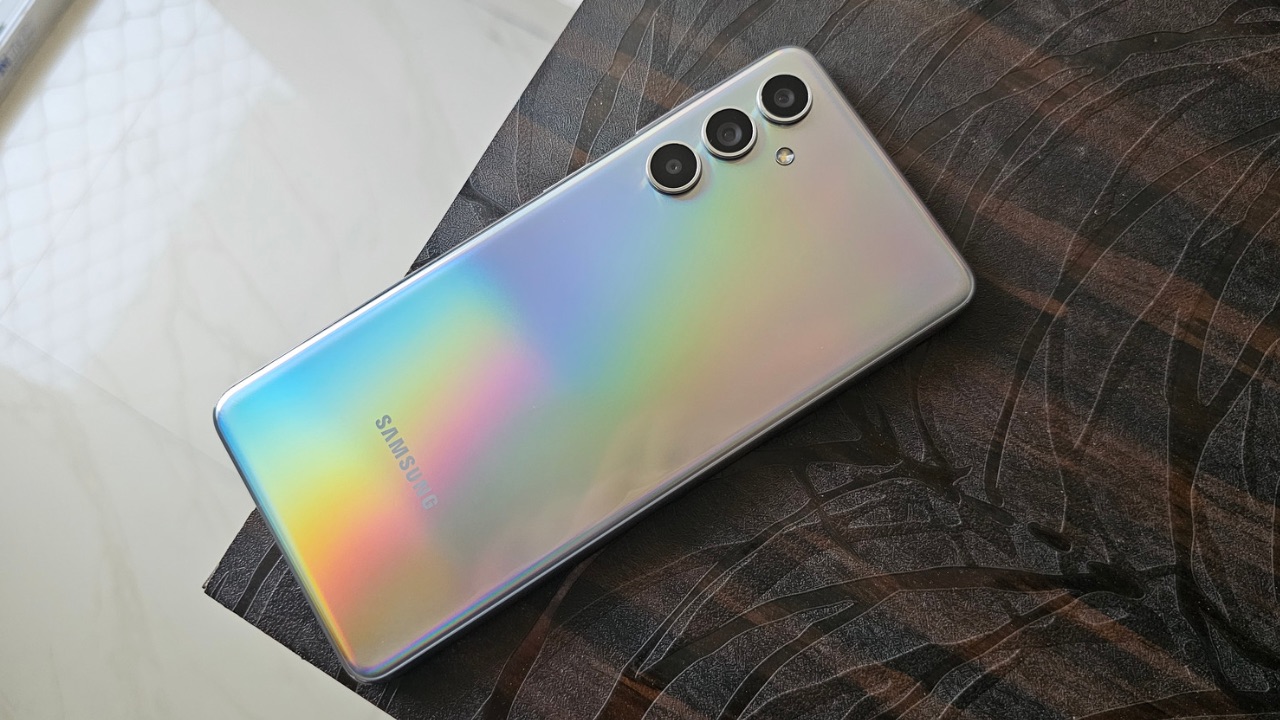 The Galaxy F54 5G is the brand's most premium smartphone in the F series till date. It adopts the same design language we have seen in all of the smartphones launched by the brand this year up till now. There are three camera Sensors which sit apart from each other, alongside a flash module next to them.
However, Samsung is trying to differentiate its lineup with the colour options it is providing. The F54 5G we got has a silver finish that gets a rainbow effect depending on how the light falls on it. We have seen such colour before in the smartphone industry and it doesn't disappoint at all. The device does shine in hand and grabs attention. On the dull side though, it does attract a lot of fingerprints also, so you might want to put a case on it if you want to keep it clean.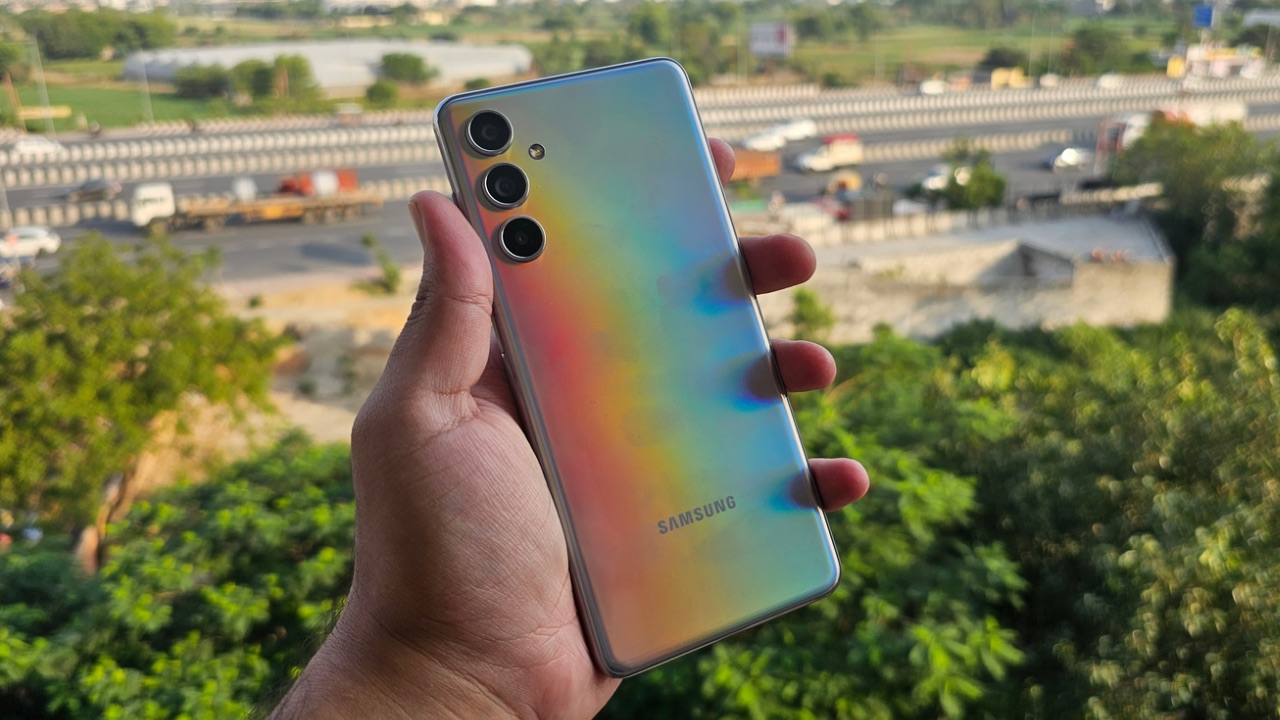 Samsung Galaxy F54 5G has a premium in-hand feel and is surprisingly lightweight and slim, despite packing a huge battery. The weight distribution here is very well done. The sides of the phone are curved, unlike the Galaxy S23 series and the Galaxy A54 and A34. It does help with grip and the handset doesn't feel slippery in hand by any means. The buttons in the right have a tactile feel and give enough feedback when clicked.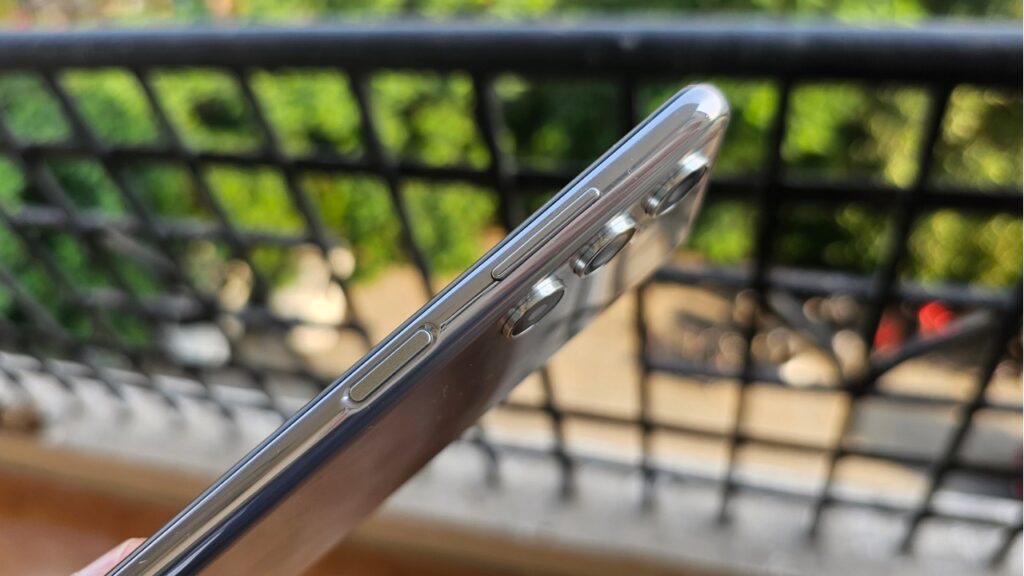 The fingerprint sensor, that is integrated within the power button, works as it should without any hiccups. Coming to Haptics and audio, the former has been handled decently. It's still not the strongest set of haptics but it does the job. The complaint here I have is that Samsung put in a single speaker on the device while it could have housed a stereo setup like it did on the Galaxy A54 5G. The single speaker here is loud and clear but another speaker at the top would have felt more complete.
Galaxy F54 5G: Display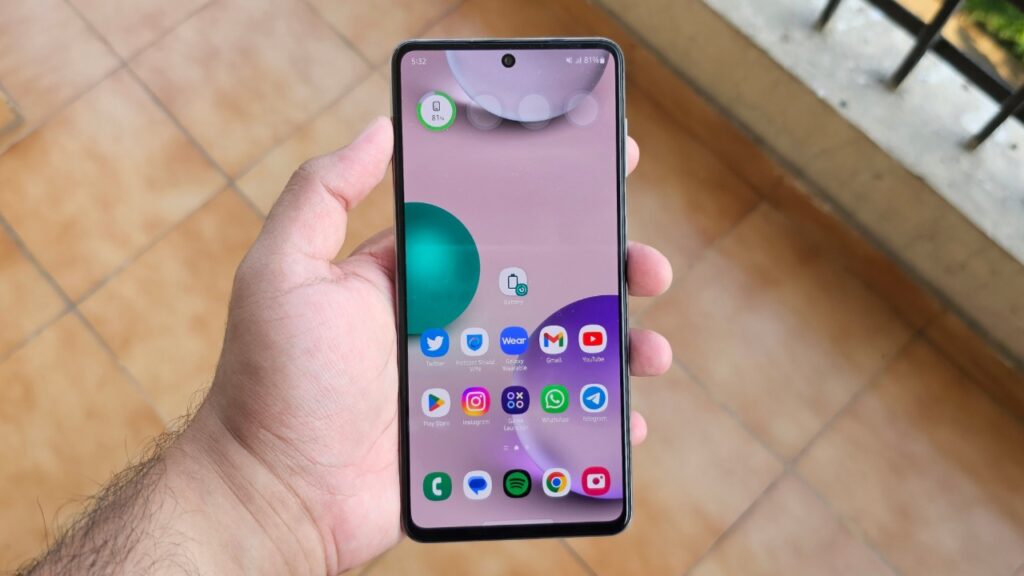 The display on the Galaxy F54 5G is a 6.7-inch 120Hz Super AMOLED panel with a full-HD+ Resolution (1080 x 2400 pixels) and Gorilla Glass 5 protection.
As the case is with most Samsung devices, the display doesn't disappoint for the most part. Its punchy, has great colour reproduction and is sharp with excellent viewing angles.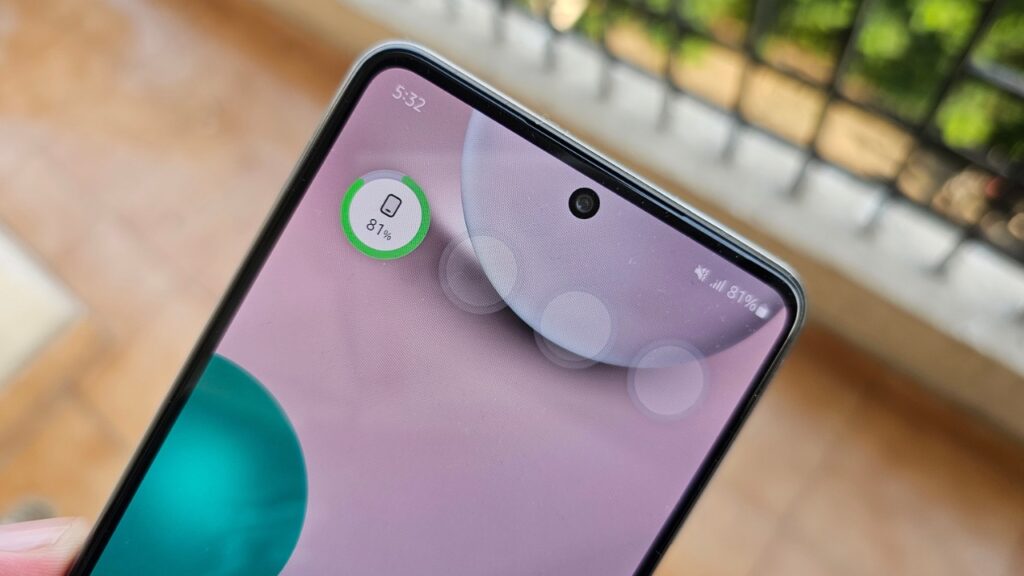 The bezels on the device also don't look odd. What it couldn't handle well was the brightness. While indoors it felt okay, I did have difficulty reading the content when I was under direct sunlight.
Galaxy F54 5G: Software & Performance
The Galaxy F54 5G's performance relies on an Exynos 1380 Processor that is an in-house chip from Samsung. It is paired with 8GB of RAM and 256GB of storage. While it isn't the most powerful chip in the Exynos lineup, it can handle daily tasks with ease. Even when on 5G most of the time, I didn't face any kind of heating issues with the smartphone.
Basic tasks like opening and closing apps are handled fine while heavier ones such as gaming aren't the processor's cup of tea. It does start to struggle as soon as you open a game such as Call of Duty Mobile or Farlight 84. However, lighter games such as RL Sideswipe work well even at the highest graphics. Multitasking is handled well on the other hand, thanks to optimised RAM management. You also get the RAM Plus (virtual RAM) feature with the smartphone.
For software, you get Samsung's OneUI 5.1 out of the box which is based on Android 13. The software skin is feature packed to the core and has been optimized decently. Some animations do lag when a lot is happening in the background but I believe it can be solved through a software update. You also get some bloatware pre-installed, such as Dailyhunt, Byjus app, Snapchat, PhonePe, Truecaller, etc., which can thankfully be uninstalled without any issues.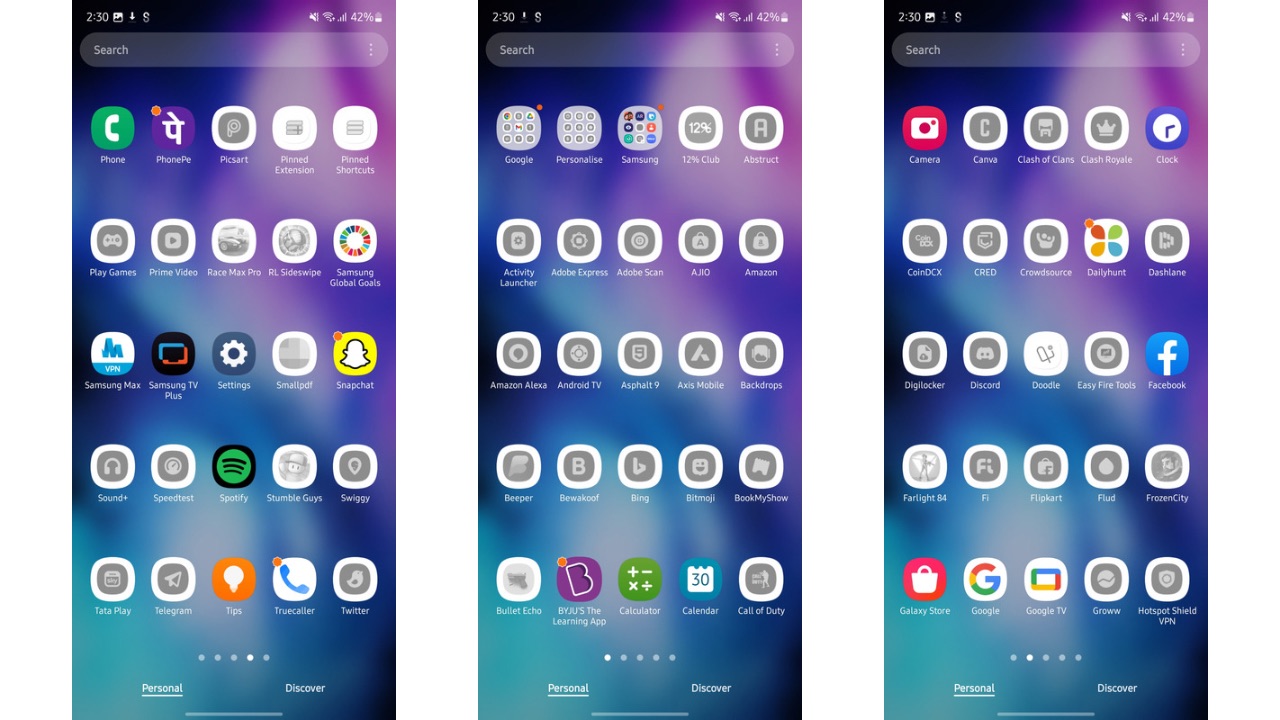 Talking of updates, Samsung is promising 4 years of OS upgrades and 5 years of security patches meaning you should be good till Android 17 with the Galaxy F54 5G. It is also the first Galaxy F series device to receive these many updates.
Though the update policy for a smartphone that costs Rs 29,999, without offers, is quite reasonable. The device came pre-installed with the February security patch and no other updates were available at the time of writing this article. The phone will support four years of OS update.
Apart from that, connectivity performance including 5Ghz Wi-Fi, Bluetooth, and 5G worked fine. There were no connection drops with 5G calling while download and upload speeds were also on point.
Read More: What It Takes Samsung To Make Its Flagship Galaxy S23 Ultra
Galaxy F54 5G: Battery & Charging Speeds
As we mentioned above, the F54 5G gets a 6000mAh battery that charges at just 25W. As you'd expect, the device takes more than 1.5 hours to charge from 0 to 100 and that is clearly disappointing. Moreover, Samsung isn't giving a charger in the box while Lava on the other hand, is giving a 67W fast charger with their Lava Agni 2 5G that costs Rs 20,999.
On the positive side of things, the battery backup the handset gave me was exceptional. It is easily a 2-day smartphone if you are using it for basic tasks like calling, browsing, scrolling social media, listening to music, etc.
In my case, with Always-on Display turned ON with a scheduled time from morning to night, 5G Mobile Data turned on for majority of the time, gaming, chatting, music streaming, browsing, and using social media apps, I could easily get 4.5h screen-on time with 1 day of use and that is quite impressive. It actually exceeds the battery life of my Galaxy S23 Ultra.
If you are on Wi-Fi most of the time and don't get into a lot of heavy tasks, you can easily expect it to last two full days. This is because the stand-by time was also on point, with only 2% loss in battery overnight (around 7 hours).
Galaxy F54 5G: Cameras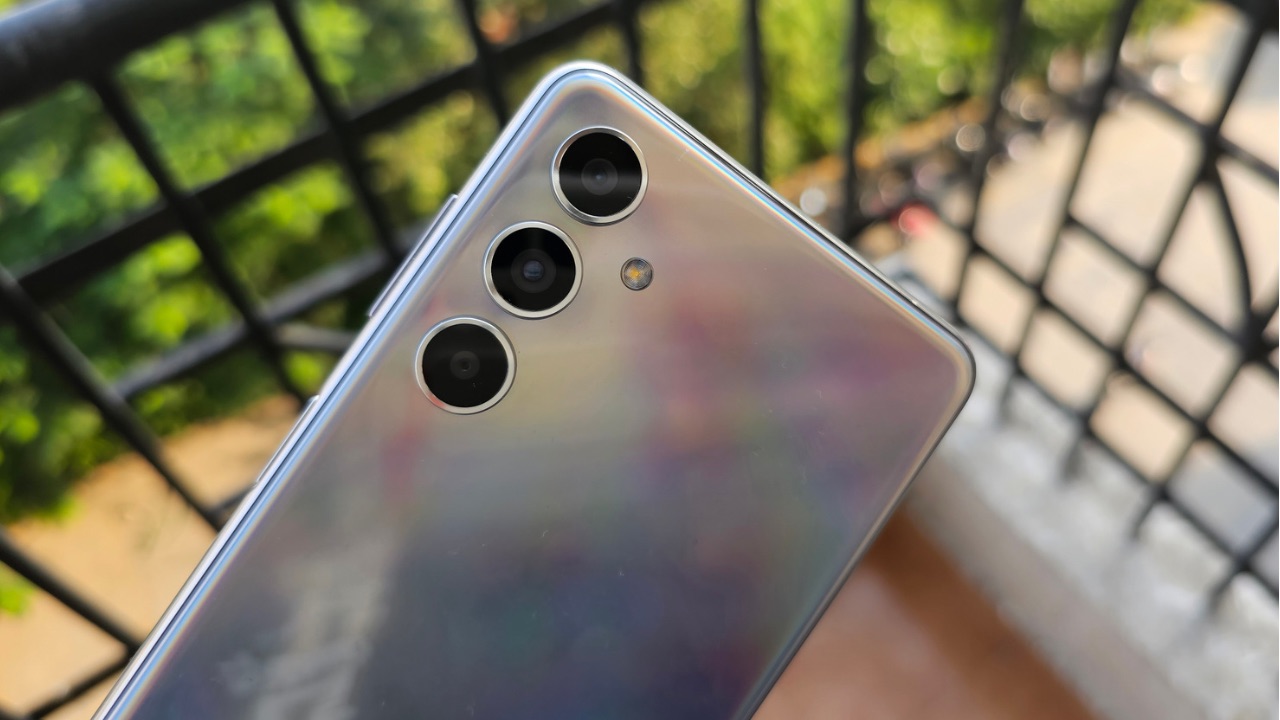 There are three cameras at the back of the phone, including a 108-megapixel main shooter, along with an 8-megapixel f/2.2 ultra-wide snapper and a 2-megapixel macro camera. The front-facing camera includes a 32MP sensor for selfies.
We have a detailed camera review in place for the Galaxy F54 5G where we dive in deep into the optics performance of the phone. The phone does have its shortcomings but performs up to the mark when it comes to outdoor shots and shots under artificial lighting.
Samsung's own nightography mode that was introduced in Galaxy S23 series has also debuted in the Galaxy F series with the Galaxy F54 5G being the first smartphone to support it. The device does click great night shots with ample amounts of details.