Samsung Galaxy Note smartphone was the first hybrid tablet-smartphone and took the world by surprise because people quickly became fans of this oddly sized device. Well, phablets are the new category and Samsung is going good in this area. This is evident by the launch of the Samsung Galaxy Note 2. Samsung has, in fact, been a brand that very frequently experiments with different technologies and functionalities; a classic case in point being the Samsung Galaxy Note 10.1, N8000, which is the first Note device to cross the 10 inch screen size mark and has calling functionality integrated in it. But does that make it worth the Rs 40,000 price tag?
First impression
Samsung in recent times has grown fonder of white as most of its new devices are primarily available in white, and are then followed by other colours by and by. Samsung Galaxy Note N8000 too features a white and sliver glossy finish all over that looks great. The front is flush with metallic silver accents along the sides to break the monotony of white. The front encases stereo speakers and so do the sides, which are protected by chromed metal grills that add looks and durability.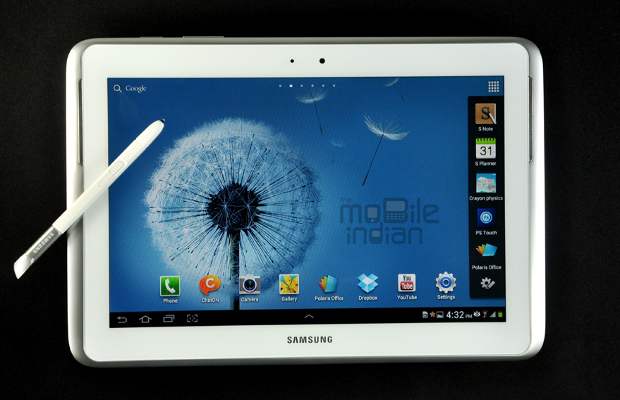 The body is made of high grade poly carbonate plastic that gives it strength and makes it lightweight too. Weighing over 600 grams the device is light but feels heavy due to a wider centre of gravity. The plastic of the casing has a single colour throughout, so after some months of use it will show signs of discoloration and fading. Also, the back is prone to scratches and fading, so it might be a good idea to invest in a good cover.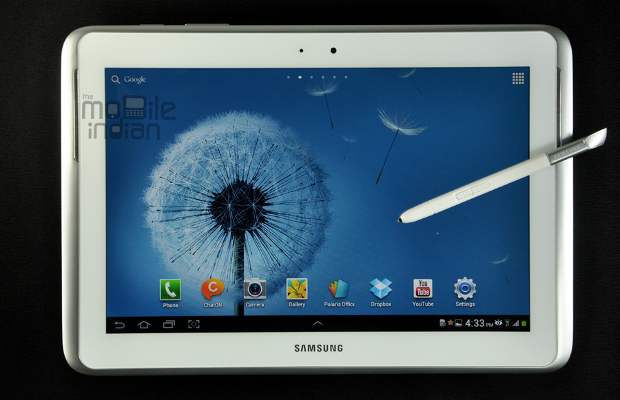 Although the build quality of the device is superb, due to its big size it is certainly prone to damage due to falls, a problem common in most big screen devices. Note 10.1 has a scratch resistant display so no additional protection will be required.
Design
The design of the device is again quite similar to other Galaxy devices in the market and apart from its big size it's hard to differentiate the device from the Galaxy Tab 7. But it's not a problem as the real key lies in the functionality it offers. When it comes to 10 inch devices, apart from making them slimmer there isn't much design innovation. The device is without doubt slim and lightweight, and that makes it easier to hold and carry for longer times as well, although it would probably be best suited for keeping on your lap, which is further aided by its big screen. It has all the slots and keys on top, which makes them easily accessible. The volume rocker and power key sum up the physical keys on the device and alongside there is a slot for the Sim card, which is of standard size. There is a MicroSD card slot as well.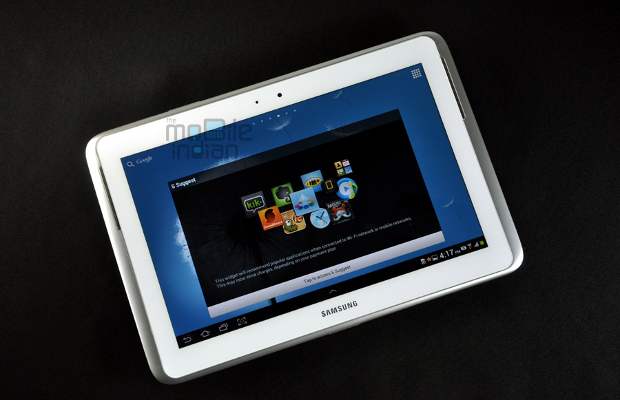 The display utilises capacitive touch technology and therefore there is no recession in the screen bevel and the front of the device has a flush and even finish. The lack of buttons certainly makes for a good and neat design.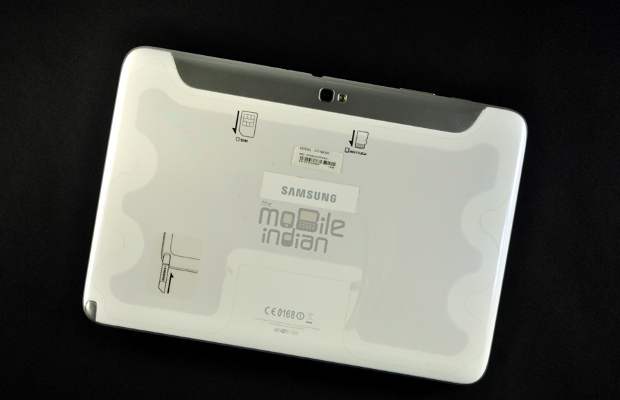 The connectivity port has been placed right at the bottom so that the looks of the device are not spoilt but this shouldn't not be a problem if the device is on your lap because you'll then hold it upside down and the screen will rotate 180 degrees so it's right side up as far as you're concerned. Samsung uses a proprietary charging and data port so users will have to carry the cable with them at all times; although we would have loved a MicroUSB port, which is becoming standard in tablets.
Display and touch
The use of IPS (in plane switching) technology for Galaxy Note N8000 is more than welcome as it utilises the S-Pen hardware stylus that works on pressure sensitivity, so anything other than an IPS display would temporarily discolor whenever pressure is applied.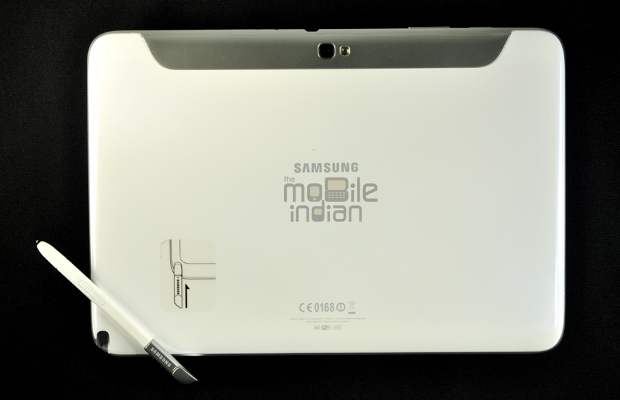 The display is a 10.1 inch one capable of 1280 x 800 pixel resolution. Also, its pixel density is low at 149 pixels per square inch. The low pixel density, however, is nothing to worry about as the device runs all HD games in all its glory and the end result is simply great. There is a high level of clarity on the display and hardly any pixilation at any time. In terms of colour reproduction the display is great and quite vibrant although it is not as good as the Amoled display featured on Galaxy smartphones, but there are no complaints whatsoever with it. Its brightness levels are quite appropriate and make the device legible in bright light too.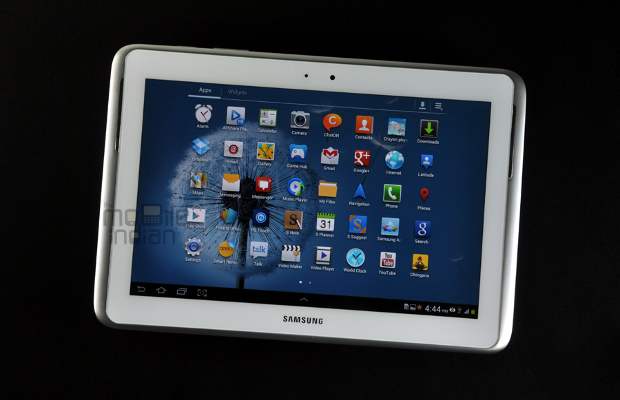 Note 10.1 features five point touch by default. It is quite responsive, very accurate, and especially useful for tablets of this size. While playing games or browsing or even working on applications the touch complements every action by the user, and while utilising the S-Pen stylus the whole game changes. The stylus is sensed by the device a couple of millimeters above the display itself, which shows how sensitive the screen is.
TouchWiz user interface works perfectly with the device's hardware resulting in absolutely accurate action every time. The interface of the device is again similar to most other devices and very easy to work around. It took exactly ten minutes for a new user to get comfortable with the big screen size and the stylus too. Another great thing about the new Note is that while using the stylus users can rest their palm on the screen like they would on an ordinary notebook and the stylus works flawlessly throughout; it's quite brilliant.
Performance
Samsung Galaxy Note 10.1 (N8000) has an Exynos 4412 quad core processor running at 1.4 GHz, which is the secret of its performance. The processor is coupled with a massive 2 GB of RAM, which you are reminded of all the time because applications load and perform quickly without any lag. Multitasking is one thing you would love to do on this device. The processor and RAM come in real handy while utilising features such multi screen and video pop out. While working on the S-Note app and Photoshop simultaneously there is no lag whatsoever and it all goes as smooth as silk. Be it gaming or multitasking everything is done with great ease and without any hiccups or issues.
While multitasking is a breeze for the Note 10.1 it would be a good idea to use the task manager once in a while as when applications keep stacking up the device eventually shows signs of slowing down, especially with HD games.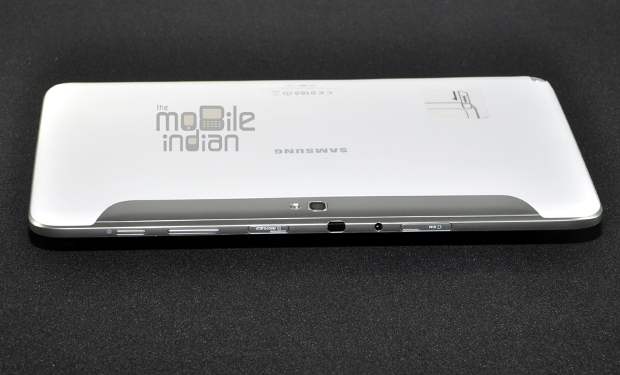 The Note 10.1 has a stay awake feature just like the Samsung Galaxy S3. It constantly tracks users' eyes and the moment it can't track the user's gaze anymore the device starts a countdown to put itself on standby.
Overall we are quite impressed with its performance and loved what the device could do.
Connectivity
For the first time ever a 10 inch device features calling and it's more than welcome. It would have been good to have an earpiece in the box though because it is really odd stacking up a 10 inch device against the ear. However, using a wired or Bluetooth handsfree serves the purpose. Although we would have loved a solution like the Bluetooth styles implemented by Asus for some devices, we hope something better is in store for buyers.
The device uses a standard sized Sim slot so users won't even have to upgrade to a micro Sim, which is what most devices today are using. Data speeds are a network dependent feature but the device's internals work in perfect harmony and deliver best performance always, so be it calling or data surfing everything gets done very nicely. For internet connectivity the device features WiFi and 3G.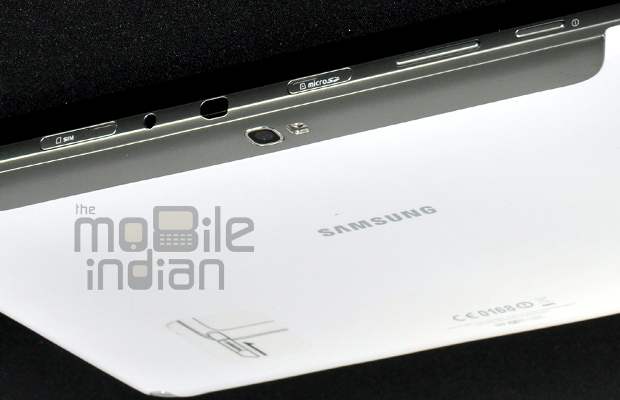 For wireless transfers there is Bluetooth 4.0 which is speedy but requires an equally matched device to perform to its full potential. While using Bluetooth we noticed that the battery drains faster than it does while using WiFi.
Apart from that the device features multiple connectivity options through the proprietary port-a USB cable is bundled with the device, but other connectors like USB and HDMI users will have to be bought separately.
Multimedia
The Samsung Galaxy Note 10.1 (N8000) supports most audio and video codecs natively, plus users can easily download applications like VLC player from Google Play. The Note 10.1 features 16 GB of internal storage which can be used to store movies, apps, music, pictures and documents. Plus, if you run out of space you can easily expand it to 64 GB via an SDHC card.
The device features a 1.9 megapixel front facing camera that is good for some high definition video calling although higher data bandwidth is necessary for really taking advantage of it. At the rear there's a 5 megapixel camera with inbuilt flash for illumination under low light. The quality of the camera is good in bright to medium light while in low light the camera automatically uses a flash. Pictures are bright and sharp while during night or in low light images turn rather grainy though it is certainly better than most devices out there can achieve.


The S-Pen is seriously a big advantage for pictures and photography, partly because of the Photoshop application, and the S Note app can be used to annotate them and share them with the world.
While the device itself is great with multimedia it can be your ultimate multimedia control too. Note N8000 comes with an integrated IR transmitter that allows users to control entertainment related devices such as players, set top boxes, televisions and much more with the tablet alone. It's good for most recent televisions and supports televisions other than Samsung too, but for older televisions the solution does not work. Also, the software allows having one device per category, which means that users can have one TV, one player and one set top box configured to the Note, which is kind of limiting.
Battery life
One of the major advantages of this device is its battery backup. With normal gaming, audio-video use and web browsing over both 3G and WiFi the device usually lasts for two days between full recharges. The 7000 mAh battery pack might sound small for the big 10 inch display but in reality the device's hardware has been fine tuned to balance power consumption and performance.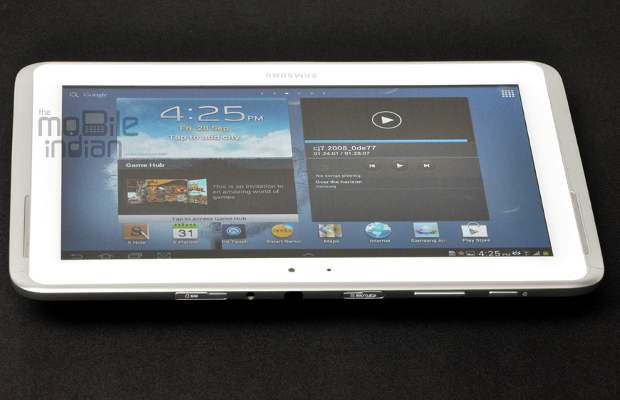 Overall the battery backup more than pleases users, but be aware that the auto brightness level controller reduces the brightness a little too much. Although it's advised you use the automatic control at times manual intervention is desperately needed.
Finally
The bigger Note N8000 has a great set of features and superb performance as well. But the biggest question is whether it justifies its Rs 40,000 price tag. Well, in our opinion the Note has a definite edge over conventional devices and while competing with the likes of Asus Transformer the device lacks a physical keypad but makes up with the great capabilities of S-Pen. With the upcoming Android Jellybean upgrade the device is sure to get newer, better and faster functionalities as well.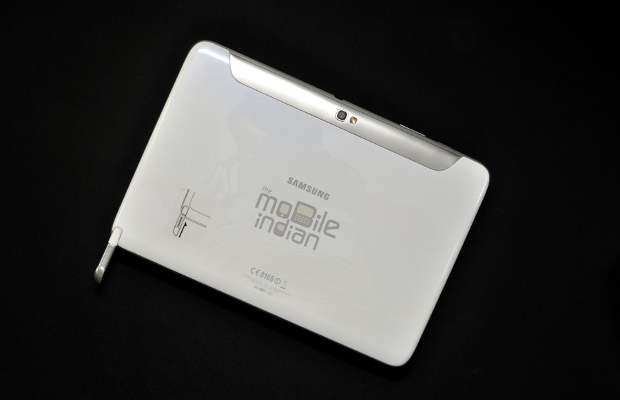 A slight reduction in the price is always welcome and if done this will be a device worth buying and enjoying too.