Nokia created a buzz with its first 41 megapixel camera phone – 808 PureView, announced last year. The company promised to bring PureView imaging technology to Windows Phone 8 platform this year. That is how we have the Lumia 1020 after the stop-gap attempts to bring PureView imaging through Lumia 920 and Lumia 925. Both the latter devices are capable of offering great images, but Lumia 1020 aims to recreate 808 PureView imaging magic at a grander scale.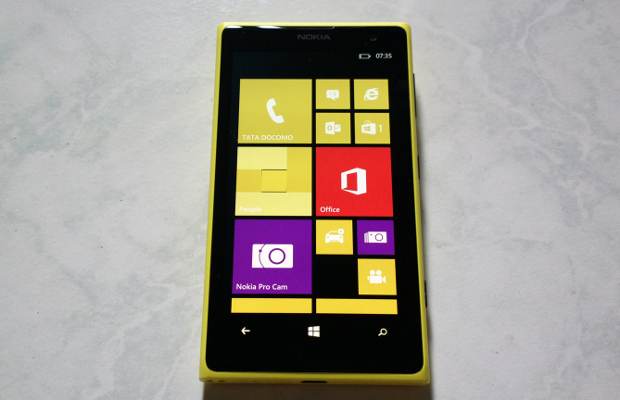 Nokia worked closely with Qualcomm over Snapdragon chipset for rewriting the code for PureView imaging for Windows Phone platform. Lumia 1020 packs a refined 41 megapixel camera that promises the pixel oversampling technique and lossless zoom levels achieved through PureView imaging. Nokia has tried its best to give a tribute to 808 PureView via Lumia 1020 with the gradually flourishing Window Phone 8 platform.
Design
Nokia introduced Lumia 1020 with PureView imaging baked into the camera. For those who used the Nokia 808 PureView, the Lumia 1020 seemed similar. However, Nokia surprised everyone with the slim unibody carbonate design of Lumia 1020. This chassis is closely inspired by the Lumia 925 and Lumia 920.
Lumia 1020 measures 10.4 mm in thickness and weighs 158 grams including the non-removable battery and camera. Though it is the flagship Nokia-Windows Phone device, it is still relatively thicker than the HTC One, Galaxy S4, Xperia Z1 and iPhone 5S. The camera module bulge at the back will make it difficult for the phone to lie flat on a surface. However, it is sleeker by miles compared to the Galaxy S4 Zoom.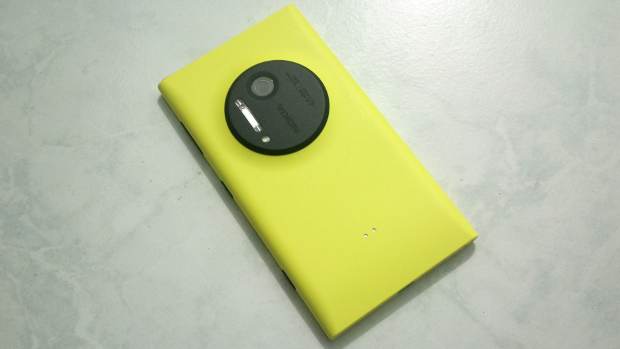 Keeping aside the circularly large camera module, Lumia 1020 is the reincarnated unibody carbonate design style from the Lumia 925 smartphone. While holding the smartphone with both hands to click an image, the phone appears quite slim and lighter compared to the Lumia 920 smartphone. At the back, it has a slightly bent slope towards each ending, reminding us of the Nokia Lumia 800.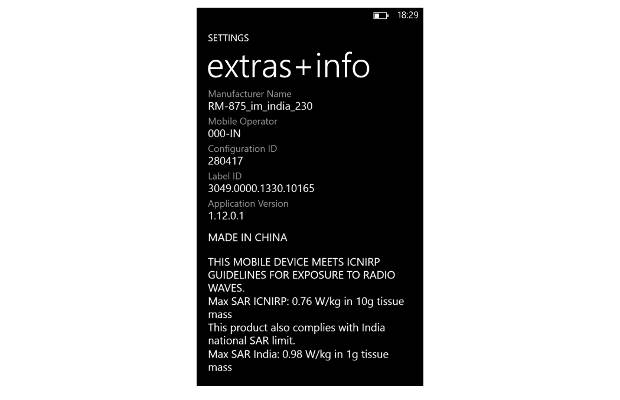 Thankfully, Nokia has used a matte finish polycarbonate body to provide a better grip to hands and fingers while using the Lumia 1020. The device adjusts nicely on the palms but one has to be careful about one's fingers covering the camera lens at the back. Nokia offers the Lumia 1020 in white, black and yellow colours in India.
Display
Lumia 1020 features a 4.5 inch Amoled pentile display with 1280 x 768 pixel resolution. This display has the same pixel density as the Lumia 920 and Lumia 925-334 pixels per inch. The only difference lies in the fact that the Lumia 1020's display has been manufactured using Corning Gorilla Glass 3 technology. That means the display is not only thinner but also stronger and resistant to normal wear and tear.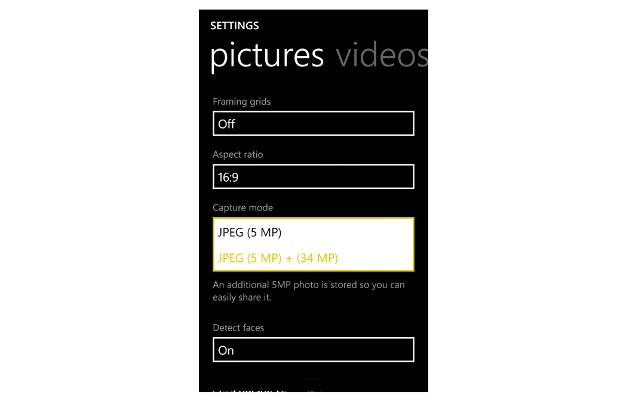 Even the Lumia 1020 supports PureMotion HD+ technology to make the screen sensitive so that it can be used with gloves on. The PureMotion HD+ technology offers better viewing angles and sharper images while one is scrolling. The contrast and colours will adjust dynamically based on ambient light.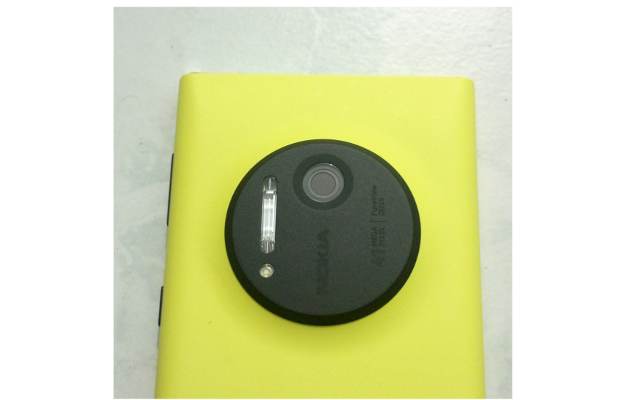 Nokia rightfully implemented ClearBlack technology in the screen to deliver the darkest black by blocking out the reflective light. The contrast and color reproduction of the display are excellent. Even when used in broad daylight, the display does offer great readability. Text appears very crisp and easily readable; images and videos are in vivid and vibrant colours.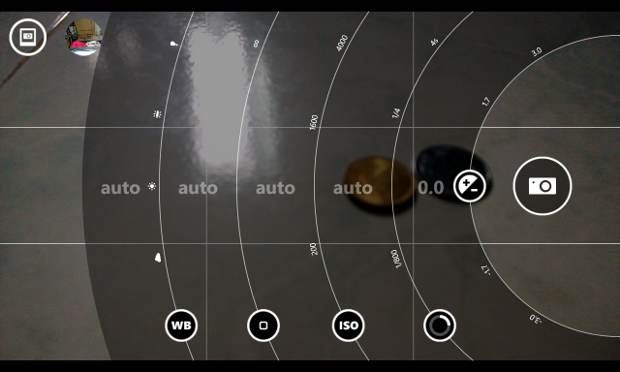 Nokia had offered a 4 inch Amoled display but with 640 x 360 pixel resolution, which was quite disappointing at that time. In Lumia 1020, the display size is bumped to a 4.5 inch Amoled with 1280 x 768 pixel resolution which is much better for enjoying high quality images as well as for zooming in on desired portions of the captured image.
Hardware
Nokia has used a dual core 1.5 GHz Qualcomm Snapdragon S4 Plus mobile chipset with Adreno 225 graphics. This mobile SoC has been paired with 2 GB RAM – double that of Lumia 920 and Lumia 925. This combination of hardware is mostly used in higher than mid range devices running Google Android mobile operating system. However, Windows Phone 8 has been optimized in a way that it runs smoothly and offers decent multi tasking. In fact, the multi tasking is set to improve with the Windows Phone 8 Update 3 expected soon.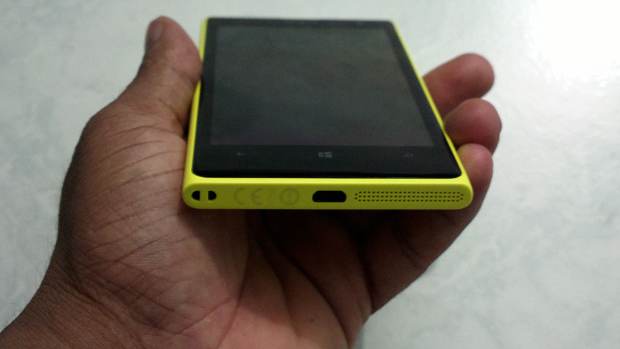 Nokia has offered support for quad band HSPA+ networks and also penta band 4G LTE networks for clear voice calls and faster mobile web browsing. Other than that the Lumia 1020 offers dual band WiFi (802.11 a/b/g/n) for quick downloads and web browsing. Nokia has added Bluetooth 3.0 module along with profile support to enjoy stereo quality audio with compatible accessories. There is a Near Field Communication chip with security support. The device offers better location locking through GPS with A-GPS and Glonass.
The software more or less remains the same, ie Window Phone 8 with Lumia Amber build running on top of it. Windows Phone 8 offers the same smooth and slick experience throughout the system. The Amber update brings new goodies such as storage check and new software camera lenses. Nokia has added HERE Maps and HERE Drive+ for the ultimate navigation experience. The quality and accuracy of maps has been improving month on month. Lumia 1020 for India comes pre-loaded with these apps – BookMyShow, Cosmopolitan, Flipkart eBooks and Vyclone. Nokia has also added a variety of camera apps such as Cinemagraph, Creative Studio, Smart Cam and Panorama.
Imaging
Now we shall talk about the most important aspect of the phone, the camera. Nokia has integrated a 41 megapixel camera with PureView imaging technology. The sensor measures 1/1.5 inch compared to the 1/1.2 inch sensor in the 808 PureView. The reduction in sensor size has also affected pixels and thus the Lumia 1020 offers 1.12 micron square pixels compared to the 1.4 micron square pixels offered by 808 PureView. Also, the sensor carries Back Side Illumination profiles to offer better sensitivity, along with optical image stabilization. Nokia in the promotional videos shows how the image sensor carries ball-bearing like cushions under the image sensor for better shock absorption when the camera shakes. In a nutshell, Nokia's intentions were to cram the 41 megapixel sensor into a slimmer package with minimal compromise.
Nokia has used Carl Zeiss optics with a new 6 element lens comprising of five plastic aspheric lens layers and one high precision glass layer. When it comes to aperture, Nokia has moved on to f/2.2 from the f/2.4 in 808 PureView, which means a wider angle to collect more light. Nokia has used dual LED Xenon flash, of which one is for auto-focus assist and the other is useful while recording video.
On the software side, Nokia has added Nokia Pro Cam as the default camera app instead of the native Camera app of Windows Phone 8. The Nokia Pro Cam app offers more manual controls for exposure value, exposure time, ISO, focus and most importantly- white balance. This is exactly what every photography enthusiast will love fiddling around with. The only lacking feature is the manual control over f-stop. Users can change the default app from the settings (Photos+Cameras under Settings).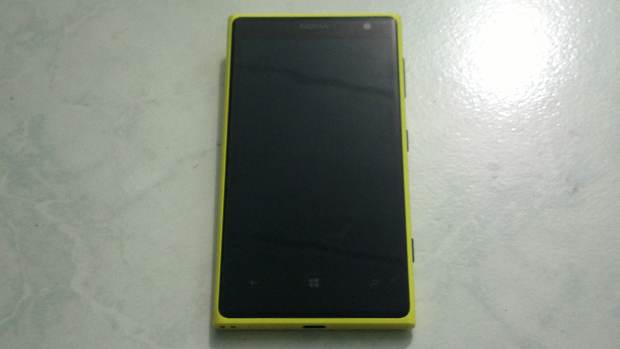 With the Pro Cam app, Nokia has gone a step ahead of the 808 PureView to offer more manual control on camera settings. That results in fantastic, clear photos compared to what is offered by the top devices from competing handset makers. The OIS in this camera outperforms the one in the Lumia 920. Nokia Pro Cam app offers real-time feedback of the changes made in different options, for instance – focus. The button on the arched slider can be moved to see the changes in focus options. Nokia has implemented a 3A Algorithm in the Pro Cam app – auto white balance, auto exposure and auto focus for the best possible photo results. Even if you click the auto settings you can get a really good image.
Zoom has been reworked on the Lumia 1020 and it still offers lossless Zoom just like the 808 PureView. However, zoom requires the user to set the Capture Mode (in Pro Cam settings) to 5 MP + 34 MP. Only after doing that can the user capture any photo and zoom into the resultant image to crop out unwanted area. Now if the user is not satisfied with that crop or wants to re-adjust, then he does not have to click another image.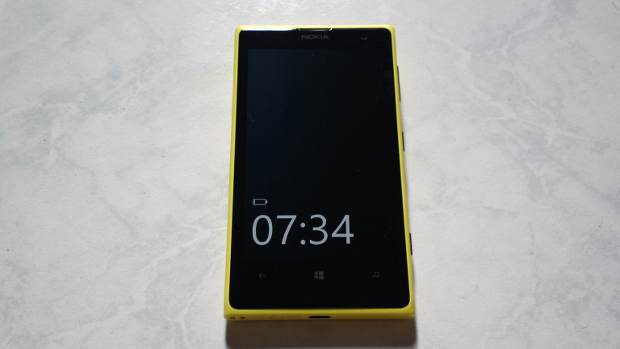 With the PureView oversampling technique, the full resolution image is captured as a high quality 5 megapixel image and the user can still zoom in on this high quality image to get a better zoomed in crop. The original image gets saved in full 34 megapixel resolution for the user to adjust the zoom as many times as required.
Basically, frame and re-frame zoomed are on the large image. If zoom is removed, the full scene is visible. The fun part is that Lumia 1020 supports both 4:3 and 16:9 aspect ratio for images so one can easily choose between either for best cropping or zooming. Unfortunately, one can't simply share this full resolution image and it can only be accessed when the phone is connected to a computer.
Lumia 1020 supports a minimal focus distance of 15 cm and therefore great macro shots with more manual controls. The lack of HDR has been replaced with Automatic Bracketing that allows the camera to capture three to five images in a stipulated exposure value range.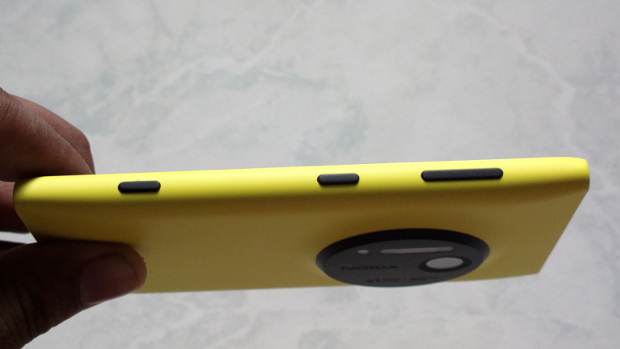 The still image quality is stunning with regular 5 megapixel resolution and one has to really work hard to find noise. Full resolution images offer slightly saturated and processed colours with little grains of noise, which is expected. Though Lumia 1020 manages to recreate the magic of 808 PureView, we believe that post capture adjustments (Zoom Reframing) will work for most folks who wish to quickly share good quality photos. But we would recommend that zoom or framing options be chosen appropriately while capturing a desired scene.
While shooting images in full resolution, users will have to grow accustomed to the three to four seconds it takes to store each image. When compared to rival Android or iOS apps, this part slows image capturing speeds. Technically, the S4 Plus can support up to a 20 megapixel camera only but Nokia's rewritten stack of code in the imaging area and Pro Cam manage to manipulate that for PureView imaging.
Despite dual cameras, Nokia PureView imaging does not cover dual camera shot imaging that allows taking images using the front facing and rear cameras at the same time. The lack of Instagram is replaced by GlamMe and users can opt for the 6Tag app from Windows Phone Store. The Microsoft-Nokia team should certainly bring a social image sharing service rival to Instagram so that users can share their images and also make the best of the devices with PureView imaging.
For videos, the phone supports up to 1080p HD quality recording with optical image stabilization and oversampling within the Pro Cam app. Not only that, white balance and focus can be controlled manually while recording the video. 4x zoom while recording a full HD video or 6x zoom for 720p HD video can be accessed with a simple top to bottom slide gesture on the screen. The strategically placed microphones at the top and the bottom support Rich Audio Recording for cancelling ambient noise in loud environments such as concerts. The audio bass filter settings can be used at strong when there is wind or engine noise in the background. The default option offers balanced recording. There is an off option that will result in recording a very flat frequency sound.
Video quality of the Lumia 1020 will blow rival devices out of water with their clarity, dynamic range and flamboyance. The best part is the lossless zoom using pinch or slide down gesture while recording video. The OIS basically absorbs mild jerks and shakes to make video pretty smooth-erratic panning would result in stuttering video quality. If you are serious about photography and videography, this is the camera you should get. The only issue is the lack of a memory card slot for expanding storage.
Multimedia
It is certainly bliss if you happen to purchase the Nokia Music service subscription and enjoy discovering new songs with Nokia Mix Radio. The Music service brings along a large library of tracks that can be streamed or downloaded – do note that Lumia 1020 has 32 GB on-board memory and 7 GB SkyDrive storage. Call it the limitation of Windows Phone 8, the device cannot support a wide variety of audio-video formats like the Android devices. That means you have to be vary of the file type before you load it on the device. The phone offers a decent music player and supports Dolby headphone profile for better audio feedback. The usual 720p HD videos in MPEG-4 format run like a breeze and are more enjoyable thanks to the Amoled display.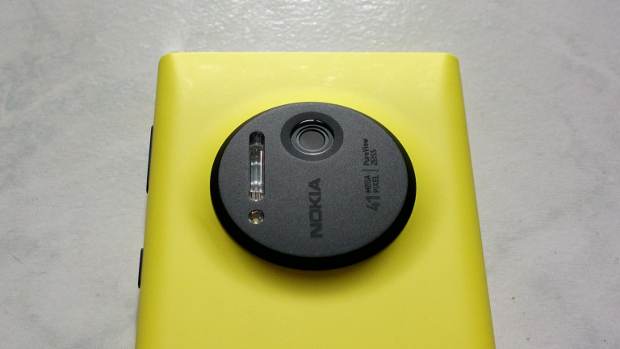 What most people miss out on are the Xbox LIVE integration and Xbox management features in the phone. This is missed mostly because not all have an Xbox console at home but those who have one can use the app on the phone to sync content between the console and the phone.
Battery life
Nokia has implemented a unibody design language and added a 2000 mAh battery used in Lumia 920 and Lumia 925 as well. Call it a design limitation, the 2000 mAh battery is simply not enough for a gorgeous display and amazing camera. To make up for that, Nokia offers 1020 mAh additional battery juice with Camera Grip. This Camera Grip comes with a dedicated camera button and is ideal for photographers who want to keep clicking while the phone gets charged. Do note that one has to charge the Camera Grip just like the phone. Lumia 1020 does support Qi wireless charging but only with Camera Grip clamped on the device.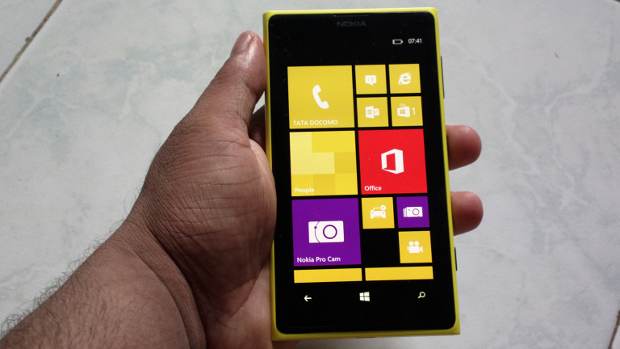 Well, bearing the same battery the Lumia 1020 manages to run for a day with several phone calls over 3G network, browsing the web and social media, clicking a bunch of photos and listening to music for about 40 minutes or so. Battery percentages rapidly dipped when trying to browse the mobile web over the IE 10 mobile browser but not when the music was playing. So on normal usage, the phone lasted for more than a day of a few phone calls, texts and an hour of multimedia.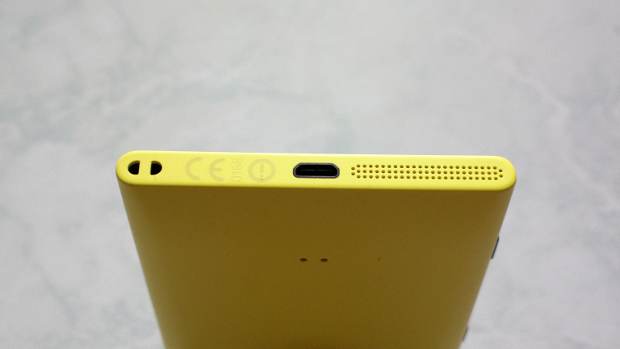 Though it carries lower battery capacity than rival phones with its 3000 mAh battery, the Lumia 1020 manages to shine its way through the competition. The Windows Phone OS makes up for all its flaws with battery efficiency. Usage would have been more than a day if Nokia had managed to integrate the 2800 mAh to 3000 mAh in the Lumia 1020.
Images by Sushil Kumar