Aqua i7 is the costliest handset of Intex and comes with 2 GB RAM, 32 GB internal memory, a 13 megapixel rear camera, 5 megapixel front camera, and 1.5 GHz quad core processor. All this makes it one of the best handsets in the market. But like other handsets of Indian and Chinese manufacturers, the sword of suspicion hangs over Aqua i7 as well.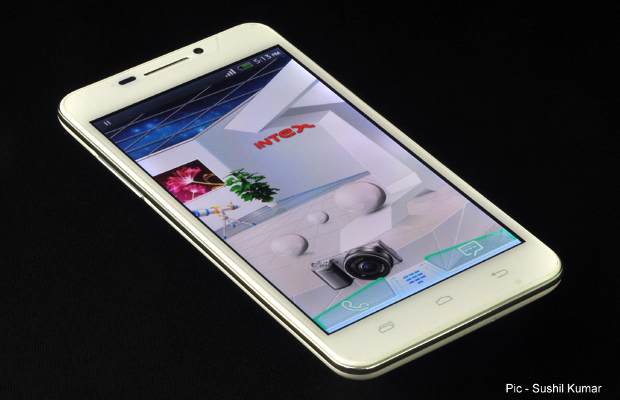 Thus we put the Intex Aqua i7 through all possible tests to check its mettle and here's what we found out about the smartphone.
Design
The most noticeable part of Intex Aqua i7 is its packaging. It comes in a huge box; even tablets do not come in such a big box. All the accessories like the headset and charger are neatly packed. Intex is also providing a flip cover with the phone. Both the default back cover and the flip cover have a shiny yet non-slippery surface. The body of the phone is thus not a fingerprint magnet and suits the Indian climate.


As far as design is concerned, Intex Aqua i7 is quite conventional with a volume rocker on the top left side, power button on the right, and micro USB on the top. The flip cover also comes with a small transparent cover that makes it possible to see notifications. There is a thin metal strip around its sides that further adds to its charm.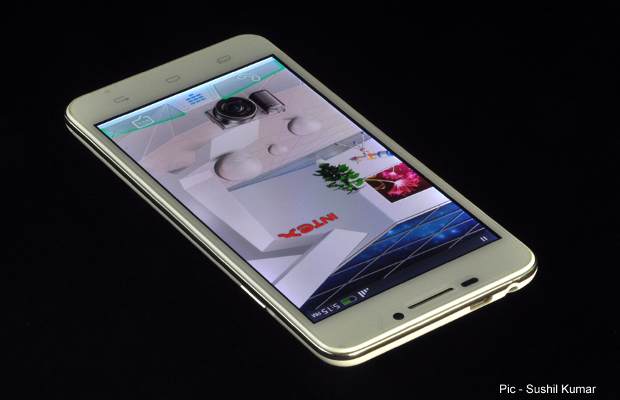 Overall it is a decent looking smartphone but it has no unique design feature as such.
Display
It comes with a 5 inch capacitive touchscreen with full HD resolution. The display is an IPS-LCD panel and as such provides decent viewing angles and good colour outputs. You can use it indoors in low brightness but in sunny areas you have to keep the brightness at maximum, which makes it just bright enough to see the contents.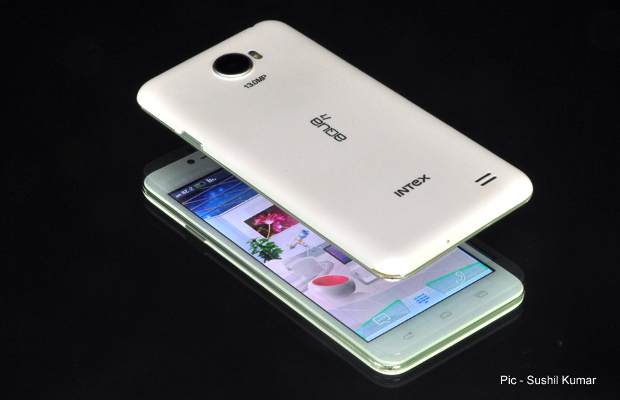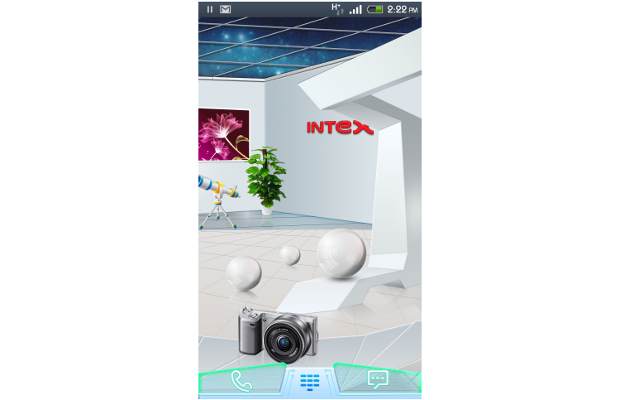 The screen is a fingerprint magnet and attracts a lot of dust. I never encountered any problem with its touch input though. The screen of Aqua i7 supports full HD (1920 x 1080 pixel) resolution, which is really helpful while playing games and watching movies.
User interface and apps
This is another highlight of the Intex Aqua i7. The moment you switch it on, you will notice its unique theme called X Space, where things are designed like your drawing room. For instance, in the X Space, to listen to songs, you touch the iPod like icon; to watch videos you touch the TV icon and so on. There are a few other themes like Max, Simple, and Roma. In the Roma theme, icons are presented in a Roman way. Though Intex has tried a lot, the themes may not be liked by many. Thank god, then, that you can download other themes from Google Play Store or from the net.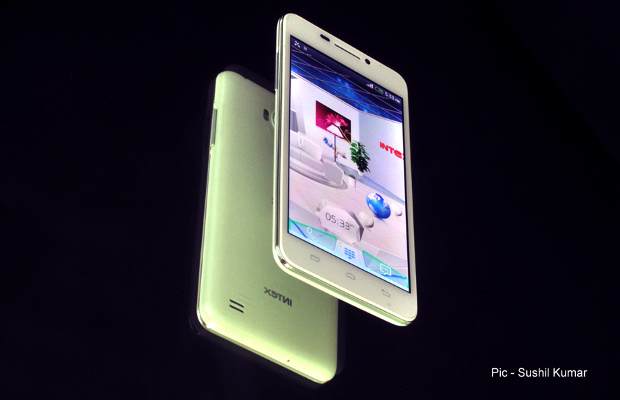 Intex has also tried to alter Android 4.2.1 Jelly Bean UI of Aqua i7. For instance, the settings page has been divided into Network, System, Security and Personal segments, which is simpler than the normal settings page of Android. In the notification bar, it has a special Optimization button that acts as a task manager – so there is no need to install a task manger; just open the notification bar and touch the button to clear memory.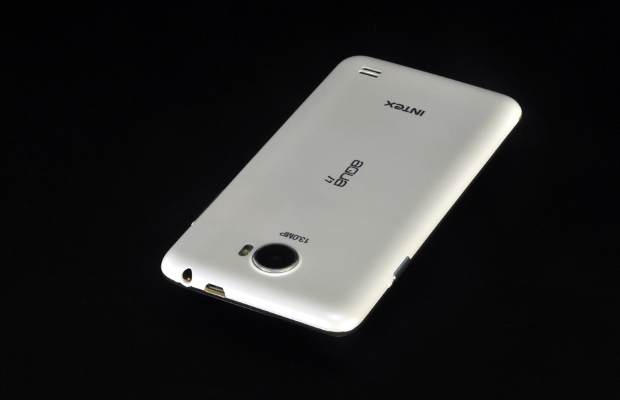 The smartphone comes with NQ Mobile security and in its settings page too you will find elaborate security features like authority management, firewall, anti theft, and app lock. It also has an Intex Zone with sections like movies and games. The smartphone comes with auto call recorder preinstalled.
Processor performance
The Aqua i7 has a Mediatek 6589 Turbo quad core processor clocked at 1.5 GHz. It is supported by a PowerVR SGX 544MP graphics processing unit, 2 GB RAM and 32 GB internal memory. The PowerVR SGX has been hailed by experts for its high performance.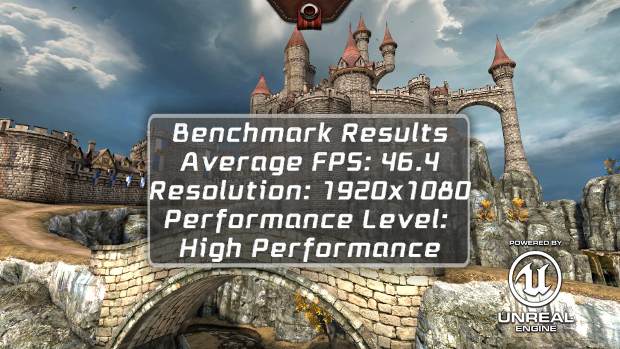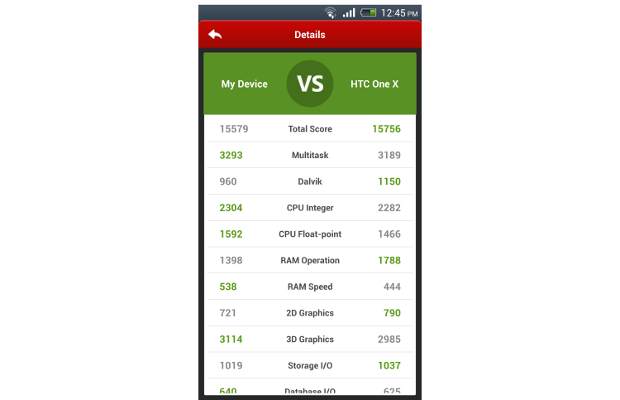 To test its mettle we also ran many benchmarks including the Epic Citadel, which is based on Unreal Engine 3 – a game engine used by many high end console games. The Aqua i7 ran Epic Citadel with ease and in its benchmark it even got High Performance. In the Antutu benchmark it got 721 and 3114 in 2D and 3D graphics, respectively, which is almost like that of HTC One X's 790 and 2985.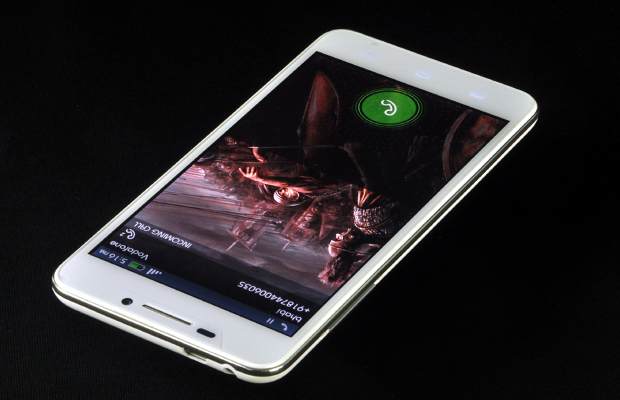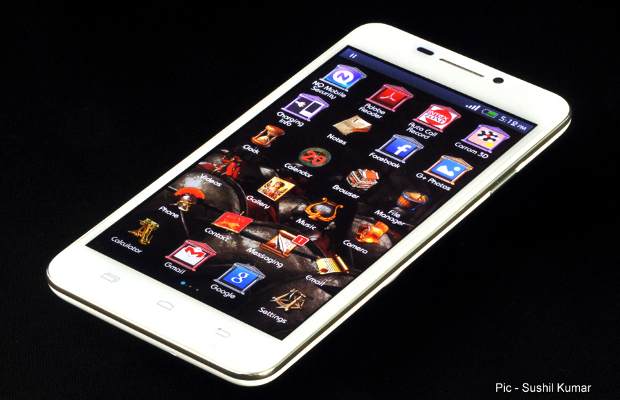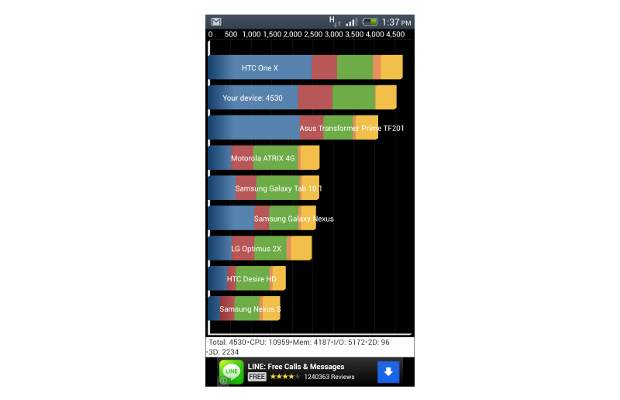 Moreover, its 2 GB RAM and 32 GB internal memory give it huge muscle to handle very high end games like Modern Combat 4, Blood and Glory etc. But the Mediatek 6589 is no match for Nvidia Tegra 3; it cannot run some games, such as Minion Rush.
Memory
As I said earlier, the Intex Aqua i7 comes with 32 GB internal memory, of which 4.17 GB is occupied by Android operating system, 3 GB is meant as flash memory for applications, while the rest is left for users. As a matter of fact 24.83 GB is sufficient for anyone. However, keep in mind that there is no expandable storage slot in Aqua i7.
Camera
There is a 13 megapixel rear camera and 5 megapixel front camera in the Intex Aqua i7. The rear camera is an auto focus unit but the front camera has a fixed focus. You can also record video using the front camera.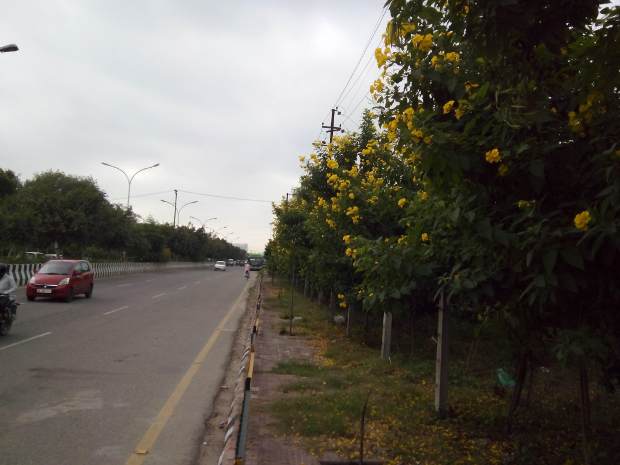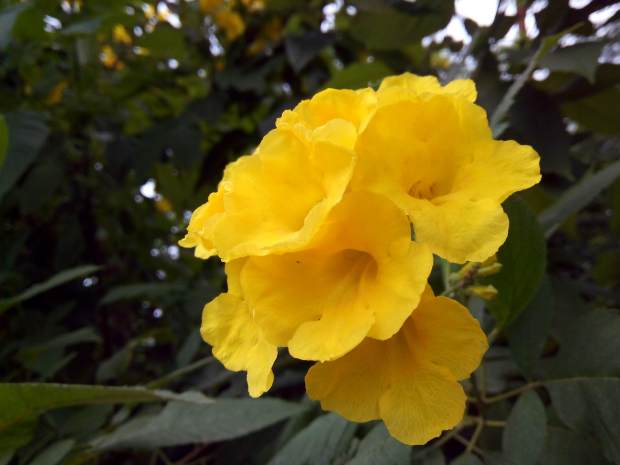 As far as our findings go, the rear camera is decent in good lighting conditions as well as in low light. The single LED flash does a good job as well. Below are a few pictures that we have clicked using the rear camera in the default setting. The front camera is decent for self portraits but an auto focus unit would have propelled the Aqua i7 over its competitors.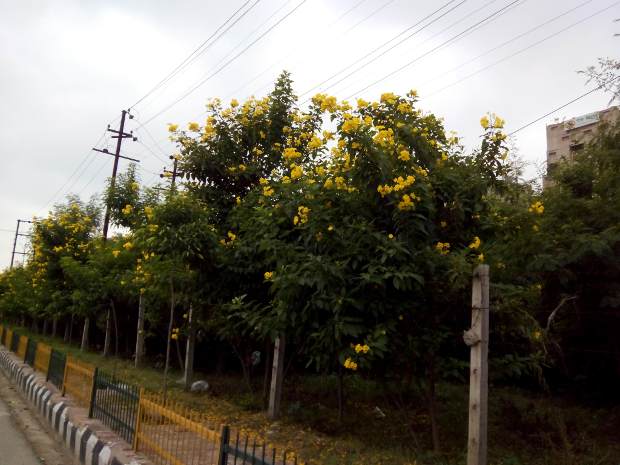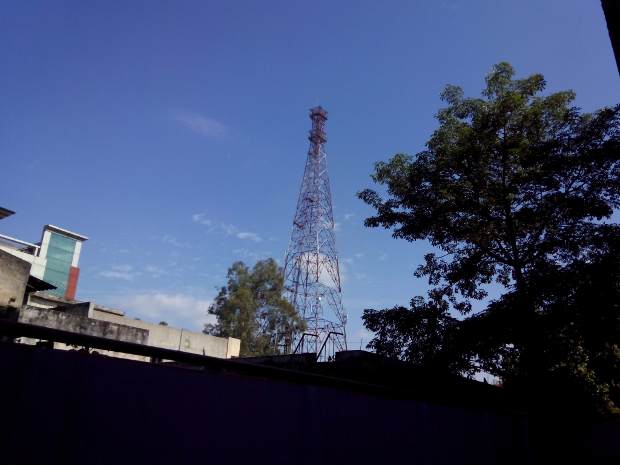 The camera application is quite easy to use: flash, options, and camera switch buttons are displayed prominently in the camera app. Using the options menu, you can start HDR, self timer, etc. There is a smart magic mode as well, which basically allows one to remove unwanted objects from the picture. To the extreme right, there are various effects that you can choose while taking a picture. While recording videos, you can change the options menu to change settings.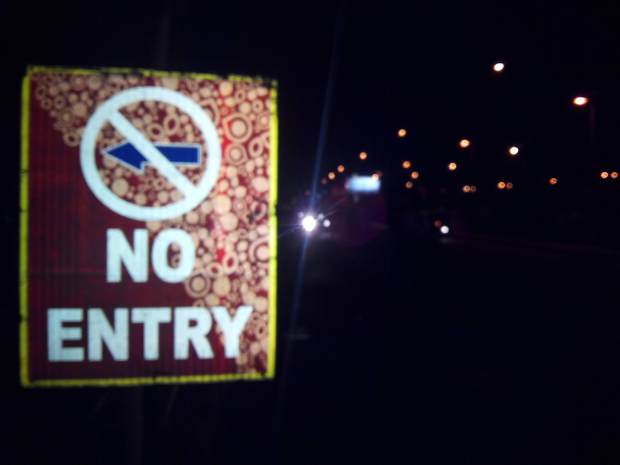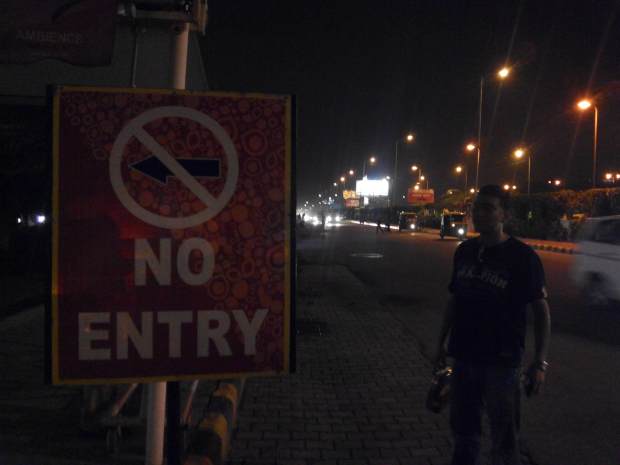 Curiously, in the still image section, you can zoom picture only using the on-screen menu, which, though, vanishes from the screen within 2-3 seconds. The volume rocker, which should have acted as a zoom in/out key acts as a camera key instead.
Battery
There is a 2000 mAh battery in the Intex Aqua i7. As per Intex, it provides 6-8 hours of talktime and 220 hours of standby, which is rather a vague statement. So we have put it through some testing.


As far as our finding goes, it provides almost 24 hours of normal use, like a few minutes of gaming, calling, and internet. For gaming, it provides around five hours of back up. Also, in one instance, I used the phone for clicking pictures and videos and the phone consumed 10 per cent charge in half an hour (full brightness).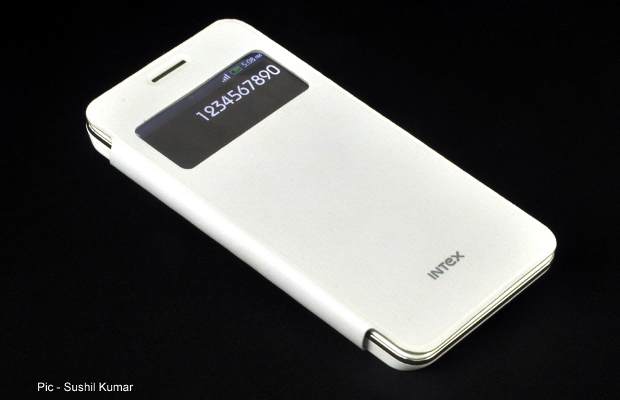 But the most worrying factor is that it gets heated up very fast-on calling, camera use or gaming.
Connectivity
The Aqua i7 comes with two SIM slots. Notably, it has one micro SIM slot while the other slot is for a regular SIM. Besides, the smartphone has Bluetooth, WiFi, WiFi hotspot, micro USB, GPS and AGPS.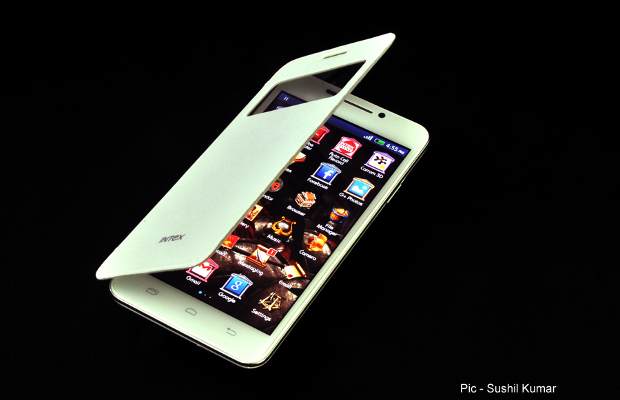 In the review unit, we faced problems with connectivity. For instance, call drops were severe. The review unit seemed to have a data connectivity bug as well, which shut down data connectivity – both WiFi and data – every now and then.
Curiously, the Intex Aqua i7 comes with support for HDMI devices like your TV, which makes it a unique device in the Rs 20,000 price range.
Conclusion
The Intex Aqua i7 is well armed with features while its price is very competitive. There are perhaps one or two smartphones in the market that would match it in terms of features, but none would be from MNC players. Intex also has a bit of an advantage over others since it is quite an old player in the market.


Having said that the Intex Aqua i7 has some chinks in its armour as cited above. It has connectivity issues, though the bug may be peculiar to the review unit and an update could solve it. Also, people who think 24.8 GB is not enough should stay away from this device as it has no micro SD card slot. The Mediatek processor and 2 GB RAM configuration is very good for most games found on Google Play Store but it cannot play all types of games like Tegra 3 can. Its battery back up is decent but not something that would blow up your mind. The phone also gets heated up too much during calls and while playing games.