Eveready had recently announced mobile charging packs for smartphones as well as tablets. Launched under the new brand Eveready Ultima, the new Mobile Power chargers support a large variety of devices including Apple. We received the Eveready Ultima Mobile Power UM 22 for review after the launch and decided to put it through some real world tests.
Design
Eveready Ultima Mobile Power UM 22 is constructed with thick white plastic material that packs the battery and other circuits inside. UM 22 is about an inch thick and three inches long. This mobile charger is easily pocketable and can be placed at any corner of your backpack or hip-pouch.
The button to start or switch off is located on one of the sides with a micro USB port with IN written under it. This basically means that the UM 22 needs to be connected to a power source for recharging using that micro USB port. Under the start button are four blue colored LED indicators that show the charge remaining in Mobile Power.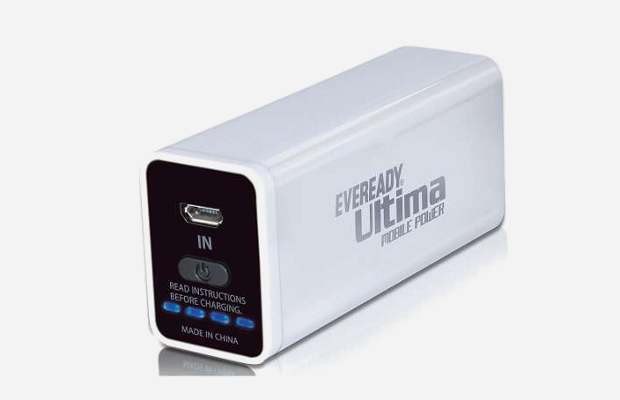 Eveready has packed three different adapter ports – micro USB, mini USB and Apple's custom pin adapter. The design of this mobile charging pack is quite pocketable and good enough if you wish to charge your phone at the end of the day. Our only concern is that the sharp edges at the sides of the charger could hurt a bit.
Performance and usage
Eveready has packed 2200 mAh of battery juice in the Mobile Power UM 22. This Mobile Power Bank takes about four hours or a bit more to recharge. With 1 Amp power output, it took about 2 hours and 20 minutes to completely charge the Nexus S's 1500 mAh battery. We completely drained the battery of the Nexus S and recharged it using the UM 22.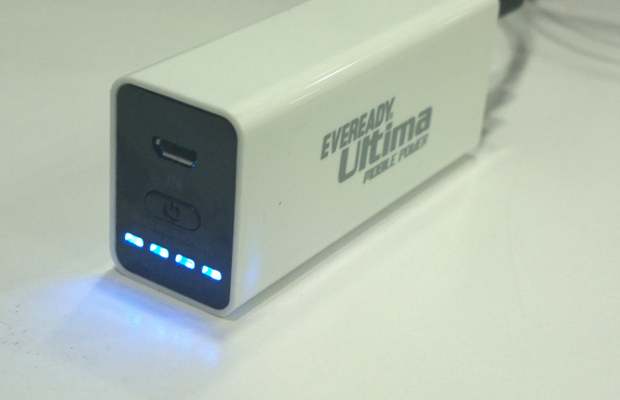 The LED indicators showing the charge remaining in the UM 22 were really useful. To top it off, the ability to sustain power for a month is an added advantage.
Another nifty feature we enjoyed is the automatic shut off mode, which basically puts the charger into sleep mode when no smartphone is attached for charging. Eveready promises safe charging and protection from overload.
Conclusion
For those who are looking for a handy and portable solution for recharging their smartphone Eveready Ultima Mobile Power UM 22 is the best choice and costs Rs 1,600. Further, that is the MRP and one can get it for less through several deals and discount coupons from online retailers.
Eveready UM 22 is a must accessory for those who use their smartphones a lot throughout the day-this is the best way of charging your phone while you are away from a charging point.