Salora, which was a brand known for its Television sets but has now slipped into oblivion, has come out recently with its first smartphone with Android operating system. Though the market is now flooded with 4.5 inch handset, this smartphone was armed with good hardware by Salora to make it stand apart from the crowd.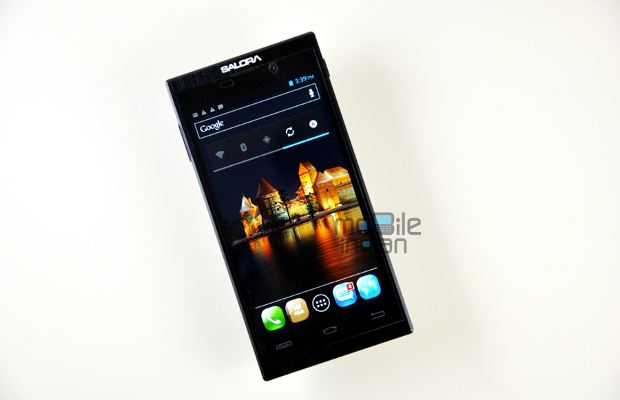 Called as Salora PowerMaxx Z1, the smartphone comes with a 4.5 inch qHD IPS display that utilises zero gap technology which enables better readability in bright conditions and also better touch response.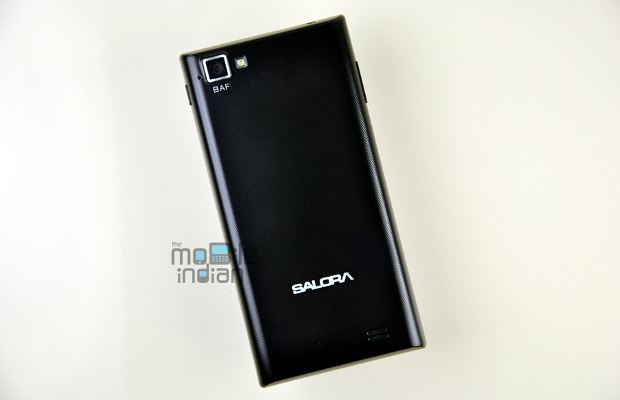 The Dual SIM phone has largest battery in its category in the form of a 3200mAH unit that promises a whopping 22 hours of 3G talk time on a single charge. And this alone makes the phone a very attractive buy.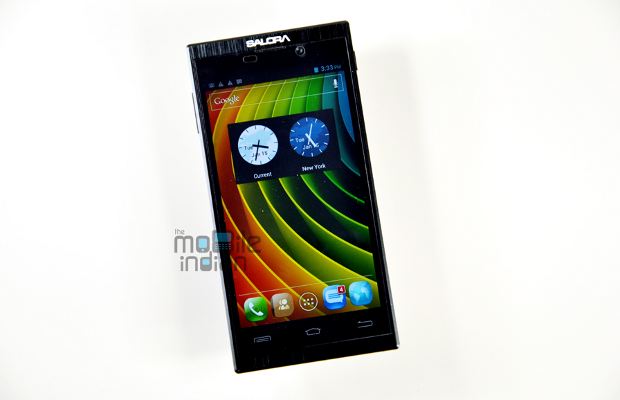 Salora has even fitted two microphones in the handset for noise cancellation which should enable really clear noise free conversations. The phone despite having a large battery is on the slimmer site with 10.2 mm thickness. The smart phone's surface shell is made of forging aluminum Alloy with a special fiber drawing technology.
We have put this handset through some rigorous test, and here is our experience with the Salora PowerMaxx Z1.
Design
Salora PowerMaxx Z1 has a very elegant design – the front has all glass face baring the 2 mm bezel. The case is well built and as per company, its surface shell is made of forging aluminum alloy with a special fiber drawing technology. Given the feel of the case, we have no reasons to doubt the claims of the company.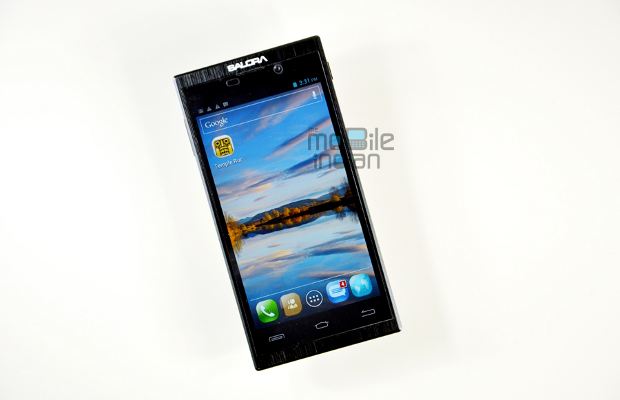 While the front part comes with a metallic finish, the rear portion has a textured plastic finish. The phone is surprisingly not very heavy despite a large battery as it weighs 170 grams. Thus it is quite comfortable to hold it in hands. Adding to the comfort is its back panel which is slightly curvy towards edges. The textured back panel also provides grip.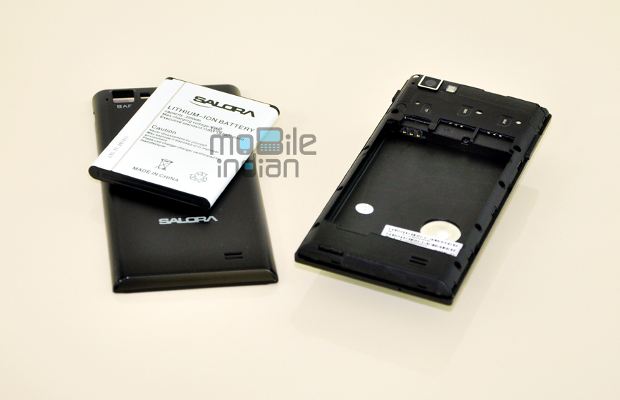 In the back panel, there is an 8 megapixel camera along with an LED flash on the top left while the speaker grill is at the bottom right. The USB port and 3.5 mm jack have been kept at the top while the power/lock key on the top right side. The volume rocker, which short but easy to use, is at the regular top left hand side.
Display
The 4.5 IPS panel has qHD resolution (960 x 540 pixels). It looks great at the first look and comes across as a bright and vibrant display. The company has used zero gap technology for better readability and touch response and this has made the display truly impressive especially for a device in this price segment. The display has good viewing angle as well as the anti-glare feature that makes it very easy on the eye.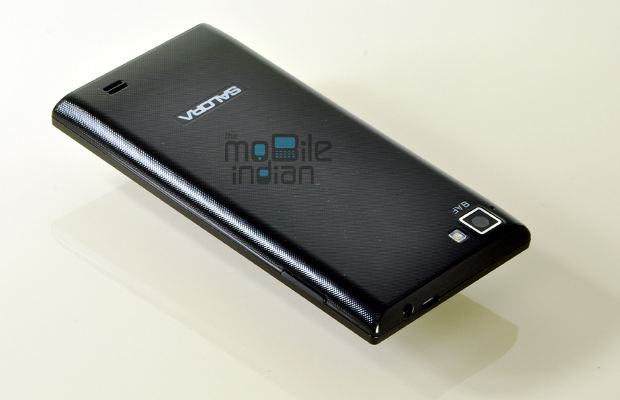 One sore point for the phone is that its capacitive keys below the screen do not have back lighting that makes it tough to locate them in dark. Though it is not a big issue and a person buying the phone will easily get used to the location of the keys, it certainly is something which should be looked into by Salora.
Performance
Salora PowerMaxx Z1 has a 1 GHz dual core processor like most of its competitors. The performance has been good and it even played games like Temple Run Brave very well with decent frame rates.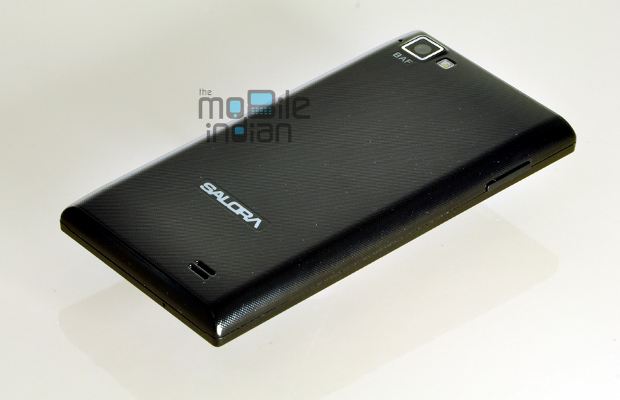 In benchmark tests, it beat LG Optimus 2X which though an old phone now was known for its performance. We feel Salora should have put in 1 GB of RAM to fully utilise the potential of this phone, having said that none of its competitors offer more than 512 MB RAM at the moment.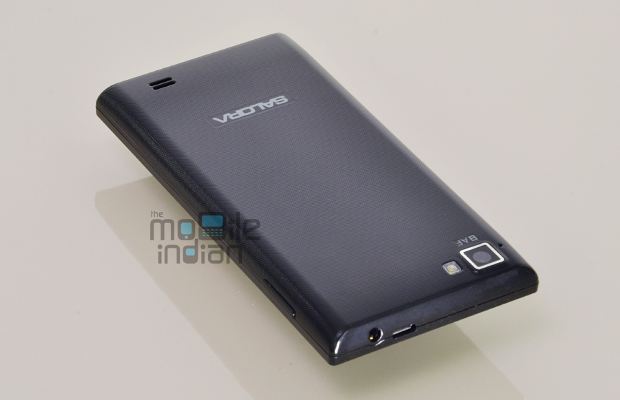 Salora has used signal process technology with a 'Dual Mic Design' which offers noise cancelation feature to cut ambient noise during calls. We tested this feature and it does work, thus offers much better call quality.
Battery
Salora PowerMaxx has a 3200 mAH battery which is almost double the size of than the batteries of its competitors. For example, Spice Stellar Virtuoso Mi495, which matches Salora in terms of display and processor, has a 1700 mAH battery.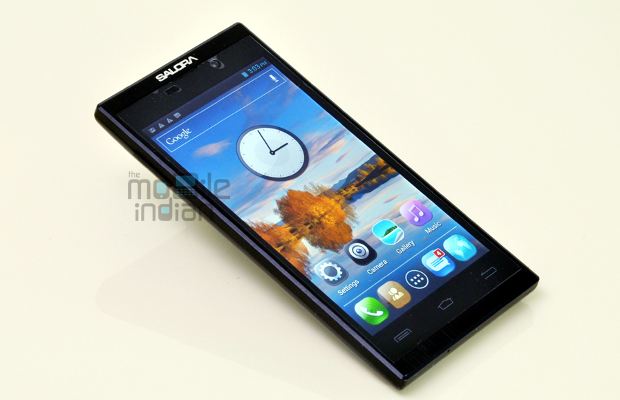 The big battery in PowerMaxx offers full two and half days of run time with normal usage that includes listening to music, calling and browsing using WiFi connection. This is much better than all the competition devices which mostly offers one to one and half day battery backup on similar use.
Camera
The smartphone has a 1.3 megapixel front facing camera and 8.0 megapixel auto focus rear facing camera which supports a resolution of 3264 X 2448 pixeI picture quality and 720p HD video recording. The camera also supports feature such as optical image stabilisation, panorama view, multi shot and time lapse video, facial beautify, smile shutter and automatic ambient detection etc.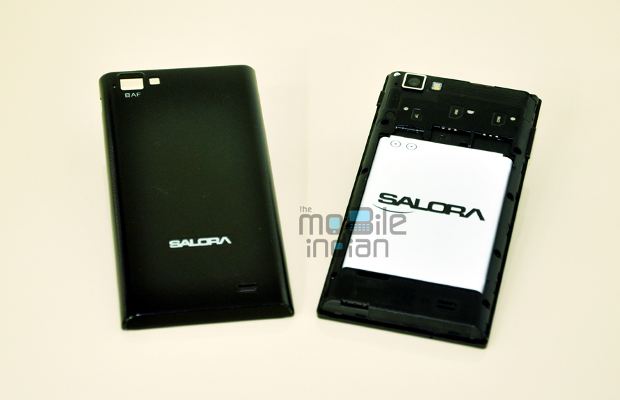 The rear camera produced very decent images even in slightly low light condition with minimised grains. In brighter settings, the pictures came out bright and colourful. In terms of quality, this one is better than most similar cameras in other budget phones. The camera was quick to detect face and smile which makes clicking images much easier. The front camera which is a 1.3 megapixel unit is also good.
Verdict
Salora PowerMaxx comes with solid build quality and on top of that offers very good display and battery life. Processor and other specification of the handset is at par with that of its competitors but it is selling for Rs 13,300 which is about Rs 2,000 more than rivals.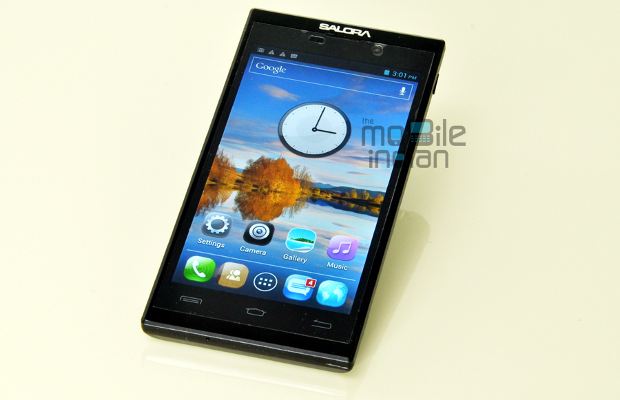 However, with so much additional battery life and better call quality compared to others in the segment, this price difference is well justified. The only big drawback with the phone is that Salora has only one smartphone in its arsenal along with few feature phones, which puts a question mark on the service support.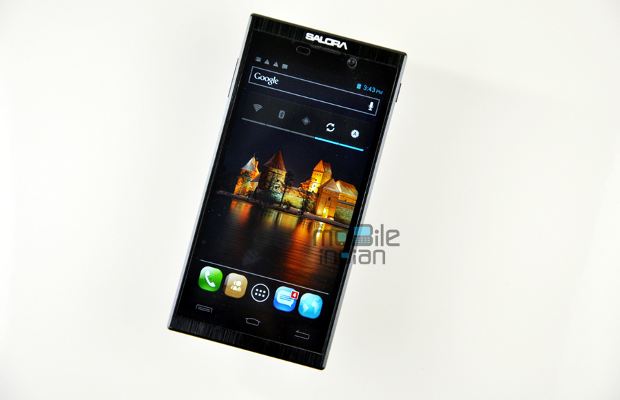 While we have heard that Salora has big plans for the market, we hope that it does launch multiple products and carries on a sustained marketing effort, so that people can trust them again and buy this smartphone which is otherwise a very well designed product.