Nokia has finally updated its Lumia series line-up with the five new Windows Phone 8 devices. These new Lumia series smartphones are – 520, 620, 720, 820 and 920. All these devices are the direct successors of the Windows Phone 7 and Windows Phone 7.5 based smartphones released last year. However, the last one to join the new line-up was Lumia 720.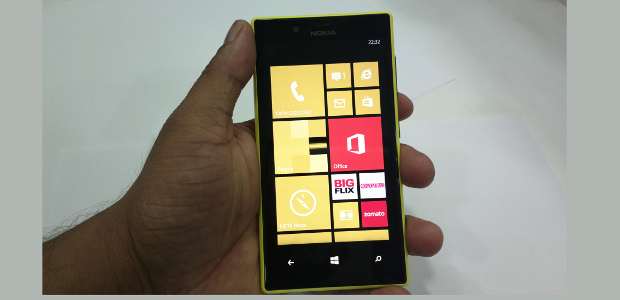 Lumia 720 is yet another mid-range smartphone from Nokia that arrives with a major design improvement over the Lumia 710. Also, this smartphone is offered in white, yellow, red, black and cyan colours. For certain components this smartphone has specifications very similar to the Lumia 620 and Lumia 520. However, the Lumia 720 has a number of improvements over the Lumia 520 and Lumia 620. That is kind of obvious since Nokia wants it to fight right between the Lumia 820 and Lumia 620. Thus, we take a closer look at the Lumia 720.
Design
From the first contact, Nokia Lumia 720 is easily visible as a cross between Lumia 520 and Lumia 820. Nokia has kept the new hardware design language consistent, unlike in the predecessor series. Sporting a unibody rectangular design with curves right at the edges, the Lumia 720 also has an edge-to-edge touchscreen display. It is 9 mm thick and weighs about 128 grams – decent enough for a mid-range smartphone.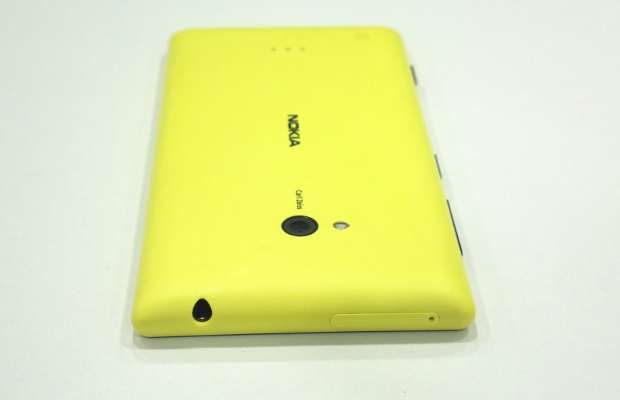 Inspired by the Lumia 820, this handset also has a non-removable back panel. The SIM card needs to be placed in the tray at the top while the micro SD goes in the tray on the right side. A slim candy-bar shaped Lumia 720 has physical operation keys on the right side. On top are the volume control keys followed by the Power/Sleep button in the center and the two-step dedicated camera key at the bottom. These keys are nicely incorporated in the phone's design. There is no way that the edges of the keys can get stuck in the pocket or feel sharp on the thumb or fingers.
The Lumia 720 feels really comfortable in the hand and has a fair grip due to the matte finish of the back panel. However, we spotted that the white colour Lumia 720 has a glossy finish.
Display and hardware
Nokia has packed a 4.3 inch touchscreen display to the Lumia 720. This display features Nokia's ClearBlack technology layer to prevent reflection and give darker blacks. With a splendid 24 bit IPS LCD panel, the touchscreen offers multi-touch and pleasant viewing angles. However, the native 480 x 800 pixel resolution might bother those who are blinded by 720p HD and 1080p HD high-end smartphones. Colours appear on the warmer side and as acceptable as the ones on Super Amoled displays. The outdoor legibility of the text and menu options is quite decent thanks to ClearBlack technology.
Nokia has constructed the display using Corning Gorilla Glass 2 technology to make it thinner and stronger for fighting normal scratches. The touchscreen is sensitive enough to be used with gloves or nails.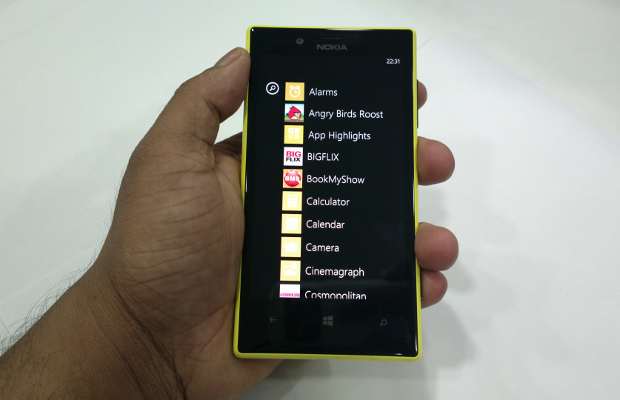 Nokia has housed a dual core 1 GHz Qualcomm Snapdragon S4 Plus MSM8227 mobile processor with Adreno 305 graphics chip and 512 MB RAM. Apparently, the same processor, graphics and RAM combination have been used in the Lumia 520 and Lumia 620. The back panel will require a wireless charging cover. The Near Field Communication chip makes it compatible with a variety of NFC-based accessories from Nokia.
Lumia 720 has 8 GB on-board storage and can support up to a 64 GB micro SD card. Of course, there is 7 GB free Sky Drive storage with the app. There is no stereo FM radio since the Nokia Mix Radio offers music and downloads with music subscription. The Lumia 720 delivers a decent location based service experience through the GPS chip that has A-GPS and Glonass support for faster location lock.
Operating system
Like on other Lumia devices there is nothing special in terms of operating system. The simple and easy to navigate Windows Phone 8 looks pleasing and gets the work done. Several pre-loaded apps make it usable right out of the box. The keyboard is very comfortable and adaptive. However, it does leave some space when used in landscape mode. Several email accounts can be used to enjoy reading emails in a unified inbox.
For instance, the MS Office Suite features make it quite competitive with an Office 365 subscription. Nokia also offers several apps loaded in the device – Bigflix, Cosmopolitan, Hike, Trip Advisor and Zomato. These apps certainly ease the entertainment and travel woes of users.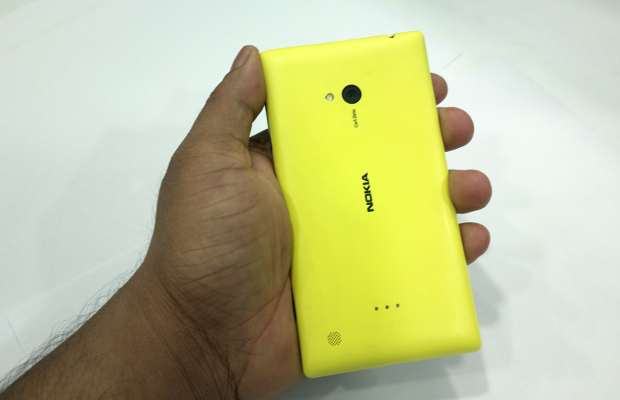 Nokia Music does a fantastic job of keeping us entertained and Nokia Mix Radio is one interesting service for discovering new songs. Of course, we do possess a music subscription. Nokia HERE (previously Maps) is one of the strong points of this device since it provides a smooth mapping experience. Nokia HERE Drive provides turn by turn navigation and it can also be voice guided. Apart from that, there is a nice City Lens app from Nokia, which brings augmented reality on the device's relatively small screen.
Social networking was taken care of by the Twitter and Facebook app downloadable from Windows Phone Store. Despite the great hardware, it misses out on the latest games due to lack of enough RAM and processing power. With so many other features, we were hoping for some more RAM. The device misses out on several good games because of this problem. On a brighter note, you can enjoy organizing the easily resizable Live Tiles on the homescreen, though can that ever substitute an action packed game?
Camera
The Lumia 720 features a 6.7 megapixel camera with Carl Zeiss optics. It has LED flash, auto-focus and a two-stage dedicated camera key. With its f/1.9 aperture, the camera's closest focus range is 10 cm. The touchscreen display acts as a large viewfinder and one has to touch the display to make the camera focus in a particular area. The camera app offers Photo Settings primarily set at default – scenes, ISO, exposure value, white balance, aspect ratio and focus assist light. Images deliver nice contrast and fairly saturated colours. One can easily spot noise in the images but at the end of the day, the camera does a fair job even with 720p HD video recording.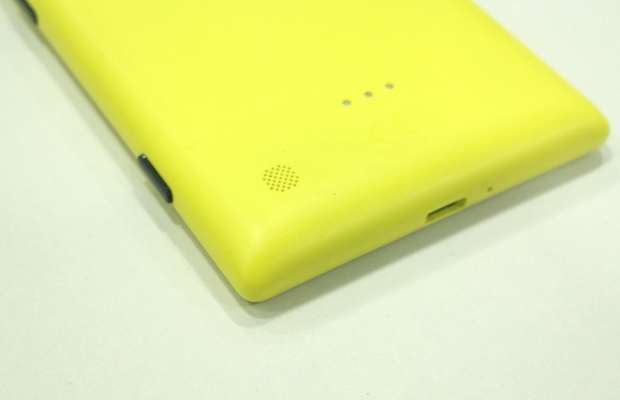 Nokia has added four lenses softwares pre-loaded with the camera app for image manipulation: Bing Vision, Panorama, Cinematograph and Smart Shoot. Smart Shoot is a kind of burst mode for it shoots multiple images and the user gets to choose the best.
The front facing VGA camera also has f/2.4 aperture but offers 1280 x 960 pixel resolution. This camera can be used for quick video chats and clicking selfies – selfportraits, that too in HD.
Multimedia
The device uses Dolby headphone enhancements, which boost the sound output. The speaker at the back has a very small outlet. It is loud enough to wake you up, unless you are a deep sleeper. The Nokia Music Store and Mix Radio can keep a person entertained for any length of time. The music player also brings along software equalization presets to suit the needs of the listener. Sound quality was fairly decent and could be recommended for music lovers who are not pedantic about gold level quality.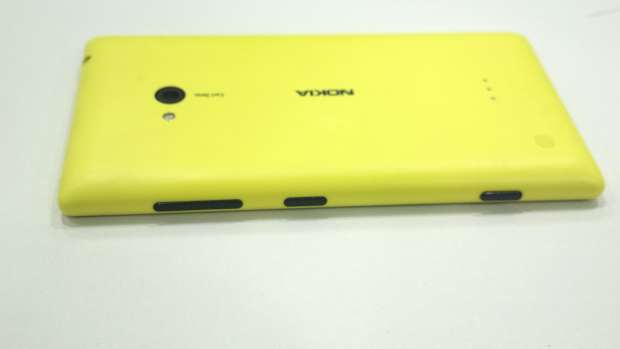 The Lumia 720 can playback MP4 and DivX files smoothly to make watching videos fun. Of course, Microsoft needs to make the video player more capable and add more options, such as subtitles. The Photo Hub allows panning through photos like a breeze. Like the overall system, multimedia just works with other components.
Battery
For the Lumia 720, Nokia has gambled with a non-removable battery by providing one with 2000 mAh power packed inside. That's really even more than its elder brother – Lumia 820. On the 2G network, we enjoyed the phone for two days of normal use. Meanwhile, with heavy use with 3G, the phone manages to touch the end of the day easily with some juice still left. The non-removable battery did not bother us much since most high-end phones are now pushing this feature to mid-range devices. WhatsApp is still getting a proper build and we resisted extensive usage. Nokia has made a smart move by using a configuration that does not consume power heavily and thus the device gets extra hours of run time.
Final words
Nokia Lumia 720 smartphone with Windows Phone 8 is priced officially at Rs 18,999 and can be purchased for less. All those folks who like to read emails in a unified inbox, engage in social networks across a simple interface, make calls and send texts, should absolutely consider the Lumia 720. For a mid-range device, the Lumia 720 does offer suitable imaging quality and decent battery life. Not to miss out on Nokia Exclusive goodies – Music, Maps, Mix Radio, and other pre-loaded apps. .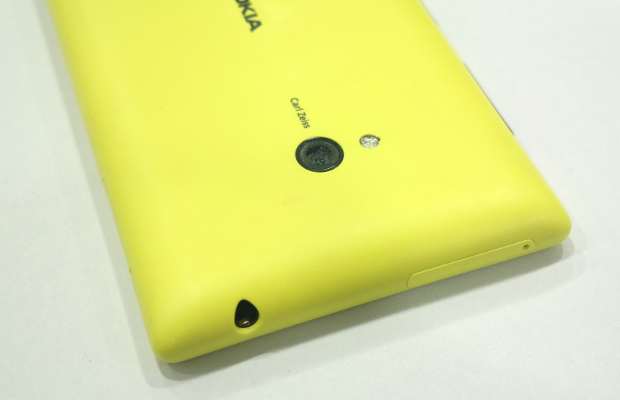 At the price point, the Lumia 720 does face tough competition from Android devices but for those who want simplicity in interacting with the device – Lumia 720 is the best bet. The non-removable battery might be an issue but then screen real estate and handful design do make one ignore it.