Nokia has been the star player with entry level and feature phones in India. It introduced a new series of smartphone like feature phones – the Nokia Asha series. After a couple of Qwerty smartphones, the company released the full touchscreen devices Asha 305, Asha 306 and Asha 311 in the first half of August this year.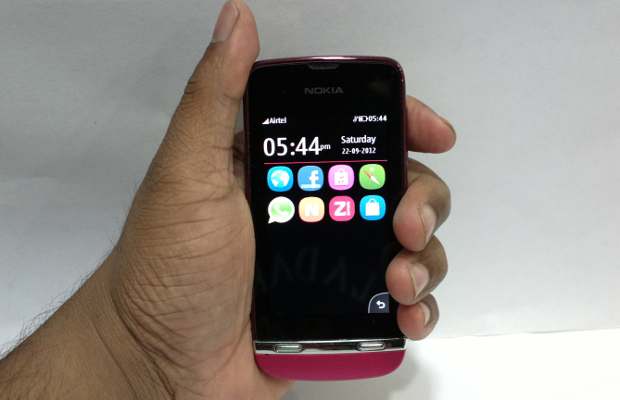 All three new Nokia Asha 300 series mobile phones bear most of the functionality and features found in smartphones. Nokia Asha 311 is the top model in the Asha line-up and has a full touchscreen display with two buttons to navigate the interface. Nokia has overhauled the old Series 40 user interface with new gestures and chic styling. Asha 311 is a single GSM SIM phone.
Nokia Asha 311 is already available in the Indian market and was reported to be heavily in demand. Thankfully we got our hands on one of the units and decided to take a closer look at it.
###PAGE###
Design
Over the years, Nokia has quietly improved the design of its entry level and budget mobile phones. A tight body shell and no creaky/moving parts in the phone make it usable normally and without extra care. Nokia Asha 311 has a good design with curved edges and no sharp corners on the body. It has a stainless steel strip resting between the touchscreen and the chin of the smartphone. Asha 311 is 12.9 mm thick and weighs just under 100 gram.
Nokia Asha 311 has two stainless steel action buttons on the strip and a poly-carbonate body. The lower part of the smartphone has a matte finish and solid colours. While the battery cover and sides have slightly different shades and a metallic finish on the pink coloured model. The entire back panel comes with a glossy finish and is a great fingerprint magnet. If the phone had a matte finish all over its body like its bottom part, it would have offered better grip. On the other hand Asha 311 seems to be focused at the young crowd aspiring to carry a chic feature phone.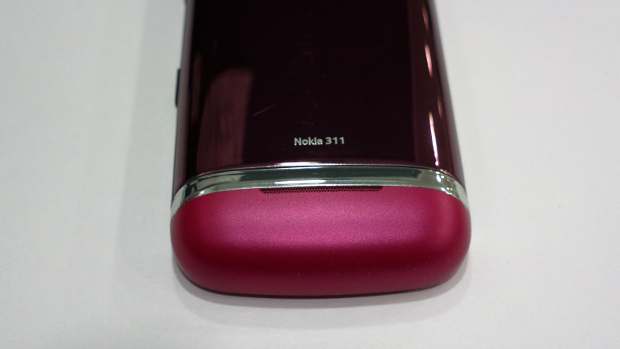 Under the thin steel strip lies a microphone while the volume buttons are located on the right side. There is a lock/sleep key below the buttons on the right side but no dedicated camera key. All these buttons need to be pressed hard to get the function to work. That might be a turn off for several older folks trying to get comfortable with their first touchscreen device.
Nokia has placed the micro USB port on the top between the micro charging port and a 3.5 mm audio port. At the back lies a 3.2 megapixel camera without a flash. The loudspeaker mesh is located at the back just below the steel strip. The SIM card and microSD card slots are located under the battery below the back panel. So there is no hot-swappable memory card feature and one has to pull out the battery to access either of the cards.
However, Nokia Asha 311 is appealing, comfortably fits in the hand and is best suited for the young crowd.
###PAGE###
Hardware
Asha 311 has a 3 inch capacitive touchscreen display that supports 400 x 240 pixel resolution natively and offers about 156 ppi pixel density. This display has been manufactured using a layer of Gorilla Glass on the top of the screen to protect it from scratches. The screen is really bright and stings the eyes, and the low power LCD panel makes colors appear slightly washed out or lighter than usual. Nokia Asha 311 supports 3G and WiFi (802.11 b/g/n) networks.
The display has a proximity sensor located at the top right and also packs an orientation sensor to automatically rotate the interface. Nokia has added a polarization filter on top of the screen to make the display legible even in sunlight. We faced no issues using the Asha 311 in bright daylight. Nokia did a fantastic job of adding the polarization filter and has provided a nifty improvement that affects every day use. Not many mobile phones in this segment offer similar legibility under the sun.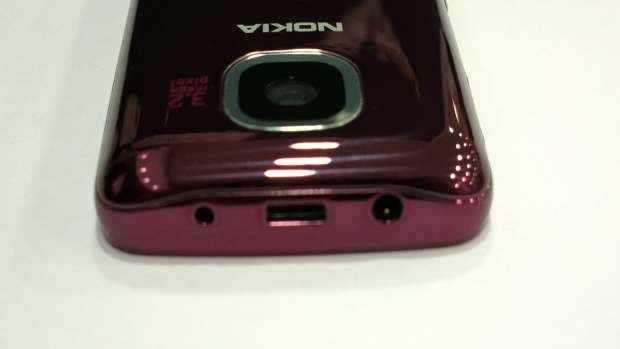 Nokia Asha 311 houses a 1 GHz ARM11 mobile processor along with 128 MB RAM and 256 MB dedicated ROM for the firmware. Asha 311 offers 140 MB on-board storage, bundles a 2 GB microSD memory card and the expansion slot can hold up to a 32 GB microSD card. The full touchscreen display is responsive and zippy thanks to the fast processor.
In the entry level segment, Asha 311 packs almost everything that the user can expect with the extra sweet icing of a 1 GHz mobile processor.
###PAGE###
Software
Nokia has optimized its Series 40 user interface and branded it as Nokia OS. The user interface has been influenced by the Meego OS and offers a swiping user interface. It also offers a pull-down notification tray which covers up to two-thirds of the screen. Asha 311 offers three different screens – Lockscreen that has a single color background, a shortcut screen where select icons can be added for quick access and the application drawer.
The new Nokia OS user interface for Asha 311 has quite a lot of options for music listeners. For instance, the notification tray has a shortcut for opening the music player and if you swipe to the left, then you get immediate access to the music player that has eight tracks pre-loaded.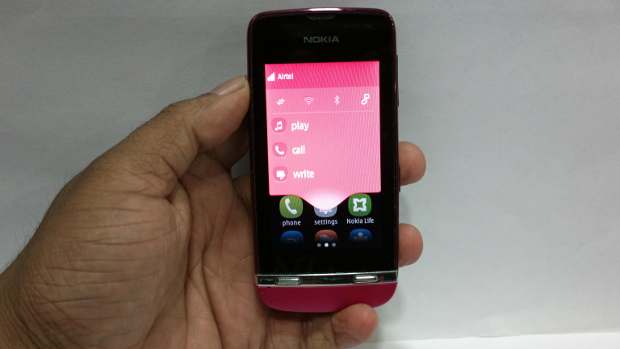 The software seems to be heavily influenced by Meego OS. The icons seem to be taken from the Anna-Belle OS and the sub menu options appear in a neatly overlaid manner. The smartphone comes pre-loaded with essential apps like WhatsApp, Nokia Chat, Nokia Life Tools, Nokia news reader (RSS) and Nokia Social that includes Facebook and Twitter. Besides that, Asha 311 has multi-login instant messing apps Nimbuzz and Zomato pre-loaded.
The Asha 311 also offers email support with IMAP4, POP3, IMAPS and SMTP protocols. The email experience is good with standard and folder views. For text input, the user interface offers a light background with text appearing on it. In the portrait mode it appears in multi-tap format and in landscape mode it is in Qwerty lay out. It actually doesn't look like a keyboard but more like a panel showing generic letters.
Nokia has tied up with Electronic Arts to provide about 40 games for free through the EA Games Gift app. Consumers need to download all forty games in two months from when they purchase the handset. Of course, the famous Angry Birds game comes pre-loaded with a couple of other random games. You can also enjoy free music from the Nokia Music store for a couple of months.
For navigation, the phone does not have a GPS chip but offers Nokia Maps which uses cell-based triangulation to lock location. The native mobile web browser comes with shortcuts on the home panel and also a pod for popular sites in categories like news, sports, business and so on.
Heavy jar files like those of games take a while to load while most applications load fairly quickly and have a good looking interface. However, the kinetic scrolling enabled in the app drawer interface makes it fun to scroll.
###PAGE###
Multimedia
Nokia has clearly made the Asha 311 for the avid music lovers of India. The speaker mesh at the back provides loud and clear music output that can put even high-end handsets to shame. With the high volume levels of the back speaker, the redesigned music player with equalizer presets offers decent performance with a paired set of earphones. You can always use your favourite pair and plug them into the 3.5 mm audio port. The phone features FM radio with RDS and a simple user interface. You can store stations and jump between them with dedicated buttons.
The photo gallery app features images in a three-column grid format just like on the Anna or Belle devices and is also enabled with kinetic scrolling. There is a built-in photo editor that allows very basic tasks like cropping. Video playback is possible through the gallery but there is no scroll-bar. On the app drawer or short-cut screen you can press and hold on the screen, and get the options to a customized shortcut panel to add more apps. Also, you get to choose which app to open when you swipe from right to left from the app drawer – Dialer, Music or FM Radio.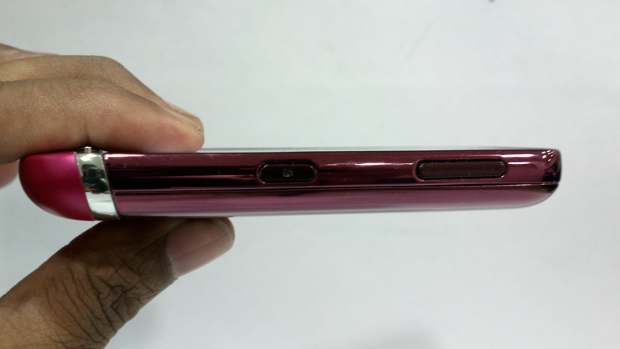 Nokia has not provided a dedicated camera key and therefore using the camera quickly might be a bit cumbersome. The camera app has been tweaked to open fast but it takes a second more to capture the image. Image quality is not that great and we did not expect much with a 3.2 megapixel image sensor either. If an LED flash had been provided one could have clicked images even in low-light. By default, the camera can record about 1.5 hours of video and the dedicated video app comes with a number of features to adjust lighting, exposure, and effects -Sepia, Negative, Greyscale and Normal.
Nokia's Camera app comes with a couple of fun features such as sounds and photo frames. The output of the images is not that great but is good enough to be shared on social networks.
###PAGE###
Battery
Nokia mobile phones are perceived to offer great battery life and the legacy continues with Asha 311. As expected, Asha 311 offers quite acceptable battery life while using 3G and WiFi in a normal day. The phone then lasts just about a day. If the phone mode is switched to 2G then it lasts for more than a day. Asha 311 has a 3.7v battery packing 1110 mAh power and standby time of about a month on 2G mode. The phone does not pack any GPS so there is relatively less battery consumption. Those who will be using 3G to check social network updates can easily enjoy about a day of battery life, and will have to charge the phone at night. One will never get tired of listening to music and can enjoy it for about two days straight, naturally counting regular breaks within that time frame.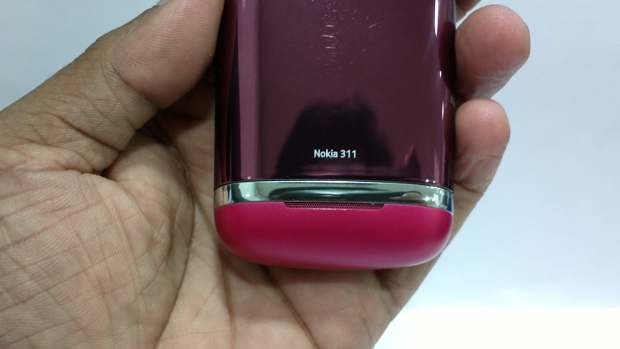 Final thoughts
Nokia Asha 311 is a mobile phone meant for smart youth, students and folks who want a reliable secondary phone with good music capabilities. Currently, the Nokia Asha 311 retails for Rs 6,559 and one can always get a lower best price. Compared to several competing handsets, Nokia Asha offers better audio, legibility under the sun and a refreshing new user interface. After using this device for a while, users can always keep it and advance to costlier smartphones.
Asha 311 offers 3G and WiFi support for faster data connectivity. It packs a plethora of apps that will seldom make you feel like you are using a feature phone – of course, we are keeping quality aside. Besides that, it comes with Nokia Maps, Life Tools, File Manager and a number of other apps that come in handy. Most importantly, the phone offers a lag-free fluid user experience with its new interface.
Nokia Asha promises decent battery life over 3G networks and is the ideal smartphone for anyone moving to touchscreen devices in the entry level segment.