Nokia 700 is among the first three smartphones to run the new Belle operating system, besides Nokia 600 and Nokia 701. We had already reviewed Nokia 701 smartphone here.
Nokia 700 looks petite and is quite slim. The attractive design with nice screen makes it appealing. It also comes with the Near Field Communications capability.
Besides, Nokia has also bumped the hardware a bit with 1 GHz processors to make these devices worthy of the competition. Here's the detailed account of our experience with Nokia 700.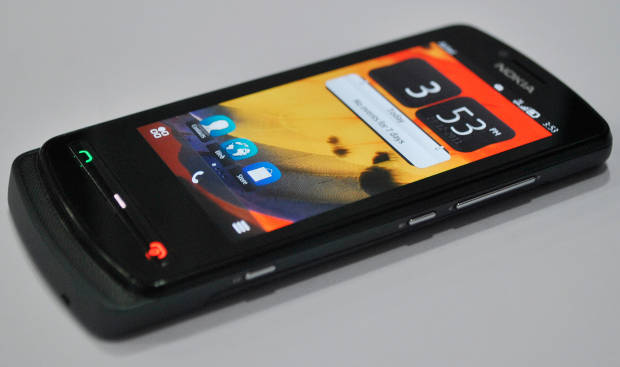 ###PAGE###
###LONGSUBSTART### Design
Nokia 700 appears to be quite a small handset. Its metallic finish gives a 'premium' feel. The beauty of Nokia 700 is the perfect grip you get even while using the device with one hand. Of course, when you turn on the screen, you might feel that the screen could've been a bit longer, but that might have hampered native resolution.
Nokia claims to have used recycled metals and biomaterials for the handset's internal hardware. Also, quite surprisingly, Nokia 700, with its metallic finish and smooth surface, weighs just 92 grams.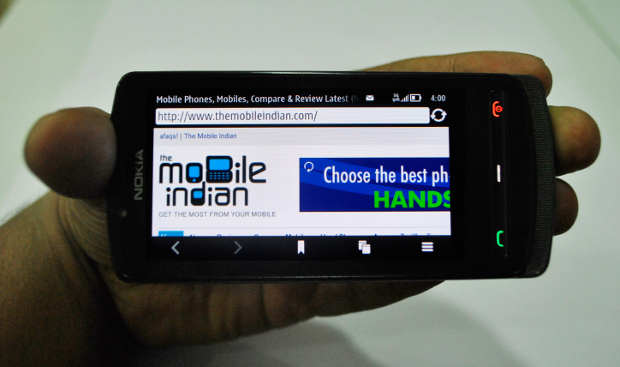 Nokia 700 flaunts a 3.2 inch ClearBlack Amoled touchscreen display with native 360 x 640 pixel resolution. This capacitive display has been built using Gorilla glass technology so it can bear some minor scratches. Three navigational buttons appear on the strip with backlighting just below the display.
The handset has angular curves at the top and bottom. On the top centre lies a micro USB port with a thin-pin charging point on its right and a 3.5 mm audio port on its left. The chin of the mobile has a speaker mesh, which appears at first glance to be a slider. Amongst the new series of Nokia handsets, Nokia 700 certainly looks more classy and feels nicer in the hands.
Nokia 700's ClearBlack display and navigational button backlight certainly adds icing to the cake. There's a downgrade in the camera department from 8 megapixel in 701 to 5 megapixel in 700.
###PAGE###
###LONGSUBSTART### User interface experience
Nokia Symbian Belle is now known as just Belle. It delivers a fresh user experience with intuitive navigation and edge-less icons. Belle update brings several improvements starting from the home screens. Scrolling through the six customisable home screens is indeed smooth. Each has distinct wallpaper and can accommodate a new breed of widgets that can be resized and also scrolled through.
The status bar at the top has been trimmed to be more linear and a new notification tray can be pulled down. The notifications tray has a black background and offers four toggle shortcuts at the top for data network, WiFi, Bluetooth and volume. All native apps have been polished to complement the new Belle's interface. These icons can be arranged alphabetically or even manually. If the app is running in the background then it will have a circular icon on the top left corner.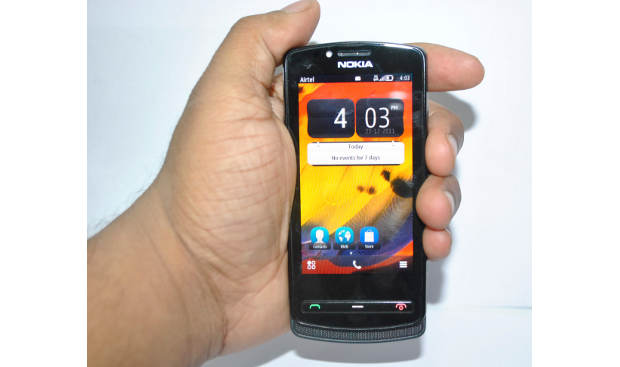 To move an app icon, press and hold on the icon. This will open a menu for performing the action. App shortcuts on the home screen will appear with a small name bar below the icon. The new multi-tasking menu is also spiffy and one can quickly kill unwanted running apps through it.
Nokia's new set of customisable widgets will come in five different sizes to suit and fit home screens. The home screen can become a power hub where one can add all the widgets along with the shortcut to important contacts. A commendable job has been done with automatic screen rotation even for the home screen, which appears in a couple of micro-seconds.
For Nokia loyalists who would be jumping from Symbian S60v3 or S60v5, this experience would be really welcoming. Even for those switching from a handset with a proprietary user interface, Belle with simple navigation is quite easy to adapt to.
Though the development cycle of Symbian hints that more updates will be rolled out in the coming years, no specific time frame has been promised.
###PAGE###
###LONGSUBSTART### Multimedia
Many might complain about the smaller screen size, but multimedia support truly makes up for it. Music experience has been one of Nokia's strengths and in the Nokia 700 it works flawlessly as ever.
Its stereo FM comes with RDS (Radio Data System), which allows better reception, and is a blessing for avid radio listeners. Nokia 700 comes with just 2 GB on-board storage, so enthusiasts need to invest in a good 16 GB or 32 GB memory card.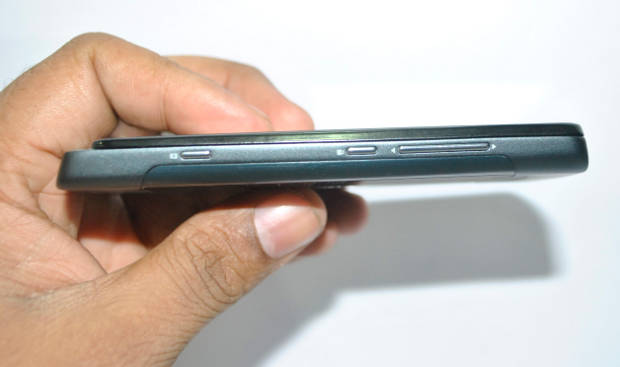 The video player is a bit of a surprise for it supports DivX, XviD, MP4 and even .mkv file formats. However, the hardware is not powerful enough to drive full 1080p HD video playback. Watching videos and movies in pitch dark is certainly enjoyable on the ClearBlack Amoled display. The 3.5 mm port is not only meant to hook up the headphones but can also be used as the composite out port.
Nokia has used a 5 megapixel camera with fixed focus, which makes it quicker to capture an image. However, it comes with a big pitfall &#151 most close-ups result in blurry cam antics. When photos are clicked, the resultant image offers nice quality and crispness on the Amoled display, but the moment those images are transferred to a larger screen, the loss of sharpness and quality is evident. The LED flash certainly adds to image quality if the environment has enough lighting. Under low light conditions or in extremely bright light, images appear somewhat washed out.
There's one good side to the camera &#151 the user interface offers comprehensive control. Shutterbugs can fiddle around with the ISO settings, adjust white balance, change the colour tone and even change the exposure settings to suit their needs. Once the photo has been captured, the Photo Editor app will let you add cool filters and effects to the final image. For casual snappers, the camera will be a pleasure for it is capable of capturing 720p HD video at 30 frames per second.
Nokia Maps, which is quite popular amongst Indians, comes with new updates in this smartphone, offering five-six new green coloured shortcuts to different features of maps, somewhat imitating the approach of Google Maps in Android OS.
Packing a little bit of everything, Nokia has kept the multimedia department rich but missed out on Flash in the mobile web browser. The mobile web browser can open only six tabs at once. However, system-wide font clarity and crispness offered by the ClearBlack Amoled display makes reading text as well as browsing the web enjoyable.
###PAGE###
###LONGSUBSTART### Battery life
Nokia phones are popular and widely used mainly because of their amazing battery life. Hardware engineers certainly deserve a pat on their back for clocking the ARM11 architecture based mobile processor to 1 GHz and thereby offering a great combination of speed with comparatively low power consumption. Thanks to that, Nokia 700 can easily run for over one day of normal usage.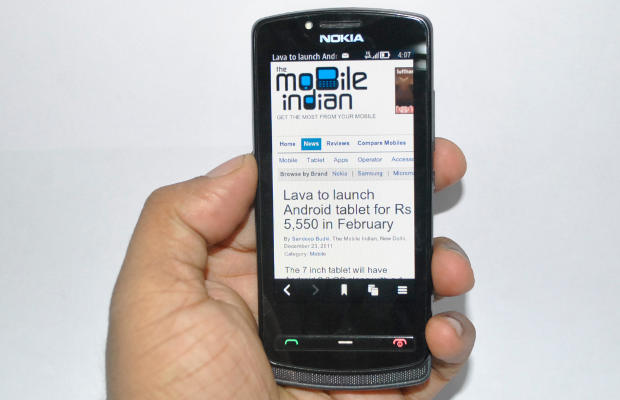 Browsing over WiFi does reduce the battery but less quickly compared to the Android competitors of this smartphone. Packing a 1080 mAh battery, the ClearBlack Amoled display and low power CPU together save battery juice significantly. However, by keeping the NFC, WiFi and GPS on all the time, the battery drains faster. When these features are used wisely, Nokia 700 has phenomenal battery life.
###PAGE###
###LONGSUBSTART### Conclusion
Amongst the Nokia family, the new Nokia 700 is a great handset for the price. Meant for those who don't prefer a huge slab-like smartphone, the Nokia 700 is ideally meant for smart consumers who wish for a great display, relaxing multimedia experience and decent camera.
Nokia 700 is available in India at an approximate price of Rs 16,300. At this price, the competition offers several great large screen smartphones running Android 2.3 Gingerbread and a 1 GHz processor.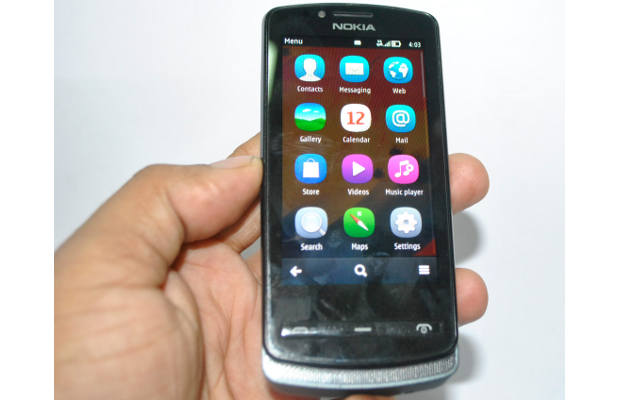 Nokia 700 faces competition from the rapidly growing mid-range segment of Android smartphones. So does Samsung Bada, which is still taking baby steps despite Samsung's great hardware.
Belle being still fresh, the number of compatible apps available for it is also limited. A bit cramped in portrait mode, Nokia 700 can be an ideal choice for people with small or medium sized palms and a limited budget.