Maxx Focus dual SIM feature phone has an inbuilt projector for some big screen entertainment anywhere anytime.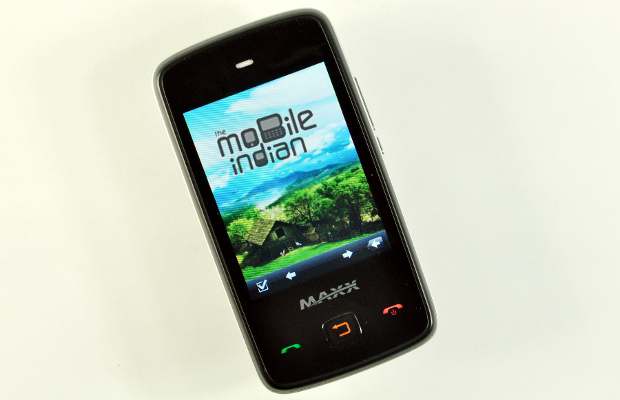 As with all feature phones, Maxx Focus too comes loaded with multimedia capabilities and great features, but how well is this device really; and how does it stack up in terms of practicality of use? Let's find out.
###PAGE###
Look and design
In terms of design Maxx Focus is leagues ahead of similar projector phones like Spice Popkorn and Intex V-Show, both of which have been in the Indian market for quite some time now. The phone has a small form that makes it easy to hold and carry. The black and silver finish of the device looks great and attracts a lot of attention from lookers as well.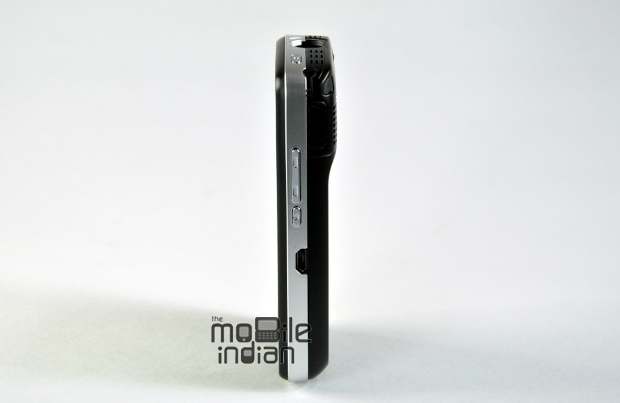 Due to the projection system which sits on top, the device had to be puffed up but its designers have managed to keep bulk to a minimum. The handset looks like the Nokia N8, which has a similar hump on the back.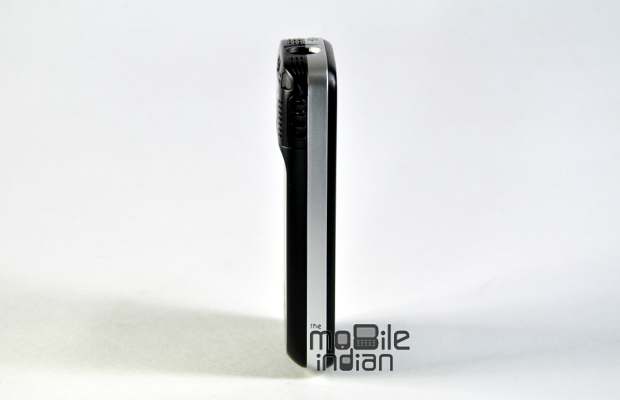 Unlike Spice Popkorn, in which the earpiece is on the right side to accommodate the projection system, Maxx Focus has a slightly offset projection system that allows the earpiece to be placed at the center of the device.
The most useful inclusion in Maxx Focus is the projector stand that hides neatly around the camera for a clean look. The stand allows the device to be elevated for just about half an inch but that much elevation is good enough for setting up projection anywhere.
###PAGE###
Display and keypad
Maxx Focus has a standard 2.8 inch TFT- LCD touch sensitive display with a QVGA resolution of 320 x 240 pixels. The display reproduces bright and colourful images, and the display has a protective plastic shell as well, which is integrated with its outer body and protects the display from scratches and damage in case of accidental falls.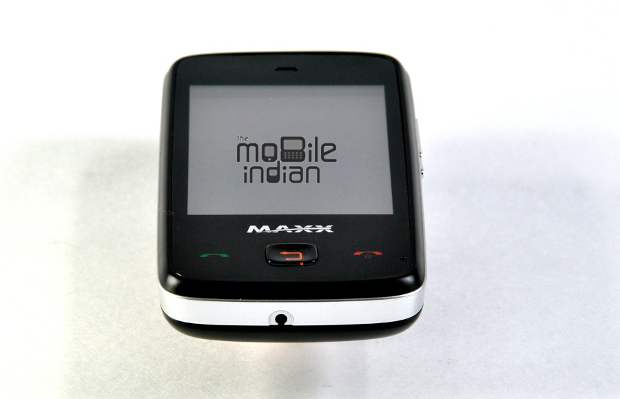 Sadly in the era of capacitive multi touch, Maxx Focus features resistive touch, making it look like a century old device. Resistive touch has improved thanks to development in technology, but we did miss the multi touch. The phone's user interface is powered by a graphic engine which allows the device to use live and interactive wallpapers and a 3D menu interface that gives it a slight performance edge over other dual SIM devices.
The phone features just one return hardware key on the front which any one can guess is inspired from Apple. But the call connect and disconnect keys require feather touch input giving a flush finish to the device as well. Three keys on the side control the projector mode and volume control. While the power key on top of the device doubles up as the device standby/display lock key as well.
###PAGE###
Build quality
Although the outer shell of the device is made of soft plastic, the internal chassis on which all the components and electronics have been mounted are made of hard, break-resistant plastic to reduce or minimise damage from accidental falls. The silver trimming of the device also seems to be made of the same hard plastic and will definitely protect it during falls.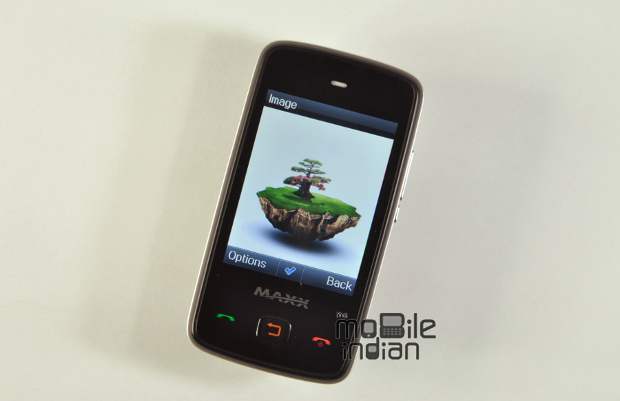 The rear panel or the battery cover is of good quality flexible plastic and absorbs shock. But underneath it lie the battery, SIM and memory card slots, and the exposed speaker, all of which are very prone to damage if not carefully handled.
###PAGE###
Connectivity and call performance
Being a dual SIM phone, this device can be connected to two cellular networks or two different numbers at any given time, but it does not have a dual SIM standby feature that allows the other SIM to be active while the first SIM receives a call. Also, in terms of connectivity, the device lacks 3G, which is missed dearly especially considering this phone is multimedia centric.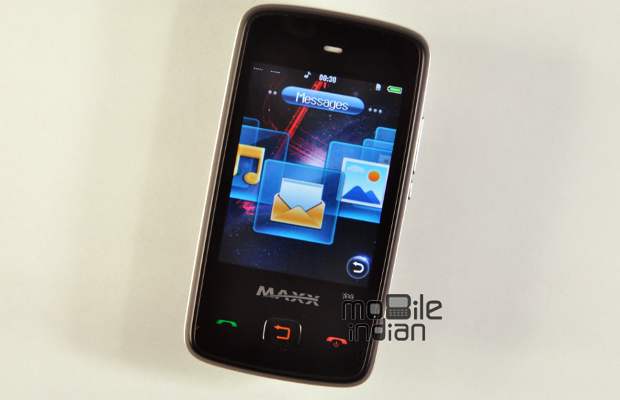 The signal quality of this phone is normal and it works flawlessly in most places. The call sound quality both for the speaker and the receiver are good without any distortion or quality loss. The microphone has been positioned right towards the user to minimize the effect of ambient noise.
For standard wireless connectivity, Maxx Focus has Bluetooth, which is great for wireless file transfers and headset connectivity. It supports A2DP devices as well for stereo music playback.
###PAGE###
Multimedia
Maxx Focus has an inbuilt LED (Light Emitting Diode) based projection system that can project images as large as they would be on a 40 inch display on almost any surface that can act like a white screen. But since it's an LED based system, it has its own limitations and fairly low ambient light is required to enjoy the full benefits of this system.
But in comparison to other devices that offer similar functionalities like the Spice Popcorn and Intex V Show, Max Focus has an overall better and brighter projection system allowing it to be used on any light coloured wall for some big screen entertainment.
Maxx Focus has an inbuilt audio-video player that supports most popular audio and video formats like MP3, WMA, MP4 and 3GP; besides the King Movie player app that can play AVI and KMV formats as well. But it does not come with standard 3.5 mm jack connectivity so to connect it to any audio device or headphone is a big problem.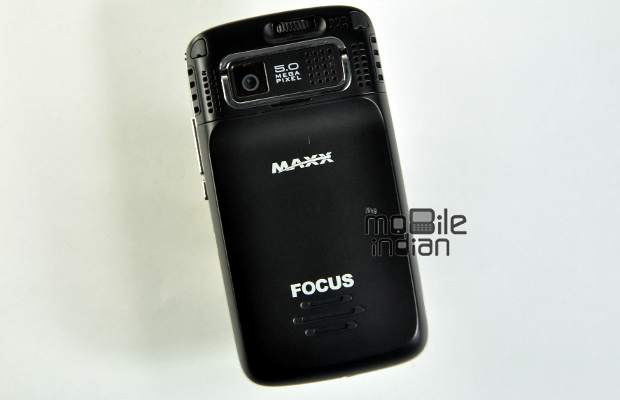 The onboard speaker is loud enough to satisfy the needs of a small group of people but due to its smaller size, it misses out on depth. Maxx Focus comes with a free and very useful 4 GB Micro SD card in the box, and the phone's memory can be expanded up to 16 GB.
In terms of music playback, the headset is a sheer disappointment and does no good for the user. It is good just for calls and that too for short durations only as one's ears start to pain with the odd shaped in-ear drivers. Otherwise the phone is a decent performer and also has an exceptionally loud speaker.
Maxx Focus features a nice 5 megapixel camera, but without a flash. The quality of the camera is good in bright to medium light conditions while in low light, all you get to see are funky pixilated colours all over your snaps.
###PAGE###
Battery life
The battery life of Maxx Focus is good considering the display brightness and variance it offers. The phone has obviously gained a few grams due to the battery but you will not regret that in the long run. Even after you are done with the day's work, you will still find some juice left in the Maxx Focus for a bit more.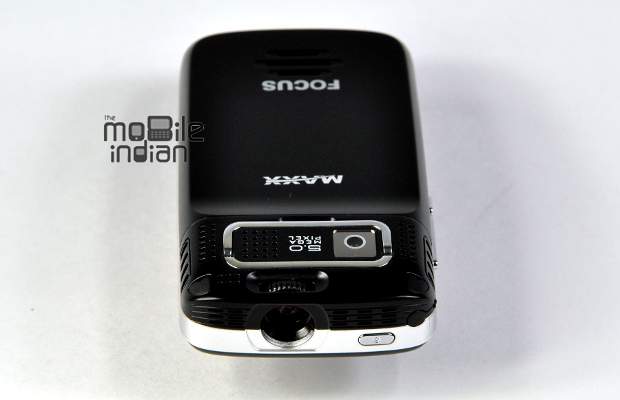 All in all, the device offers 3-4 days of battery backup with normal usage and it reduces to 2 days in the event of heavy usage, but normally nothing that would drain the battery too soon. While for entertainment the device returns a good 2.5 to 3 hours of playback time with a fully charged battery and 80 per cent volume while the projector is on and in low brightness mode. High brightness reduces the time by almost 20 minutes or so, but it's totally worth it.
###PAGE###
Finally
Maxx Focus is a fully loaded feature phone complete with mobile entertainment features. The device offers functionality as well as utility, making it a great buy for anyone who wants to have a portable entertainment system in his pocket.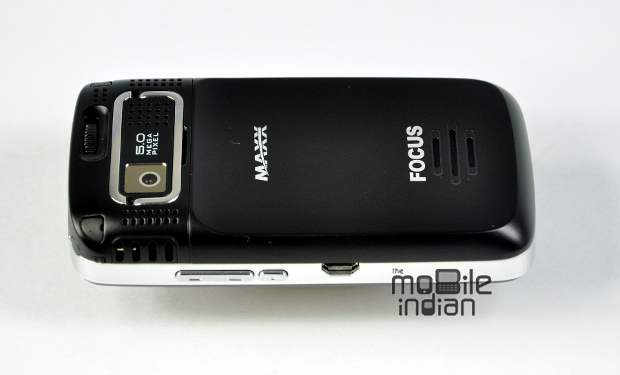 Maxx also gives a Windshield mobile phone holder with this device and it can be used as a stand for the device while projecting images.
With a price tag of Rs 6,999, Maxx Focus is surely a useful device to have especially considering that pocket projectors are still Rs 10,000 and above. But in the absence of external video playback and a 3.5 mm jack, the phone loses some very valuable points of consideration.