LG announced its new Optimus series with L-Style design earlier this year in February at the Mobile World Congress 2012 in Barcelona. The new Optimus smartphones will carry L series branding and will comprise of L3, L5, L7 and L9. Of these four smartphones, three are now available in India and we managed to get our hands on the Optimus L5 for testing.
The LG's new L-style design strategy consisted of five basic aspects – Modern Square Style grip, Floating Mass Technology for slim form factor, Seamless Layout for better key arrangement, consistently Slim Shape and Harmonized Design Contrast using the metallic accents along its side. Besides the physical design, LG offers Android 4.0 Ice Cream Sandwich out of the box.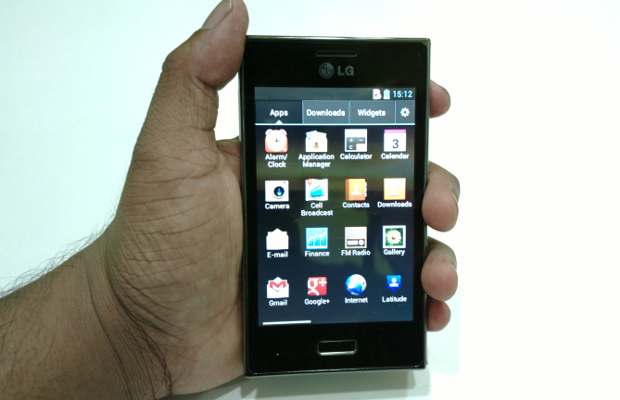 The company has also introduced its new Optimus 3.0 UI that adds a slew of features and user experiences to Android's native Holo user interface. Here is our account of the LG Optimus L5
###PAGE###
Design and display
LG's new L-Style design does make the device look different from its predecessors. In a nutshell, the L-Style has a mono-block design with metal sides holding up the screen and the polycarbonate back panel together. The 4 inch handset with a less than 10 mm thick body will slowly become a standard even for the mid-range segment. Though LG Optimus has a rectangular design it has no sharp edges. The battery cover has a tapered dot-filled physical design which makes for a good grip. Also, the full back panel acts as the battery cover. It will also tends to confuse consumers who are looking for the slot to open the back panel for inserting a SIM and a microSD card.
The rectangular home button has a metallic frame on its side while the volume control bar is on the left side of the handset. The microUSB port is located in the bottom centre to make it usable while charging or when it is docked up in any third party accessory. The power button lies on the top right side and on the left side is the 3.5 mm audio port. Basically, the simply designed physical access points of the device have been appropriately placed. The Optimus L5 does appear a bit wider and good enough to single handedly operate using the thumb.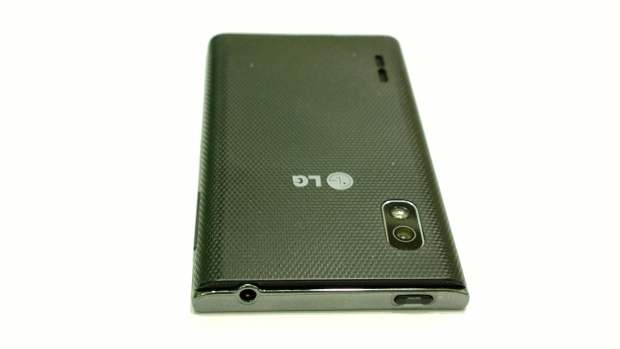 LG bravely tried a 4 inch touchscreen display but limited it to 320 x 480 pixel resolution. The resolution does matter for any user moving from a budget to a mid-range device. Viewing angles are not that great as compared to the One V, but the quality of display is good enough and the display is visible even in broad daylight. While the 4 inch touchscreen might be endurable, websites that have rich graphics might appear a bit rough. A number of mid-range devices offer at least 480 x 800 pixel resolution now and hence low pixel density is a pitfall in comparison.
Flaunting a modern physical design, the LG Optimus L5 offers a great grip to the palm. It is comfortable to hold but does carry some weight due to the metal used for the sides.
###PAGE###
Software and apps
After taking a lot of feedback from its predecessor series of Android phones, LG has thankfully taken a step to offer devices with the latest Android versions. LG Optimus L5 comes with Android 4.0 Ice Cream Sandwich and the new Optimus 3.0 user interface on it. The new Optimus UI brings several sets of features of which quite a few are present on the L5. The new unlock screen basically lets you tap anywhere and swipe in any direction to unlock the screen.
The notification tray is a bit more translucent than the one found in plain vanilla Android 4.0 ICS build. LG has added important settings shortcuts on the top in the customizable Quick Settings menu. While four to five quick access buttons continue to be accessible users get to place what they desire to, such as a mobile network, GPS, Bluetooth, WiFi hotspot and so on. So basically you can re-arrange the item shortcuts by tapping the edit button and placing the most frequently accessed settings on your phone.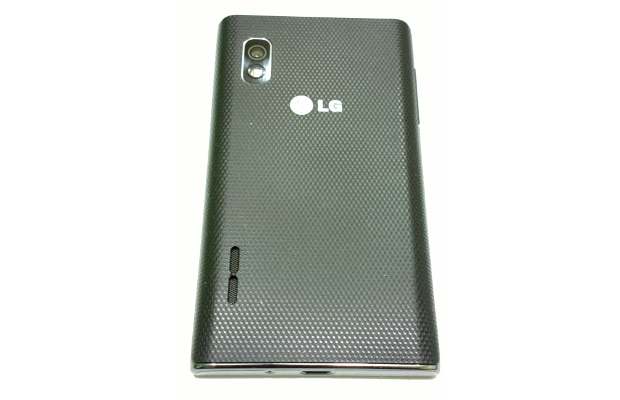 The all new quick memo feature is like a blessing for eco-friendly folks who wish to save paper wherever they can. Quick memo is the new feature that will let users quickly make notations and changes for later reference or for sharing with others. Simply use your finger to make notes on the screen or grab a screenshot and save it for later or share it. This is a very useful feature for saving coupons, putting annotations or sharing important data while you browse the mobile web. The quick memo also allows you to choose the pen precision and a colour.
By default, the phone comes loaded with some custom apps such as Polaris Office so that you can use the word processor and spreadsheet on the move. There is also LG Mobile TV but it requires an active data connection to run. LG has pre-loaded the RemoteCall Service app which basically allows the service centre representative to log in remotely and check for problems in the device.
###PAGE###
LG has packed a single core Qualcomm Snapdragon S1 MSM7225A mobile processor with Adreno 200 graphics chip. The mobile processor has been underclocked at 800 MHz and many latest graphics intensive mobile games will not be compatible with this smartphone. So do not even think of enjoying Temple Run, it stutters like there is no tomorrow. Also, in terms of available storage, one gets only 2.60 GB roughly while the rest is saved for the ROM.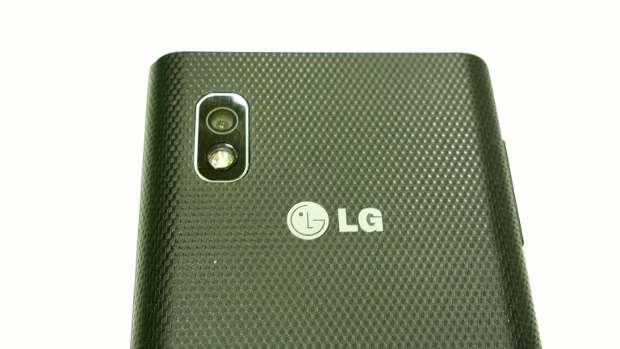 The native Android browser has been tweaked in terms of user interface with the Toolbar at the bottom of the window. The multi-tab experience can be enjoyed with the tab button at the top right corner. The scroll, pan and zooming functions are decently fluid but not zippy – L5 has only 512 MB RAM to handle such gestures. The low pixel density can put off anyone when a particular page gets loaded in desktop mode and it is quite annoying that while browsing the web text often appears coarse.
Optimus's user interface has some snazzy enhancements in the app drawer. For instance, if you click on the Gear Icon in the app tray, it will let you uninstall apps that appear with an 'x' mark on the top right corner of its icons. The interface offers Windows Style folder icons created by clubbing the app launchers together. At times the icons appearing in the Settings app were too small to be easily legible. The overall interface experience is quite decent and fluid while jumping between apps and opening menu drawers.
###PAGE###
Camera and multimedia
Optimus L5 comes with a 5 megapixel camera and an LED flash at the back. The camera interface offers three basic camera shot modes – Normal, Panorama, and Continuous. However, if you tap on the gear icon for settings you can choose pre-defined scene modes – Portrait, Landscape, Sports, Sunset and Night. The camera software is not the fastest and zippiest of all for it takes a couple of seconds to focus and then a few more seconds to capture the light. It offers as much detail as one can expect from a normal 5 megapixel camera in the daylight. The only issue was clicking photos inside any premises with great lighting such as an office and the images will appear with some obviously visible noise.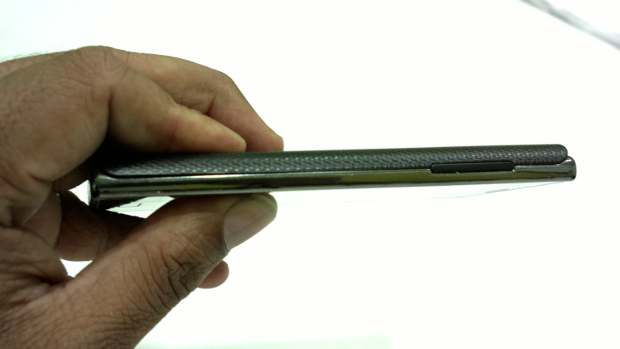 Unfortunately, there is no dedicated camera key or shortcut on the lock screen to quickly open the camera app for clicking photos. Due to the under-clocked processor, there is not much one can expect from video and hence only VGA quality recording is possible. There is no front facing camera so you have to skip even the thought of using a third party app for video calls or chat.
###PAGE###
The default Music Payer app offers a tabbed browsing option to sort the music files by songs artists, albums, playlists and folders. The back speaker is loud but not clear enough for good quality music. Thankfully for those who love music, the Music Player offers audio effects built in which get activated when the earphones are plugged in. Audio quality is clear and good enough for casual music listeners and FM lovers can enjoy their favourite stations with the built-in FM Radio app.
The Optimus UI offers a great video player app that allows zooming into a video. However, that is possible only in high-end Optimus devices and not in the L5. Along with support for MP4, the default music player easily supports DivX and Xvid video formats. Videos with 720p HD resolution stutter at times but are fine all in all.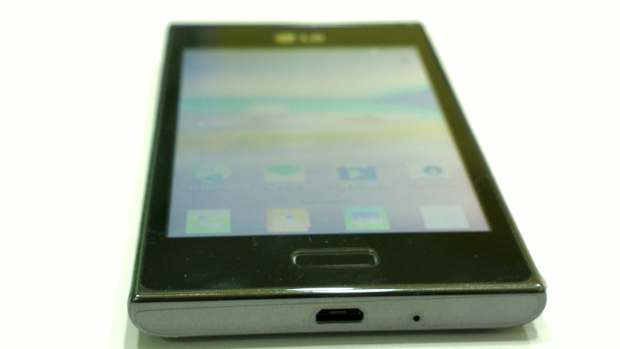 Battery
While the phone has a low resolution screen and under-clocked mobile processor it is subtle about intentions. The Optimus L5 offers impressive battery life on simultaneous usage of 3G and WiFi networks. Obviously, leaving the GPS modules on and using the 3G mode did draw quite a lot of juice. The 1540 mAh battery promises continuous talktime of about 9.5 hours even on 3G network thanks to the under-clocked processor and low resolution screen. So while it offers a fluid experience through the operating system, it is indeed great that you don't have to lock down on transitions and animations just to save battery.
###PAGE###
Wrapping up
The LG Optimus L5 is a perfect device for those looking for their first mid-range Android smartphone and looking forward to the touchscreen experience. The smartphone was launched at Rs 13,199. It can be purchased for slightly less online. It is a close competitor of the Sony Xperia Sola which offers a crisper display, better screen, HD recording camera, and a dual core mobile processor for almost the same price. The Xperia Sola takes it away with a Mali-400 graphics chip since it supports most modern day games and also makes the interface more zippy.