Indian handset manufacturer Intex has launched a series of smartphones under its Aqua series. The Intex Aqua Wonder is the third costliest smartphone in this series after the Intex Aqua Style and Intex Aqua 5.0. Priced at Rs 9,500 the handset comes with Android Jelly Bean operating system, a 1 GHz dual core processor, 512 MB RAM, dual cameras, and similar decent features.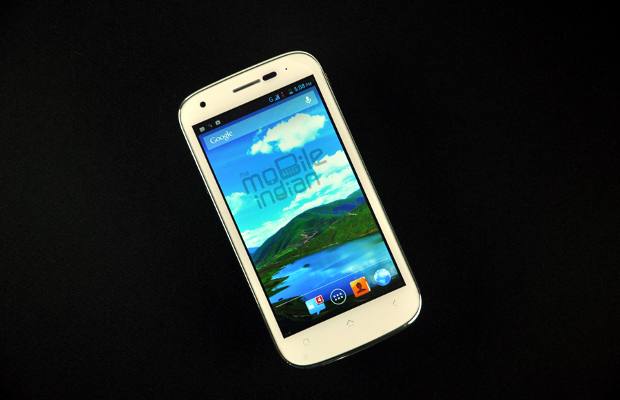 We used the smartphone for around a month and here is an in-depth analysis of how Intex Aqua Wonder performs in real life.
Body
Measuring 125 grams, the Intex Aqua Wonder is perhaps the lightest smartphone with a 4.5 inch display in this price segment. It is also quite slim, with just 8.9 mm thickness. It is neither very wide (67.9 mm) nor tall (133.2 mm). This makes it quite easy to handle.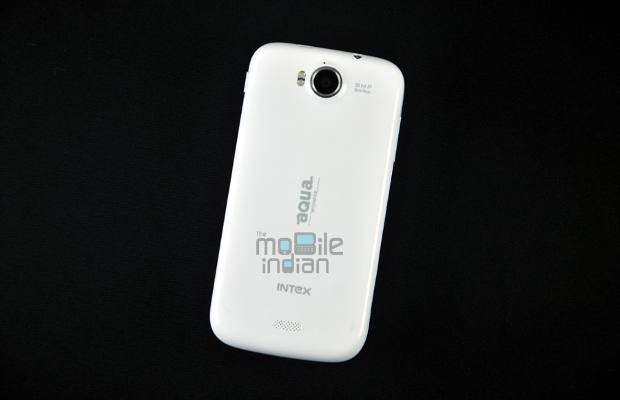 The phone is available in both white and black colours. We got the white model of Aqua Wonder, which looks quite good, and we think that the black model would be an even better looking device. The handset has a shiny but non-slippery back panel. There is a shiny metal strip around the sides of the handset as well that further enhances the look of the phone. Intex has placed the volume rocker on the left hand side while the power button is on the right. The USB cum power port and the 3.5 mm jack are on the top. Since the phone is not that long or wide, it is quite easy to hold and operate with one hand. The micro SD card slot as well as the SIM card slots are inside and are accessible on removing the back panel.
Display
I personally like 4.5 inch displays. They are just the right size- not too big like 5 or 6 inch handsets and not puny like 3.5 inch ones. Moreover, the Intex Aqua Wonder's display offers qHD (960 x 540 pixel) resolution. This is decent resolution in this price bracket and true to the figures, the pictures are nice on the screen as well. The display is decent, responding to most touches. Intex has also provided good wallpapers for the phone, which is not common to most smartphones.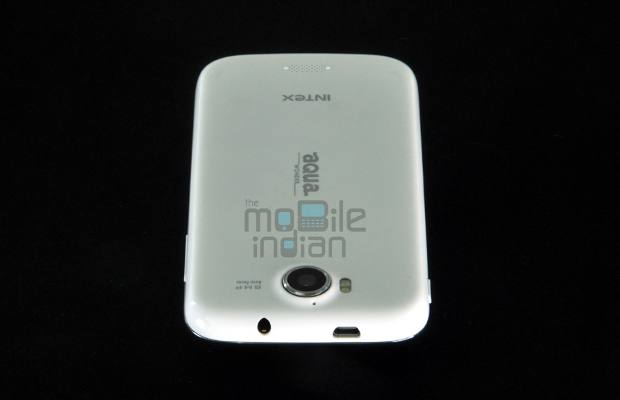 Further, it is an IPS panel, hence provides a good viewing angle. The screen of Aqua Wonder is also decently bright, and that makes it easy to operate the phone outdoors.
Camera
Intex Aqua Wonder comes with an 8 megapixel auto focus camera in the back and a 1.3 megapixel front camera. The rear camera is decent but does not show the true colour of objects. You can tweak the settings (reducing the exposure limit, increasing sharpness etc) to get a decent image depending on the condition, but the camera is hopeless in taking pictures from close quarters.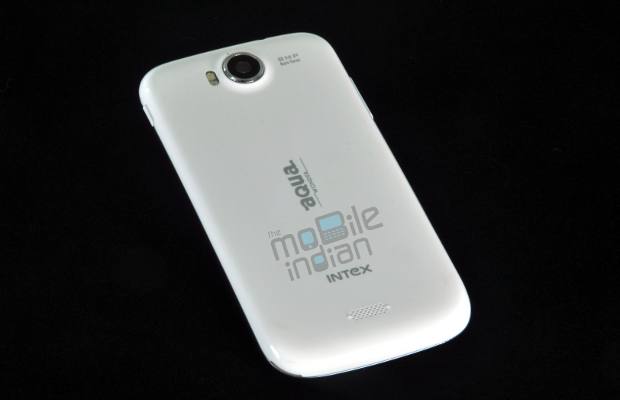 The front camera can be used for video chatting as well as for clicking self-portrait images and is decent all in all.
Battery
Aqua Wonder has an 1800 mAh battery which, according to the company, provides only three hours of talktime and 228 hours of standby time over 2G networks. We have no doubts about the stated talktime but the claim about standby time is a bit doubtful. Anyway, three hours of talktime is woefully inadequate, which means that you have to carry the charger wherever you go.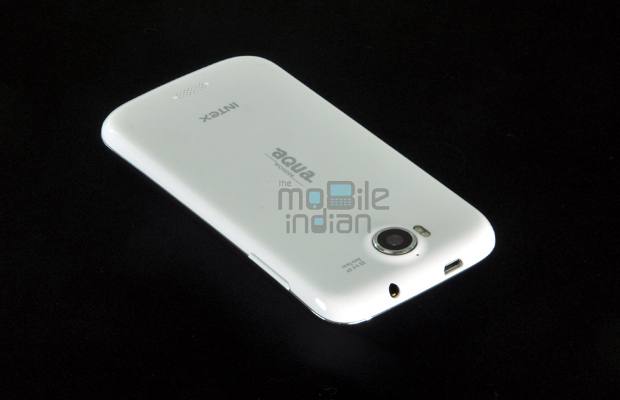 The phone does not hold onto charge either. For instance, if you have 40-30 per cent charge left, say, on Monday 9 pm, then most likely it will be out of charge by the time you wake up the next morning (say at 7 am).
Connectivity
The Intex Aqua Wonder comes with dual SIM configuration; it is a 3G phone too. Besides, there is WiFi with a WiFi hotspot feature. Intex has also provided Bluetooth 4.0 for wireless file transfers. It has GPS too.
User interface
The phone can have a maximum of nine home screens. While unlocking, you have the option of going to the home screen, message inbox or calling application. Like other Android smartphones, it has a notification bar for quick setting changes. But to place an application on the home page, you have to go to the menu page first and then long press the app icon to place it on the home screen, which is a standard affair with most Android handsets.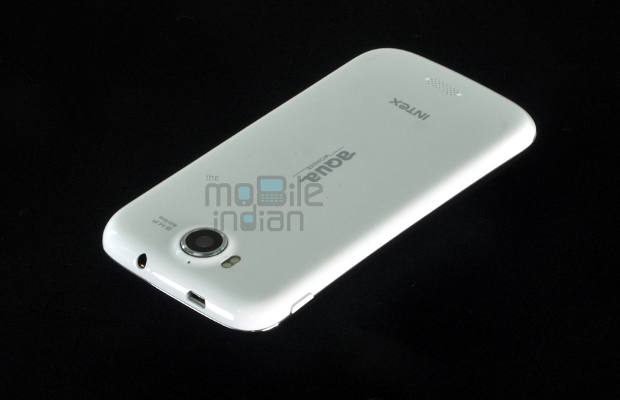 The menu page is a bit different. For easy discovery, there are the Apps and Widgets categories. Also, towards the top right side there is a Google search key, a Google Play store key, and a quick setting key. Apps are placed nicely with decent spaces in between, which makes them easy to spot.
Storage
The phone comes with decent 1.93 GB of user memory. Besides, Intex is providing a 4 GB micro SD card with the phone for free. You can, however, add a 32 GB micro SD card to the phone as well.
Performance
The Intex Aqua Wonder comes with a dual core ARM v7 processor clocked at 1 GHz. However, it has 512 MB RAM only, but that seems okay as most of its competitors come with that much memory.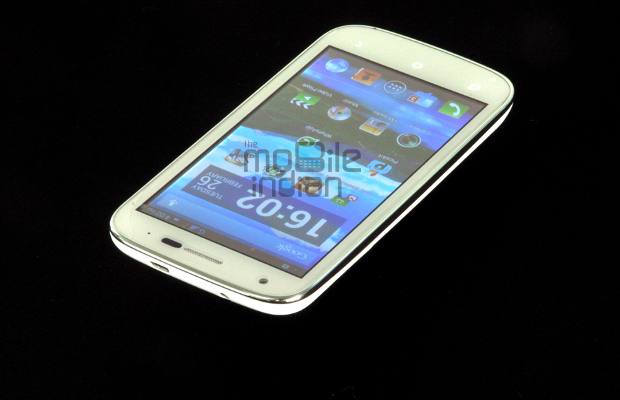 The Aqua Wonder, however, manages its memory well. We played mildly graphic intensive games like Temple Run, Racing Moto, Die Hard etc with ease, but you need to use a task manager to free up memory from time to time, to help the phone work smoothly.
Conclusion
For those who loathe 5 inch and bigger phones, Intex Aqua Wonder is a good option as it has a 4.5 inch screen, and that too with good resolution. It has a nice body and looks decent. Its performance, as well as camera, is appreciable. Also, the phone comes with a decent amount of internal memory; and anyway a 4 GB micro SD card is available free with it. Intex is also providing a pouch with the Aqua Wonder. The supplied headset is of good quality.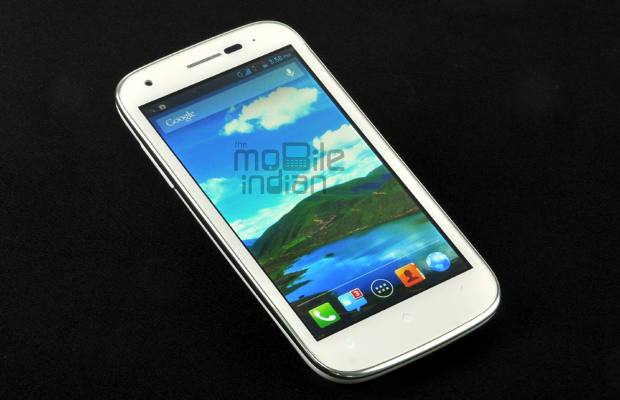 The only flipside of the phone is its poor battery life. The phone has a lot of good competitors (though they come in either the 5 inch or 4 inch categories).